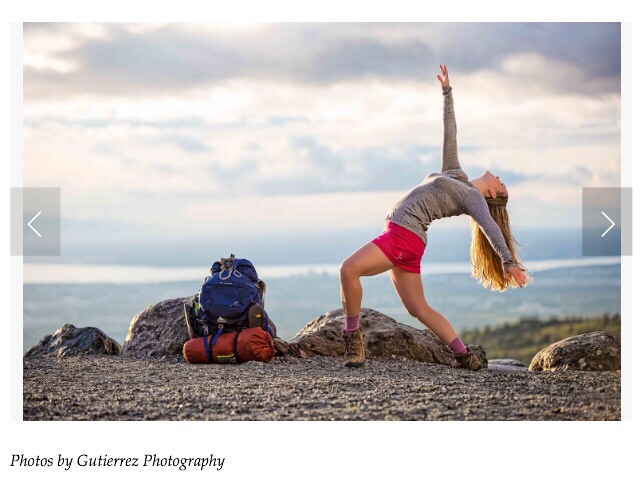 Last week I caught part of Momentum Dance Collective's IMPACT performance at the Kincaid Bunker. Like all the projects Momentum has been part of, it was evocative, powerful, and thought-provoking.
IMPACT is described as:
…a collaboration with Momentum and the city of Anchorage. We're interested in investigating what the city looks like from different perspectives, using performance to reveal untold stories. We want to encourage other to not only be aware of their role in our community, but to be aware of their impact. 
Momentum was guided by the following questions as they prepared the performance:
How do we interact with our city and with each other?
Who in our community is being left behind, and how can we help them?
How do we maintain the values of what it means to be Alaskan, as our city continues to become more urban.
IMPACT is one of the crowdfunding campaigns I recently supported; my reward (beyond supporting a great project!) is a postcard of one of Gutierrez Photography's beautiful images of the dancers around town – sample above. I am in love with this series of photos; the dancers are so expressive and the images so uniquely Anchorage.
Someone said that IMPACT is about what Anchorage is, and what it will become, a timely sentiment as we approach the mayoral runoff election – please think deeply about the future of our city and the kind of place you want to live before you cast your vote (for me, it's as little of this as possible). Enough about our disappointing local politics – back to the art being created in our community!
The performance – also described as an investigation, a dialogue, and a celebration of local people – included dance combined with photography, print, dialogue, and short video clips. I loved the multimedia approach to storytelling; it made the messaging immediate and compelling. Although I wasn't there for the entire show (I have a problem with planning too many things than can possibly fit into the time available), the themes that spoke to me were of home and belonging.
As I watched the dancers, I thought about how body language influences our interactions. Most of the time, we don't even realize our bodies are talking to each other, but the messages sent through posture and movement flavor our more topical verbal conversations. Our subconscious understanding of body language, of universal expressions of joy, frustration, confidence, etc. is what enables dancers to tell a story through movement and why dance often resonates at such a fundamental level. And it's why something as small as leaning forward when someone is speaking or nodding during a conversation can change how someone feels. Even something little, like smiling at a stranger, can make an impact.
Congratulations to the Momentum Dance Collected and everyone else who helped make IMPACT happen. It was an incredible reminder that "we can change, we can cause change."
#ImpactANC