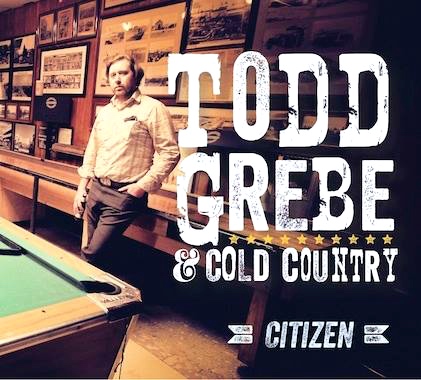 How much do you love crowdfunding? It's such a great way to support really interesting local projects that might not otherwise have a chance to take flight. There are THREE projects that I'm loving right now:
Citizen by Todd Grebe and Cold Country on Kickstarter
IMPACT by Momentum Dance Collective on indiegogo
The Writer's Block Bookstore and Cafe by Vered Mares on gofundme
Here's a bit about each project, along with some of my favorite "rewards":
This is Todd's first electric country album, and he says it's the best recording he's ever made. A lot has happened since his last album; he's "written a bunch of new songs, travelled a lot, played some shows, got married, got pregnant, and moved back to Alaska after living in Nashville, TN for about 4 years." He funded this recording by working at the Crow Creek Mine, saving all his money from gigs, and even selling his "treasured honeymoon Winnebago Warrior RV." Todd is using the Kickstarter campaign hire a publicity company to get his album in front of the right people. His Kickstarter ends in 16 HOURS so donate now if you're interested – $75 can get you guitar or fiddle lessons (his wife Angela is an extraordinary fiddler) and $500 can get you a performance for a house party of 30!
IMPACT is a "multimedia dance product and community event" that includes six performances in neighborhoods around town during April. The IMPACT message is one of choice, and aims to look at common issues we all face: "This show is about reminding ourselves that we have to constantly re-engage with the larger community or we risk allowing its darkest sides to become normal." There are seven days left for funding – if you contribute $100 you can be a VIP at the premier performance on April 16, and if you contribute $500 dancers will break into dance every time they see you (can you image how bizarre and fun that would be?) and arrange for a bottle of bubbly at Sub Zero.
The Writer's Block Bookstore and Cafe
I love love love this project – an independent bookstore focusing on new books and Alaska-based authors is cool, but I lost my heart at this: "The big picture is to have a space that will be a venue for writers, readers, artists, musicians and families… weekly events, monthly art shows and regular book signings, readings and live music performances…" There will also be a cafe focusing on locally available ingredients. It sounds like the perfect addition to Spenard and I hope I can spend many hours there in the future reading or writing over a cup of coffee. Donating $21-50 will score an invite to the grand opening, a free cuppa, and a book… if you donate $501-$1,000 you'll have your own seat (with your name on it!) as well as free entry to Sunday concerts for two years.
Unfortunately no house parties, spontaneous dances, or seats named "Gretchen" are in my future, but it's not really about the kickbacks. I'm supporting Citizen because Todd is supremely talented and I love that he's pursuing his dream, IMPACT because it has an important social message to share through dance, and the Writer's Block because it will build community and be a hub for creativity and inspiration.
All three projects will add something special to Anchorage!