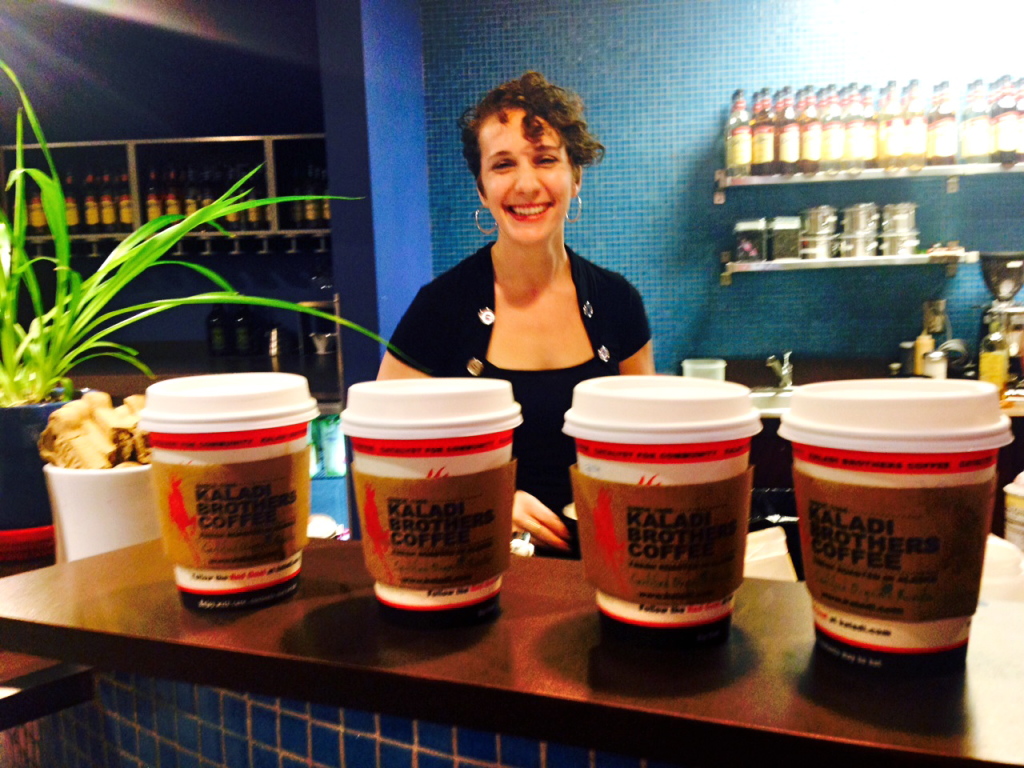 These may look like normal cups of Kaladi Brothers coffee… but they're not.
Instead, they're a one-off KBC approximation of the new "bulletproof coffee." If you don't know what bulletproof coffee is, here's an overview:
 "…this incarnation of the Western world's favourite drug combines grass-fed, unsalted butter with a freshly brewed cuppa, along with coconut oil and a flavouring like cinnamon or vanilla."
More here.
I first saw a headline about putting butter in your coffee a few months ago, and scoffed. But then a friend told me about how he blends his coffee with coconut oil ever morning, and loves it. And then my coworkers said they'd heard about it too and we decided that we should try it. So today, mumbling "we'll try anything once" and "what the hell, it's Friday," my coworkers and I descended on KBC in an effort to add more butter to our lives (turns out we are super trendy; The Cult of Bulletproof Coffee was a feature on NYTimes.com today).
Although startled by our request, one barista seemed to know a lot about the concoction (her brother drinks it every day) and did her best to create something similar – it involved multiple individually wrapped squares of butter and vanilla flavoring blended together.* The results? Surprisingly foamy and rich. Mostly it just tasted like coffee though.
Although perhaps consuming a drink inspired by Tibetans living at high altitudes (and in need of the extra energy) isn't quite the thing for desk bound office workers who spend their days sifting through overflowing inboxes and reading/writing reports (and haven't adopted a super clean paleo diet), I did feel some sort of zingy rush. Maybe it was the butter magically conducting the caffeine straight to my brain giving me mental clarity and focus. But it might just be that it was Friday and I'd already tried to counteract the effects of not getting enough sleep by over caffeinating.
My takeaways from the experience:
I have the coolest coworkers (I already knew this, but now we're bonded by butter and strange caffeine rushes).
I love KBC and KBC baristas (thank you for humoring us!).
Butter in my coffee = probably not for me but I'll try it at least once more if it's the real deal.
Have you tried bulletproof coffee? Thoughts?
*To be clear, this is not offered on the Kaladi menu and the baristas were simply humoring their customers.