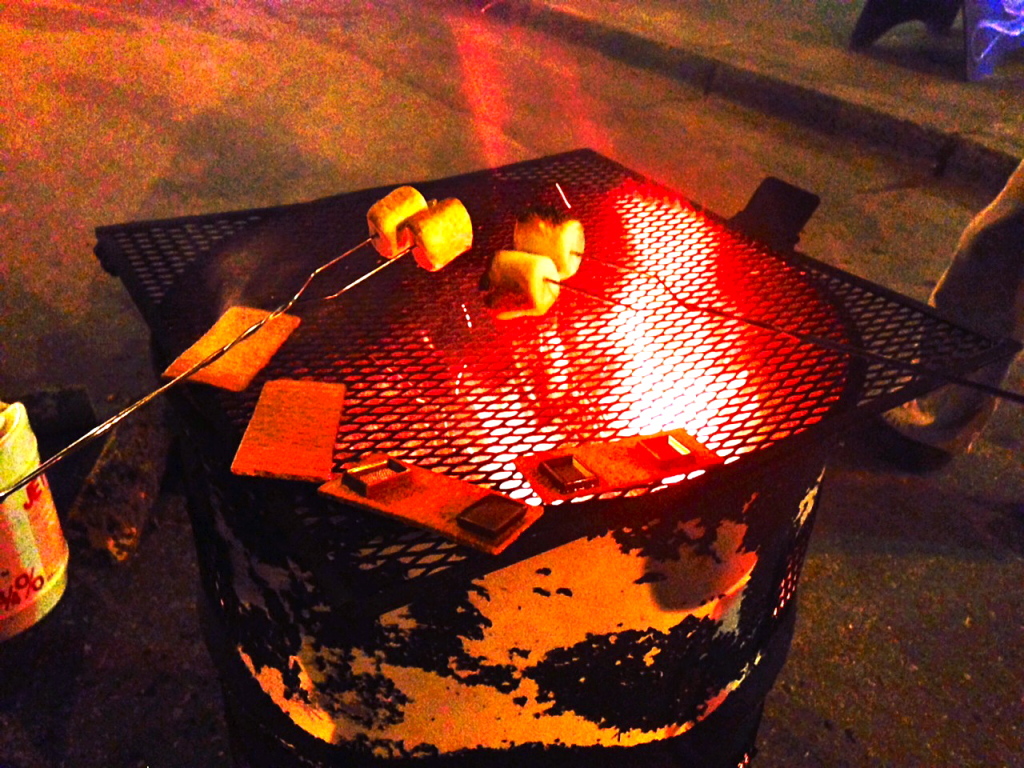 As the Anchorage Downtown Partnership (ADP) says, good Alaskans know that a little cold air can't stop a good time. And although the air wasn't all that cold on Friday, good times were a go at the Bunny Boots and Burn Barrels party!
Described as an "Anchorage meets Oktoberfest" block party, the music was rockin', the savory smell of reindeer hot dogs filled the air, AK Fire Circus performed, burn barrels lined the street, and happy smiling people milled about. Many of the nearby businesses stayed open extra hours, making for fun evening shopping – my favorite was Mabel McKinley, a boutique celebrating its third anniversary with a "kebab-alooza" (kebabs of all kinds: fruit, soy-ginger steak, pesto-yogurt chicken, and honey mustard reindeer) by Riza + Brown Catering, tunes by DJ Spencer Lee, and of course, all sorts of super cute clothes to covet.
Although bunny boots were fairly elusive (only a couple pairs were spotted all night – an endangered form of footwear perhaps? Almost-extinction caused by XtraTufs?), the burn barrels were AWESOME – not only were they a warm place to congregate, they added great ambiance to the event.
For a bit of added fun,  ADP offered "s'mores kits" which included all the essentials for scrumptious smore's making (except peanut butter, my favorite add-on for ultra gooey yumminess). Unfortunately, they couldn't do anything about certain people's lack off skill (ahem…. certain people meaning me). My compatriots were responsible for roasting the marshmallows and I tried to get fancy by toasting the graham crackers and melting the chocolate. However, during the time it took me to semi-artfully arrange everything and take the photo above, toasting became charring and I was relegated to scraping blackened graham crackers off the burn barrel, gracelessly dropping them in the street afterward in a successful bid to further demonstrate my lack of gourmet smore's-ing ability. Fortunately, other people didn't  seem to have the same problems I did, and overall the s'mores were a huge hit.
If you didn't make the event don't worry; ADP promises more burn barrel-ing in the future (and maybe I'll get a s'mores do-over…). For now, you can check out this aerial video, Bunny Boots and Burn Barrels, to re-live the good times or see all the fun that you missed!