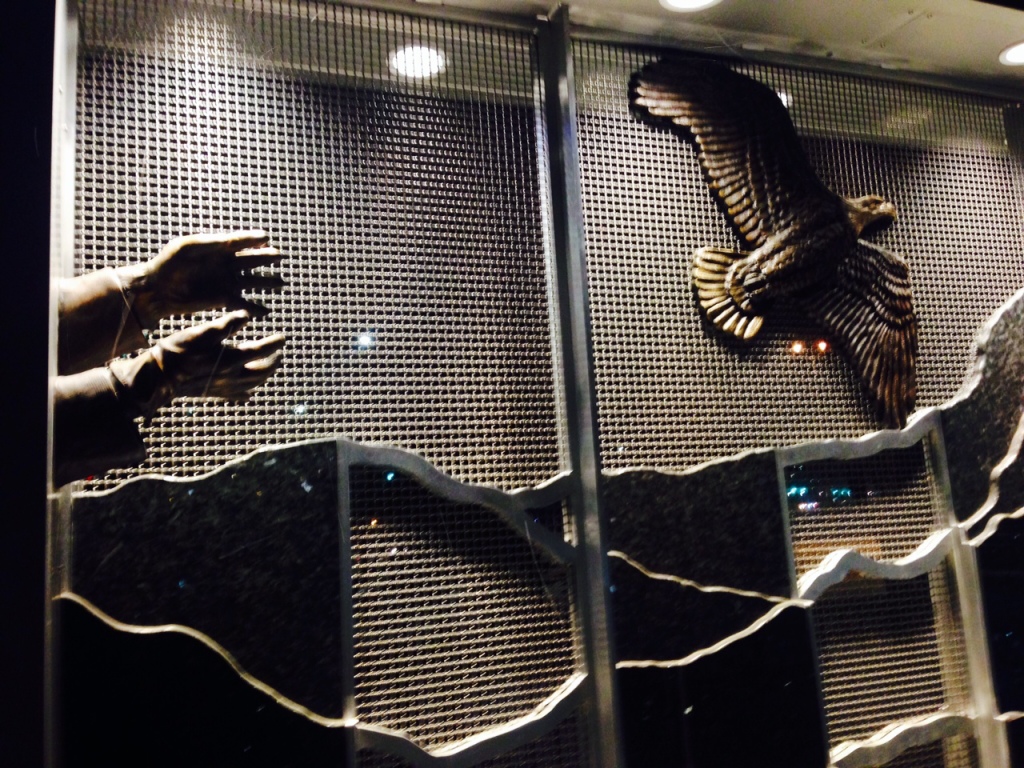 The recently revitalized Anchorage Veteran's Memorial is a peaceful, meditative oasis amidst the bustle of the Park Strip.
The portion of the screen panel (one of the new sculptural additions to the memorial) in the photo above is called "Reflections of the Great One" and is made from stainless steel, aluminum and granite with stainless steel mesh and bronze elements.
Here's a description about the meaning of the panel from the Anchorage Park Foundation:
Sculpted in bronze, an Honor Guard's arms release an eagle that flies toward the summit. The symbolic elements in the sculpture include:
Honor Guard and Eagle Release – the soul of the Veteran flies to the summit of Denali
Mountain showing the strength of Alaska Veterans
13 vertical columns representing the stripes of Old Glory
Missing spaces for the lives Given by the Great Land POW/MIA
Mesh is the strong fabric of our military men and women
One of the things I like most about the panels is that they were designed to be viewed and touched from all angles, and when the memorial is lit during the night it is particularly beckoning… a quiet place to reflect on the things that matter most.
You can learn more about the rest of the memorial and the revitalization process here: Anchorage Veteran's Memorial Revitalization.
Thank you to all the veterans for their service to our country.