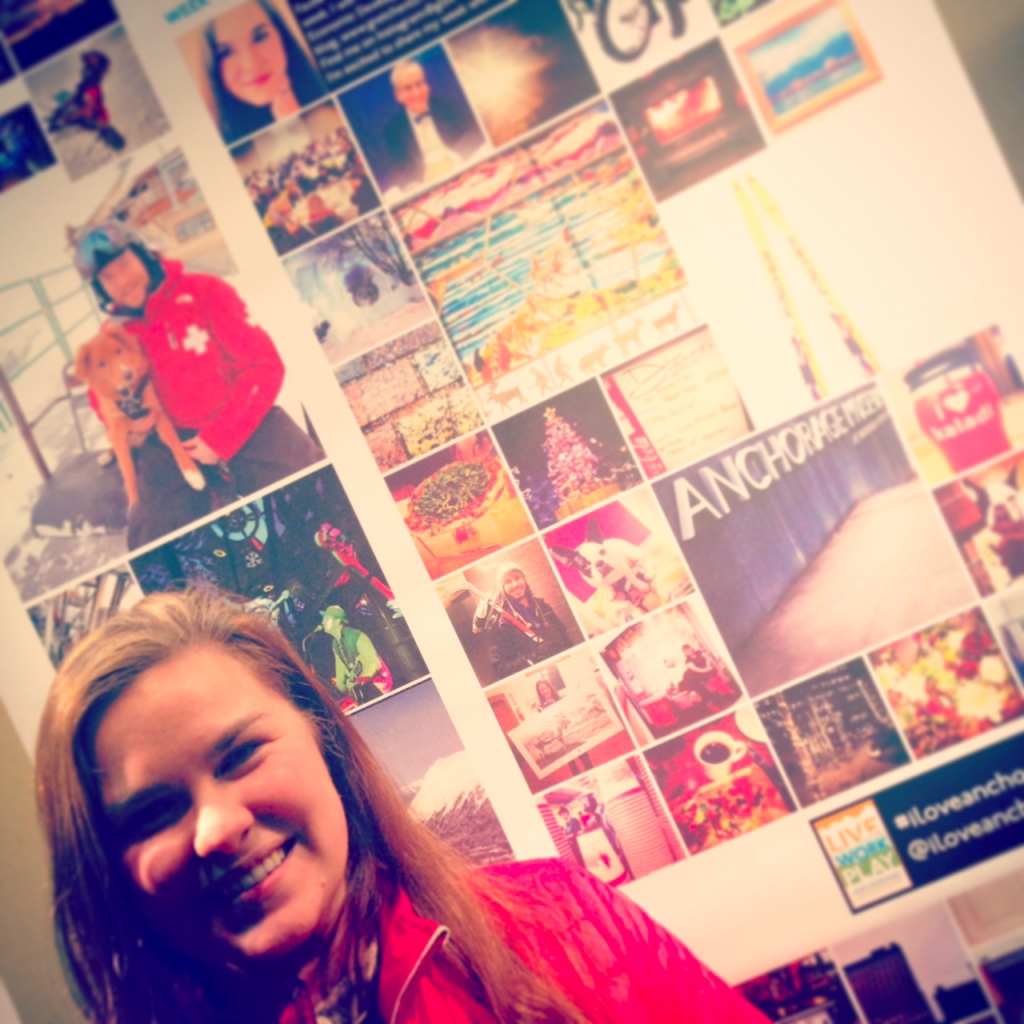 Friday night was the first Live.Work.Play I Love Anchorage event and, as the name suggests, was overflowing with love for our fair city.  How could it not, when the event showcased all the photos posted to the I Love Anchorage Instagram account during the last 12 months?
@iloveanchorage is "A community account of rotating instagrammers sharing fresh perspectives to a day in the life in Anchorage, Alaska." If you're not already following it, you should! It's so much fun to see Anchorage through a new set of eyes each week.
On Friday, the photos were grouped by each rotating instagrammer and displayed in chronological order. Browsing from end to end was like flipping through a yearbook: faces of friends, memories of events, favorite hang-outs, and some new discoveries. A wonderful way to experience the nature of Live.Work.Play and see Anchorage from a diverse range of perspectives! In case you missed the event, check out this overview by Kate McPherson of KTVA: Instagram users show their love for Anchorage.
The concept is the brainchild of the Anchorage Economic Development Corporation's (AEDC) Val Walsh and the creative geniuses over at Thompson & Co. Val is responsible for all things marketing and communications at AEDC, and is ridiculously modest and not given to bragging about herself or her work; however, I will gladly sing her praises. The @iloveanchorage project recently won a Gold Award for "New Media" from the International Economic Development Council; winning an Excellence in Economic Development award is one of the highest honors for anyone working in the realm of economic development! Val gave a presentation about the project at the 2014 IEDC conference, and has fielded calls from interested economic development organizations from across the country ever since. Nice work Val – setting national instagramming trends is pretty darn cool. Also cool: each @iloveanchorage hosts received a collage of their photos from the week as a "thank you" gift, complete with a thoughtful note.  Every time I look at mine, I smile… You can catch Val on the KTUU Ch.2 Morning Edition chatting with Ariane Aramburo about the event and the account: I Love Anchorage.
I think it would be fascinating to do some sort of image analysis of all the photos in the account; it seemed like almost every instagrammer posted a Kaladi Bros shot of some sort, there were plenty of pet photos, and in true instagram style, lots of food and feet. I wonder what other recurring themes would become apparent? Also, if there were location coordinates attached to each photo, wouldn't it be interesting to see a map where everyone went during their week?
I had such a good time when I hosted, and tried to resist the impulse of orchestrating the BEST WEEK EVER, hence my photos of an Anchorage Chamber of Commerce luncheon and my dog (both of these things are photo-worthy, of course, but not particularly epic). However, when chatting with a fellow instagrammer, we decided it would be fun to have a "one day do-over" and be as awesome as possible. Of course, it's hard to decide what would go into the Day of Awesome – she said she would "eat all the things" which sounds both delicious and difficult (but a great way to show off our great dining options) and I'm still mulling over my day… I feel like it would devolve into frantically rushing from favorite place to favorite place with strained smiles and faux-artistry in each photo, which would be the antithesis of awesome. Obviously, I need more planning before implementing my day…
During the event Archana Mischra, Live.Work.Play director (and fabulous author of The Fortunate Child), invited attendees to write what they love about Anchorage on a giant banner.  Responses ranged from "Dos Manos Art Gallery" and "Spenard" to "Big Ideas" and "Adventure!" I would add "@iloveanchorage" and "Live.Work.Play" to that list as well… thank you Val, Archana, and all the instagram hosts for shining a light on the people, places, and things that make Anchorage so bright!
#iloveanchorage