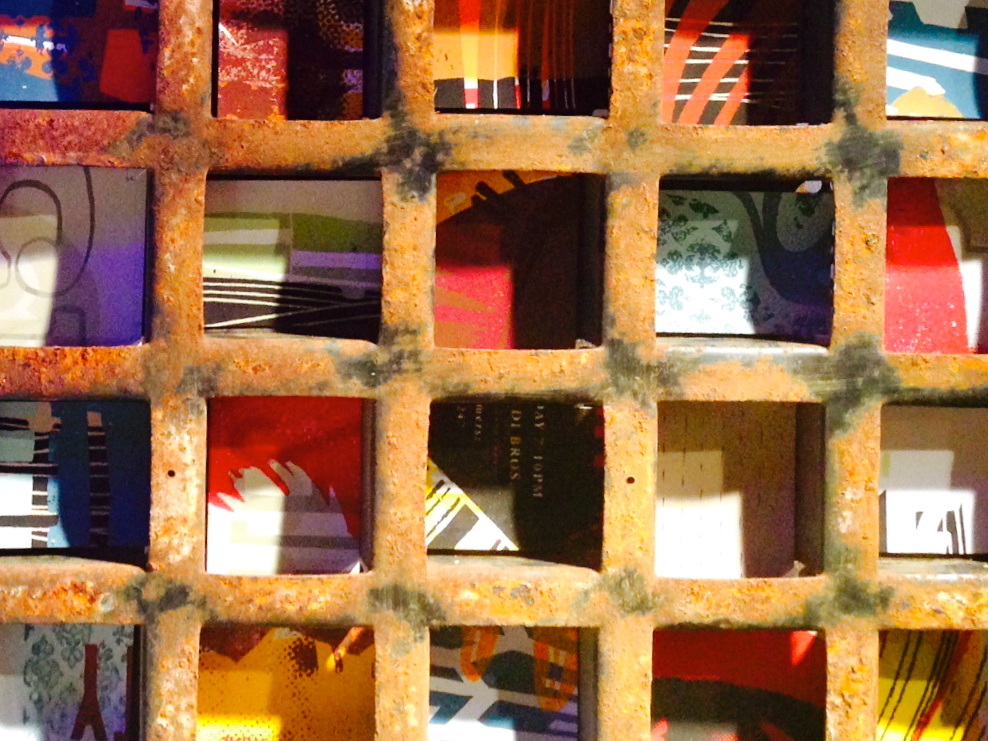 Tonight was my first visit to Anchorage Community Works. I was a super fan back in May 2013 during the Kickstarter campaign, but somehow timing just never worked out for me to visit. But, tonight was "Emergence," the first annual fundraiser and art auction. A friend invited us, so off we went for an art-filled evening of fun!
The Works did not disappoint. Highlights:
I actually got to meet Gretchen Sagan in person – a long awaited connection. She has a show coming up in September at the Anchorage Humanities Forum, and I cannot wait! And, next year, she might auction dinner at her place and a studio tour – such an amazing evening for some lucky bidder.
Next up, I geeked out over Craig Updegrove, who had a piece (pictured above) in the live auction. A friend won it, and Craig later explained that it was a combination of elements of his work from the last ten years. Craig is a screen printer as well as a very talented designer (and one of the Anchorage Community Works founders, AND responsible for many of the Tooth's – Mooses/Bears/Broken – concert posters) and is very gracious when faced with his adoring public . Added bonus – I scored visitation rights after the piece is hung!
A favorite duo's work – KeseyPollock – closed the live auction. The piece was from the Melting Bodies show (also funded via Kickstarter – love crowd funding!), and although I longed for it myself, I was glad to see a colleague take it home. Plus, I love this early piece by Erin that adorns my wall at home.
To top it off, I saw old friends that I haven't bumped into since high school,  new friends who consistently inspire me, and got to hang out with some great supporters of the arts in Anchorage.
Here's some background about the Works if you're not already familiar:
Anchorage Community Works is a hub for creative collaboration in Anchorage, offering the following creative spaces:
Art Studio/Print Shop – Fully operational print shop including screen printing equipment, paper, paint, etching press, letter press and printing press.
Event Space – Equipped with giant stage, state of the art sound and lights and a sweet sound man named Mike.
Workbench – Work on art, jewelry, bikes, etc. with a fully stocked workbench including welding and cutting equipment upon request.
"The Loft" – Meeting/Working/Crafting Space, including tables, computer monitors, sewing machines and a nifty fish tank for general gazing.
Supporting the people whose mission is to make art, music, and community by experiencing all three was a wonderful way to end the week!