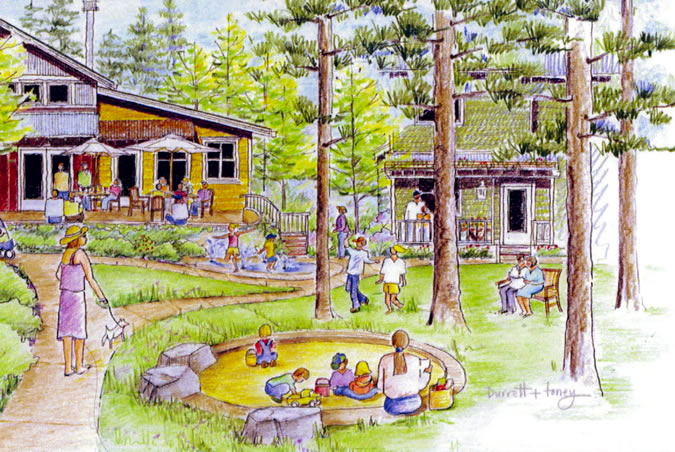 Housing is a HOT topic in Anchorage – it's in the news, the focus of Chamber of Commerce/Rotary/AEDC/etc. presentations, and the subject of countless blog posts and conversations.
Most recently, housing news included an announcement of new high density housing in East Anchorage to replace the Riviera Terrace Mobile Home Park.  The California-based developers noted that they are "well aware of the housing crisis in the city, which is part of the reason why we've been so aggressive in looking for a suitable site."
The Riviera Terrace project is intriguing, although I hope the developer incorporates some of the elements the Arctic Urbanophile mentions here: All Inclusive High Density.
The other day I stumbled across another housing project that is pretty fascinating – it's been around for awhile but I hadn't heard of it before: Ravens' Roost Cohousing.*
If you're not familiar with cohousing, here's the Ravens' Roost description:
The fundamental aspect of cohousing is that neighbors intend to get to know each other.  In order to create that sense of community, cohousing neighborhoods consist of 20-40 private homes, clustered among shared facilities, fostering a village feeling. The Common House offers a large kitchen and dining area for optional shared dinners 2-3 nights/week, a kids' play room, living room with library, guest rooms, teen area, laundry, etc.  Courtyards, gardens, a workshop, fitness room and recreational open space are shared.  The design of the neighborhood encourages spontaneous interaction, including conversation, movie nights, the playing of games, dancing, etc.
Ravens' Roost encompasses 6.3 acress of land and is 1/2 miles east of Lake Otis and 1/2 miles west of Elmore Road. It will include a "Common House" and 35 other homes in varying layouts. Although it's not cheap, it sounds like a pretty great place to live:
A group of friendly, dedicated, long-time Anchorage residents are working to create Ravens' Roost Cohousing, a custom-designed neighborhood in which residents intend to get to know each other, off of Abbott Road. A paved trail leads to grocery stores, shops, restaurants, and a bus stop at Abbott Road & Lake Otis Parkway, just half a mile to the west. Only a mile to the east lies Far North Bicentennial Park, with many miles of excellent trails.
You can learn more about Ravens' Roost here and here.
I've loved the concept of co-housing for years – it blends my passion for small houses with community spaces to create a neighborhood feel that can be lacking in some developments (cookie cutter houses with garages as the on-street focal point really kills the friendly, neighborhood vibe). One of my favorite developers of similar housing is Ross Chapin Architects in Seattle – they call the style Pocket Neighborhoods: Creating Small Scale Community in a Large Scale World. Check out some of the projects here. In Anchorage, Cook Inlet Housing Authority is doing good work to encourage more community oriented living – even something as simple as a front porch can go a long way in changing the way people experience a neighborhood!
Overall, I think both developments will add value to our community, and I love that people are trying new ways of living in Anchorage.  I think that some of our housing problems will be solved by rethinking how we live, and building to suit different lifestyles – not everyone wants a single family home with a yard; there's a real opportunity to diversify the kind of housing offered in Anchorage. We can build up, not out, and small, not big. We can add solutions for multi-generational living or additions to single family homes that include mother-in-law apartments. We can create more mixed-use developments and ensure access to public transportation. It might not happen all at once, but when it does, it will continue Anchorage's transformation into a vibrant, modern Northern city.
What kind of developments would you like to see in Anchorage?
*I borrowed the photo from the Ravens' Roost website, which notes it is by Chuck Durrett – if it's not okay to use, let me know!