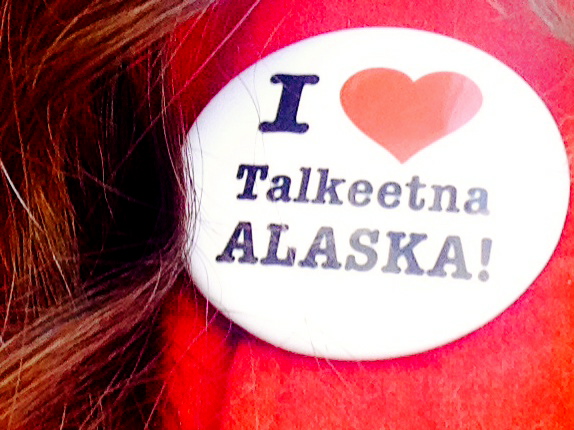 Ingredients for a great weekend: Road trip to Talkeenta, a pie making class at the Roadhouse, live music, craft brews, and most of all, good friends.
We stayed in the cozy, slightly eclectic "Museum Apartment"  above the Little Red Schoolhouse via the Roadhouse. The decor was a charming blend of English Rose meets small town Alaska, and was supplemented by a dose of old-school VHS offerings like the fascinatingly terrible "Stick" featuring a young-ish, very mustachioed Burt Reynolds (warning: This movie is best watched with libations in hand).
The pie-making class was awesome. We got to hang out in the Roadhouse kitchen, smell all sorts of mouth-watering cooking smells, and learn some great pie-making tricks. My compatriots were all accomplished bakers and even they left with a few new techniques.
Some favorite takeaways: A cool new method for apple-cutting, freezing pie dough or even full pies to have something delicious on hand, egg-washing your pie crust for an extra glossy look, throwing left-overs of all sorts into a pasty, fluffing your dough, and how to massage flour into the butter to make a perfect flakey crust. I highly recommend the class to anyone who is even remotely interested – you'll have to wait until October though; our class was the last of the season.
Although learning to make blueberry/mixed berry/bluebarb/blackberry/rhubarb/apple pies was the highlight of the weekend there were plenty of other lovely bits of Talkeetna to enjoy:
The vibe in Talkeetna was relaxed and comfortable, and everyone was so friendly. Turning to chat with the person next to you was like picking up a conversation with an old friend, even if you'd just met a moment ago.
It seemed like live music was everywhere – there was a quartet playing on the deck of the Denali Brewing Company where we grabbed lunch and after dinner we headed to the Hanger to catch Todd Grebe and Cold Country which was an unexpected treat; I've been wanting to see Todd perform for a long time because he's yet another Westie making a mark on the world, and he didn't disappoint. After the Hangar, the crowd and the band all headed over to the Fairview Inn to pick up the pace for more music, dancing, and drinking.
The weather totally cooperated with us – warm watery springtime sunshine the first day, big fat flakes of sticky snow the second day. Gorgeous both ways.
Although we didn't partake, it looks like there are all sorts of adventures for visitors – flight-seeing, zip-lining, and checking out the nearby trails are all appealing!
I experienced my first "half standard" Roadhouse breakfast – scrambled eggs, breakfast potatoes, bacon, and toast. Yum. I've been told this is a necessity for any trip to Talkeetna. We woke up early (the up-and-at-'em Type As overpowered the just-five-more-minutes Type Bs… one guess which one I am) and scored a prime table – by the time we left town hungry would-be diners were spilling out onto the street as they waited their turn. Maybe those Type As are onto something…
I ate a leftover Roadhouse salmon and wild rice pasty for dinner tonight. It was delicious, just like every moment of our weekend. Thank you, Stephanie, for having the good sense to decide the only way to celebrate your birthday was a girls weekend making pies in Talkeetna. You  are wise beyond your years. Happy birthday!