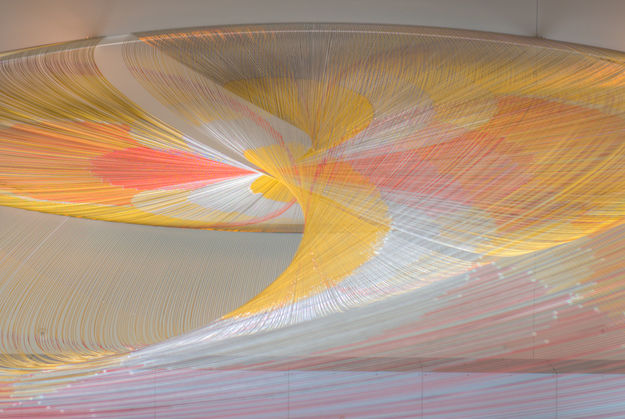 Internationally renowned designers, artists, and architects sharing their perspective in Alaska? Absolutely YES, courtesy of the Alaska Design Forum.
The design forum hosts an annual lecture series consisting of eight presentations from  October to April. Lecturers travel to Anchorage, Juneau, and Fairbanks during their visit – I love that presenters get to see more than just one city in our state, and hope that their experience in Alaska is as impactful for them as their lectures are for us.
This year, the series is called BLING, and it explores "the role of ornamentation in contemporary design." More on the topic:
Is it "less is more" or "less is a bore?" Many of the world's current leading designers manipulate materials and the laws of physics to bring beauty to an object or building. Perhaps it is the materiality of the thing itself – it's expression and articulation – that signifies culture and meaning.
I've long admired the Alaska Design Forum and particularly like the theme this year, so was thrilled to finally make it to a lecture last Thursday – a presentation by Benjamin Ball of Ball-Nogues Studio in Los Angeles.
Ball-Nogues is "an integrated design and fabrication practice operating in a territory between architecture, art, and industrial design, led by Benjamin Ball and Gaston Nogues.  Their work is informed by the exploration of craft. Essential to each project is the "design" of the production process itself, with the aim of creating environments that enhance sensation, generate spectacle and invite physical engagement."
The photo above is from their website; it's of "Euphony," a project Benjamin spoke about that I particularly liked. Ball-Nogues describes it as:
Catenary stainless steel ball chains descent dramatically from a suspended elliptical ring beam and then return skyward on a new path forming two shells of pattern and color. We produced a translucent three-dimensional painting, fabricated with a custom digital cutting machine. Depending on the viewer's vantage point, the 1141 multi-colored chains of Euphony may appear as a hard-edged geometric form or blur to a vapor-like visual composition.
Euphony amplifies aesthetics of light, reflection and color creating a visual spectacle and physical sensation in a public space. 25 miles of stainless steel chain are attached to a 30' x 8' steel ring beam that is suspended 3' from ceiling. Euphony hangs 117' and 10' 11" above first level floor.
Gorgeous, right? I love the way they used color to mimic the play of light. Benjamin described the feeling of the piece as thickening the atmosphere – it's more substantial that just color or light, but also somewhat ephemeral, especially the way it changes as the viewer moves through the space.
Benjamin's presentation was thought provoking and he either has an incredibly dry sense of humor or is unintentionally funny (I'm leaning toward the former, especially after he shared a slide that displayed a close up of a dude sporting baby blue briefs said it was the inspiration for one of their pieces called "Cradle"). His manner was very casual and it was startling when he would say something that seemed so simple, but once I started thinking about it felt like a camera was finally coming into focus. I particularly liked his thoughts about bridging the space between digital and tangible, and about the meaning of the word "craft."
Here's a bit more about the forum in case you're interested:
The Alaska Design Forum presents a variety of programs, all of which support our mission of exposing the community to leading-edge design and art ideas and encouraging discussion on the relevance of these ideas to life and design in our state.
The design forum recently hired an executive director, Holly Mcquinn, to expand programming, develop partnerships, and broaden community involvement. I think it'll be fantastic to have someone devoted to the forum's mission and leading the conversation about design in Alaska. And, I loved that she was wearing a super bling-ey shirt – way to stay on message!
There are three presentations left in the series this year:
Jessica Hische, Graphic Design / San Francisco, March 25-27
Supermachine, Multi-Disciplinary Design / Bangkok, Thailand, April 8-10
Solid Objectives, Architect / New York, April 15-17
Check the website for updates, or like forum on Facebook.
What do you think about bling? Less is more, or less is a bore? Or somewhere in between…