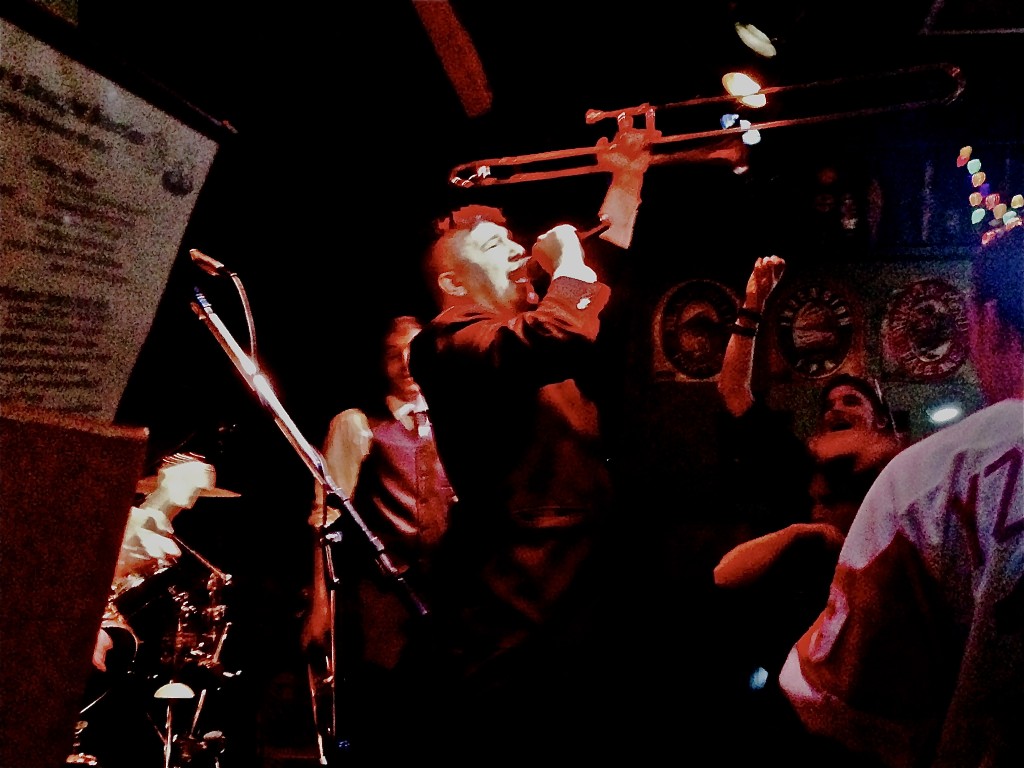 One night a few years ago, my husband and I wandered into the Tap Root and encountered the Nervis Rex (Anchorage's ska band of 18 years), for the first time. People flooded the dance floor, smiles were everywhere, and the energy in the room was running high. It was AWESOME, and now we try to make it to their shows when we can. Lucky for us, it's "Ska Saturday" at Humpy's Great Alaskan Alehouse every Saturday this month through the first Saturday in March.
Haven't heard of the Nervis Rex before? Here's a great article by Ben Histand in the Anchorage Press: Interrogation: Scott Emery of Nervis Rex, along with an excerpt:
So in the summer of 1996, Emery and a few friends formed Nervis Rex as a ska experiment. Emery didn't necessarily expect to find fertile ground in Anchorage, but he was determined to try. He remembers thinking, "We're gonna do this, nobody's gonna like it, but we're gonna do it anyway."
Emery was wrong; just about everybody liked it (and still does).
If you couldn't guess from my posts here and here, ska appeals to my nerdy little brass-loving heart. I was in high school when ska became cool (at least, I thought it was cool) and  although I didn't develop an appreciation for Swingers until much later in life (much later as in last month when I read So Money: An oral history of Swingers) I'm pretty sure it was responsible for two things I definitely appreciated: Ska and swing dancing.
Along with Big Bad Voodoo Daddy from Swingers, Cherry Poppin' Daddies and The Mighty Mighty Bosstones were favorites. I dragged my brother and some other friends to swing dancing lessons and although I'm not known for my graceful moves I could do a sweet superman trick without kicking my brother in his face. Huge accomplishment.
Back to the Nervis Rex. Their performances are just so joyful and they share that joy with everyone who listens. It's easy to dance like you're 16 again when they perform.
We went to the first Ska Saturday at Humpy's and the band opened with a brief rendition of Journey's "Don't Stop Believin"" and proceeded to join the crowd on the dance floor, take shots of something called Jägermeister Spice, and just have a helluva good time. How could you not love all that exuberance? And of course, they're skilled musicians as well. If you can make it to a performance, you should go – you'll dance the night away.
The Nervis Rex are SO money baby.