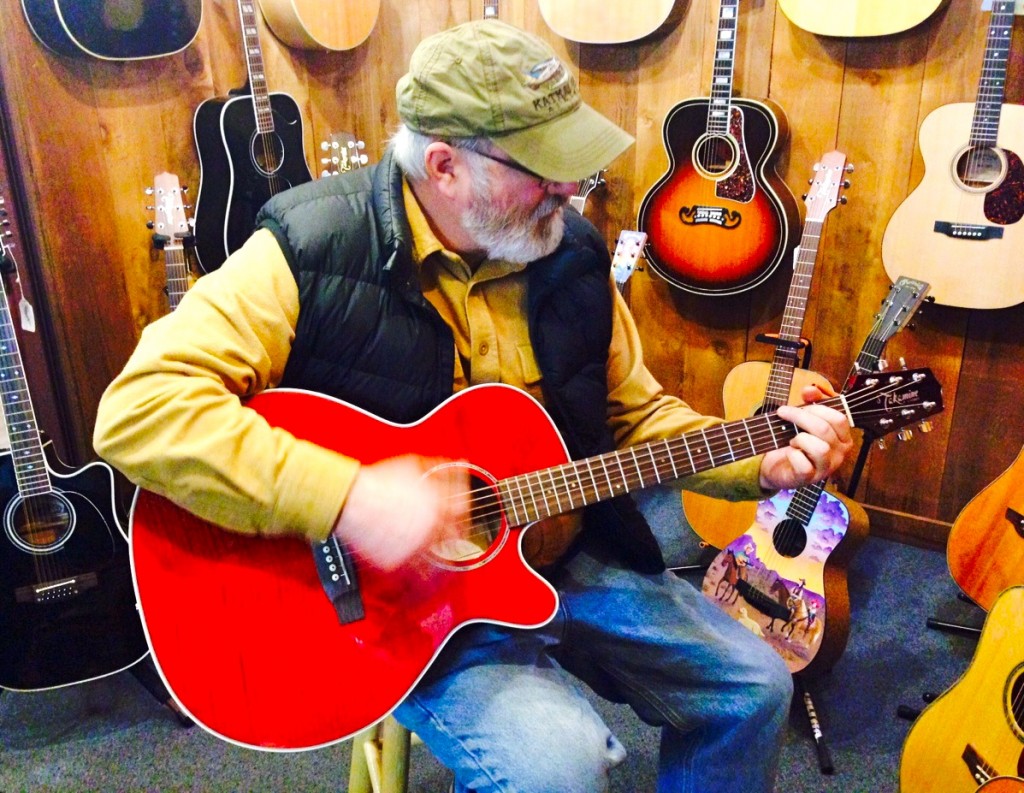 I visited Mammoth Music for the first time this weekend with my dad. It was so cool – overflowing with guitars, ukuleles, harmonicas, kazoos, mini-maracas, and every kind of musical accessory you could need.
We stopped by for a quick errand, but stayed and played awhile. Actually, my dad played and I listened. The guitar in the photo wasn't the best sounding of the bunch, but he played it for me because I thought it was pretty (the things dads do for their daughters…).
My dad is incredibly musical. He can pick up almost any instrument and play it by ear. Those genes skipped me; you know this if you've ever heard me sing… if you can even call it singing. I used to be okay on the trumpet, but, well, that was the trumpet (coronet, actually).
Despite being tone-deaf (and rhythmically challenged) I love music, and have my dad to thank for that. He played classical music for my brother and I when we were babies (apparently, any time he played "Flight of the Bumblebee" I would laugh and laugh) and I've loved it ever since. Later he introduced me to oldies, which are still some of my go-to favorites; I totally impressed my future husband by knowing ALL of the words to "Cecilia." I spent six years in band and can attest to the power of being in the midst of music-making – it's an incredible feeling (hopefully worth the endless scales being played; those high notes are hard on the ears!). And it all came from my dad sharing his love of music with me.
After Mammoth Music, we went to see if my dad's guitar was ready to be picked up after repairs, and I made a discovery: Anchorage has a mini music retail cluster happening in Fairview! Mammoth Music, Petr's Violin Shop & Guitar Center, The Horn Doctor, and a guitar repair shop are all located within a square mile or so of each other. Could it really be a cluster? Who knows… but it seems like some sort of music school (a school of rock!) or performance venue like the Taproot would flourish with so many musicians flocking to the same part of town to select and fine-tune their instruments. Maybe it could be part of the neighborhood renaissance? I'm pretty excited about this discovery.
It was a wonderful way to spend a sunny Saturday morning. Thanks dad.