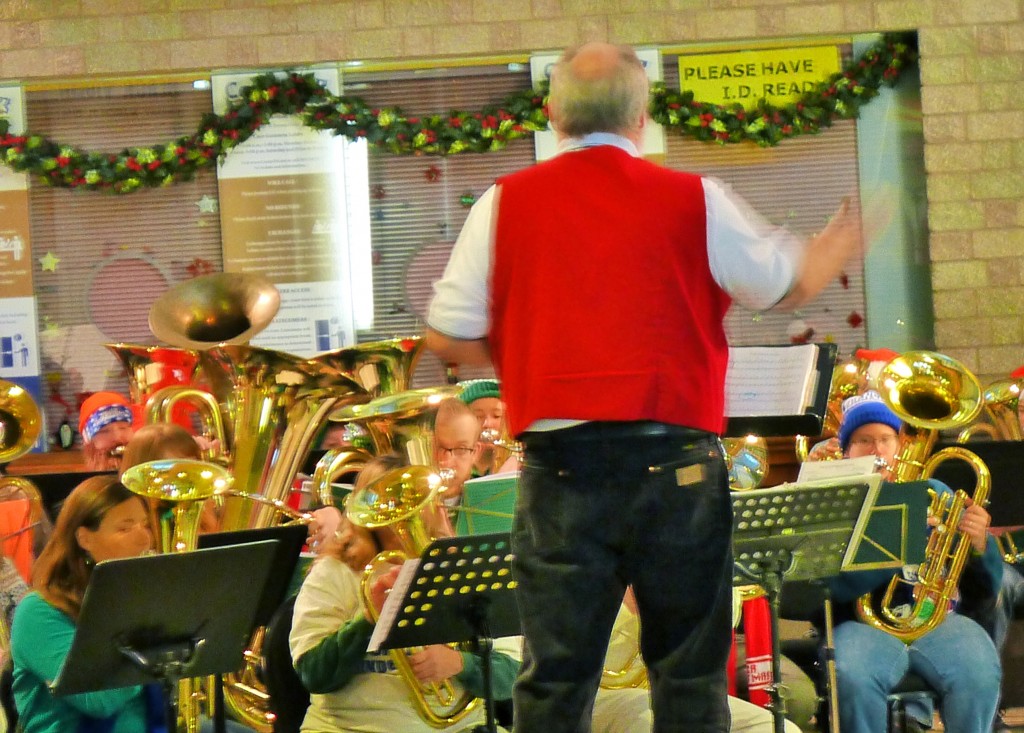 Every year, I think to myself, "I want to go to the Tuba Christmas!" And then I forget, or get busy, and end up missing it. This year though, my parents made sure to call me when they were on their way to the performance, and the music, combined with all the gorgeous snow and a visit to Kobuk Coffe Co. afterward (always decorated from floor to ceiling for the holiday season) made it start to feel a lot like Christmas…
Invitation to Tuba Christmas from the Alaska Center for the Performing Arts:
Christmas cheer will boom inside the Alaska Center for the Performing Arts Lorene Harrison Lobby as baritone instruments wrap their deep, mellifluous sounds around the carols of the holiday season. If you would like to play with the band, registration starts at 10am. All skill levels are welcome!
Don't you love that any tuba player (tubist?) can join, regardless of age or skill?
The event has been a part of the Anchorage holiday scene since 1995; every state in the country has at least one performance of Tuba Christmas. Check out this video from a Tuba Christmas at Rockefeller Center in New York City: "Adeste Fideles," aka "O Come All Ye Faithful" (flashback to band: six years a trumpeter!) to get a taste.
At the Anchorage Tuba Christmas, musicians play for an hour or so, punctuating songs with jokes and exclamations of "wassail!" Highlights were:
Ode to Joy (love so much)
The aforementioned random exclamations of "wassail!"
It's a small word connections – bumping into a friend of friends whom I haven't seen for a couple years; so much fun when that happens!
The crowd singing "Silent Night" (some singing in German, "Stille nacht, heilige nacht," bringing back memories of high school Deutsh and my alter ego Claudia/Helga)
Watching my dad scope out the musicians, looking for a trombone (his brass instrument of choice)
Happy kids running around, all seeming to sport brightly colored Patagonia puffy-wear to stay warm
And really, the tubas themselves were pretty amazing. The tuba can be so easily overlooked, and it was fascinating to listen to the range of the instrument!
Check out the Anchorage Daily News article, Holiday spirit on high at Tuba Christmas, for more about the event and the performers.
Also, it occurred to me that I don't actually know what "wassail" means, so I looked it up; I think we were missing the libation part of the definition (unless Americanos afterwards count?), but the sentiment was right on:
A salutation wishing health to a person, used in England in early times when presenting a cup of drink or when drinking to the person.
A festivity or revel with drinking of healths.
Liquor for drinking and wishing health to others on festive occasions, especially spiced ale, as on Christmas Eve and Twelfth-night.
Archaic. a song sung in wassailing.
To revel with drinking.
I leave you with a "wassail!" and guten nacht.