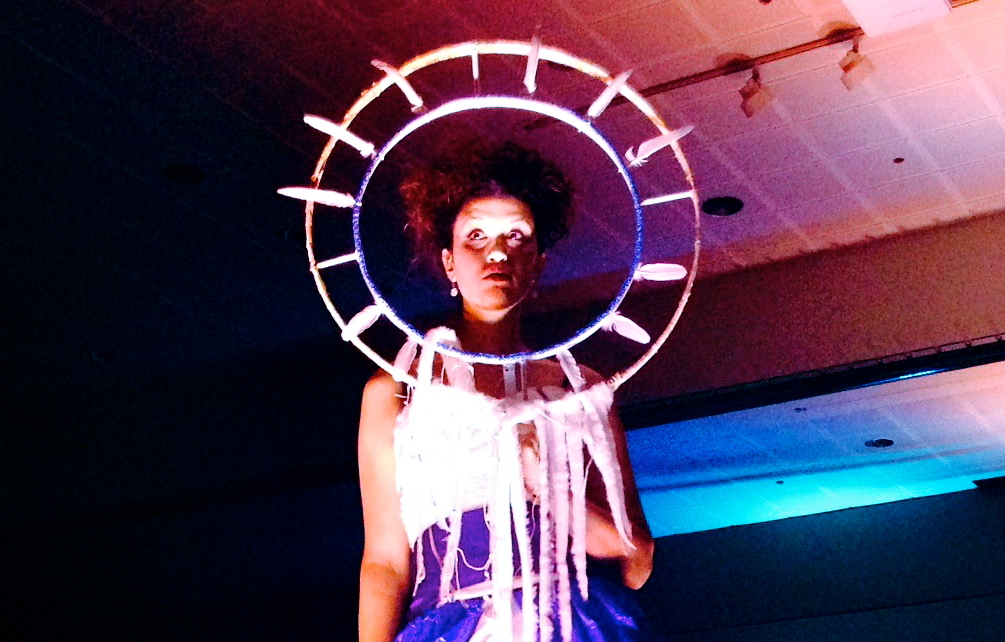 Ingredients for an awesome girls night: one part art, one part fashion, a riff of music, a dose of inspiration, and a serving of sushi. Combine with old friends and new. Shake well, add a  flourish of champagne, and you've created an awesome girls night. Which happened to be last Friday night at the Alaska Native Visionary Awards by Alaska Native Heritage Month.
The awards "recognize Alaska Natives who are preserving culture through artistic and visionary ventures such as film, photography, music, fashion, visual and literary art, performance art and much more."
Host Shyanne Beatty, who possesses the most bawdy, utterly infectious laugh I've ever heard and a mischievous twinkle in her eye, kept the event moving and the energy high.
Evon Peter, Maria Williams, Cika Sparck, and Joel Isaak were all honored and gave touching, heartfelt speeches about the people who helped them grow and evolve. Each awardee was given a creation by an Alaskan artist (I'm seriously coveting the fedora made of woven cedar).
Silver Jackson (AKA Nicholas Galanin), founder of the Home Skillet music festival in Sitka, performed two lovely songs that were incredibly peaceful and sweet, like sleepy good dream songs.
After the awards, speeches, and performances, it was time for the fashion show!
"Wear Art, Thou" featured traditional Alaska native materials sewn into designs inspired by the Renaissance era. It was so much fun to see materials like salmon-skin and sealskin worked into each ensemble, and I love the "indigenous movement of Alaska Native designers bridging traditional techniques to crafting contemporary wearable art."
My photos did not turn out well at all (see above), but check out the Alaska Dispatch gallery: Backstage with the models of "Wear Art, Though?"
I also recommend reading this article by Trina Landlord, executive director for the Alaska Native Arts Foundation for more insight into the inspiration for the show: "Wear Art, Though?" celebrates Alaska Native art fashion, culture. Really, really love this.
This Friday night, I'm staying off the icy streets (girl night, party of one…). But last Friday night, well, that was truly an awesome girls night.  Thank you so much for the invite, Bridget!