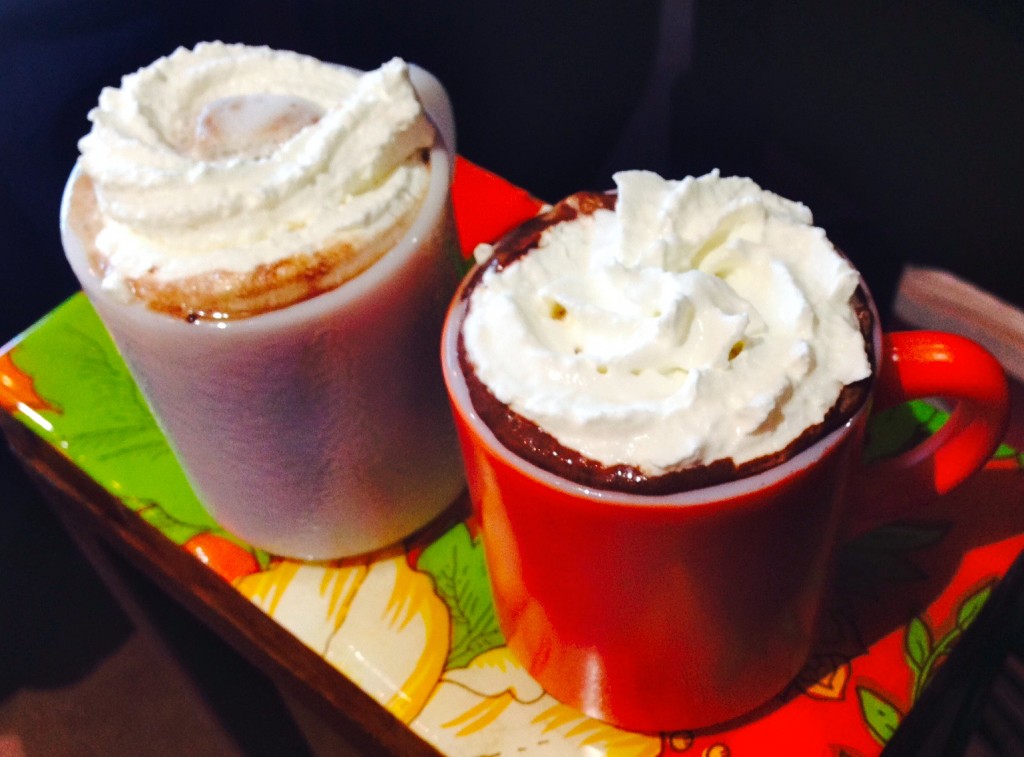 My mom and I stopped by Modern Dwellers Chocolate Lounge the other day – don't you think the cold, cold weather is the perfect reason to treat yourself to hot chocolate? And Modern Dwellers is a great place to get it!
My mom ordered the silky drinking chocolate and I ordered the spicy Mayan version. Both are served straight in tiny cups and the consistency is so thick it seems like chocolate syrup. We decided that was a little too rich for us, so asked for the chocolate to be mixed with milk and a swirl of the house-made whipping cream. The result was a mug of decadent hot chocolate that we enjoyed as we lounged in a couple of arm chairs positioned perfectly to admire the art decorating the walls.
Modern Dwellers is self-described as, "Anchorage Alaska's only chocolate lounge – a chocolate and espresso experience amidst contemporary works of art and gifts. A visual treat. An aesthetic retreat. Offbeat. Featuring our own in-studio produced artisan truffles and chocolate bars, rich drinking chocolate, and a full espresso bar."
They are well-known for their hand-crafted artisan truffles, which include exotic pairings and fascinating flavors:
The Berbere: bittersweet ganache spiced with Ethiopian berbere, dipped in dark chocolate and garnished with a pinch of berbere.
Turbo Thai: bittersweet ganache of lemon grass, lime zest, Thai chili, coconut milk and coconut cream sprinkled with organic coconut flakes.
Indian Bop: bittersweet East Indian curry ganache enrobed in dark chocolate, hand rolled in dark chocolate and toasted coconut flakes.
Tokyo Tango: fresh ginger and wasabi ganache dipped in dark chocolate, plumed with nori (toasted seaweed) and candied ginger.
Salmon Surprise: bittersweet honey and black pepper ganache submerged in a dark chocolate shell, topped with Alaskan smoked salmon.
The Bleu Note: fresh bleu cheese and milk chocolate ganache rolled in dark chocolate and garnished with smoked bacon sea salt.
If you'd like to read more, Entrepreneur Alaska wrote a post back in 2011: Modern Dwellers: From furniture to chocolate.
Although Modern Dwellers was previously at two locations, one in midtown and one in downtown, the owners recently consolidated into a single lounge in the flourishing Metro Mall.
Stop by and enjoy!