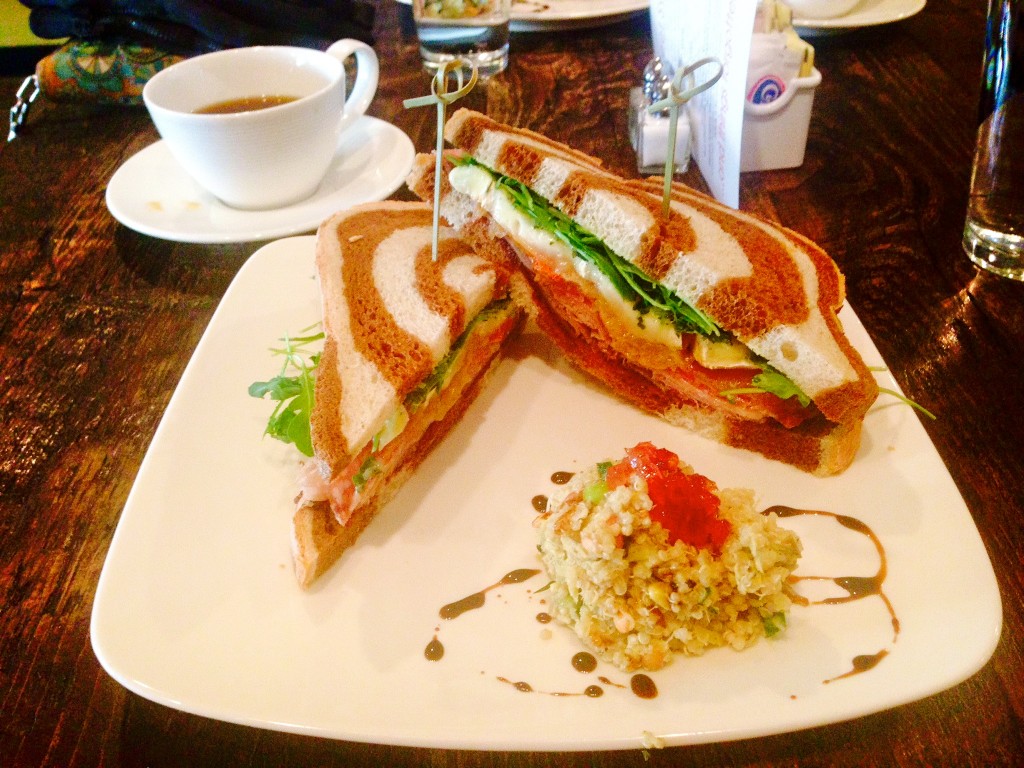 A friend sent me a drool-inducing menu as (unnecessary) bait to join her for lunch at a new restaurant. One look at the menu and I took the bait, hook line and sinker.
Our lunch date for The Red Chair Cafe was planned!
The cafe name is quite literal. When you enter the dining area, there it is: one red chair in a sea of dark brown. Although the origin story of the "red chair" concept has been lost over time, it sounds like there might be future fun in store for lucky diners who sit in the red chair…and if you're ever that person, let me know what it is!
The decor is steampunk-inspired, featuring exposed ducts-work, concrete floors, interesting metal-work, rough wood tables, vibrantly colored walls spray-painted by a local artist, and mostly empty frames (my favorite hosts a giant Edward Allen Poe-like raven) colliding artistically with each other.
If you're not familiar with steampunk, here's what Wikipedia has to say:
Steampunk is a sub-genre of science fiction that typically features steam-powered machinery,[1] especially in a setting inspired by industrialized Western civilization during the 19th century. Steampunk works are often set in an alternative history of the 19th century's British Victorian era or American "Wild West", in a post-apocalyptic future during which steam power has regained mainstream use, or in a fantasy world that similarly employs steam power. Steampunk perhaps most recognizably features anachronistic technologies or retro-futuristic inventions as people in the 19th century might have envisioned them, and is likewise rooted in the era's perspective on fashion, culture, architectural style, and art.
More about steampunk here.
And now for the food (YUM). I knew it would be good because:
My lunch date has great taste (she introduced me to the Gumbo House, for which I will be forever grateful!); and,
Anchorage Downtown Partnership already wrote a review about how good the food is! Read it here: The Red Chair – Full of Good Surprises.
I ordered the "Lizzy", a delectable concoction of brie, prosciutto, salami, arugula, caramelized onions, roasted tomatoes, basil aioli, and fig. It was served with a scoop of perfectly cooked quinoa. My friend ordered the ham and tart cranberry sandwich, and pronounced it delicious.
On our way out the door we lingered over the display of intriguing baked goods (white chocolate dulce quickie bread, chocolate ganache dipped brownie balls, banana bread pudding in sauce – see what I mean? Very intriguing!) but we were too full to even attempt something so decadent… guess we'll have to make a return trip, coffee and dessert only!
If you want to try it for yourself, the Red Chair is a bit off the beaten path at 337 E 4th Ave. I hope you enjoy it as much as I did!