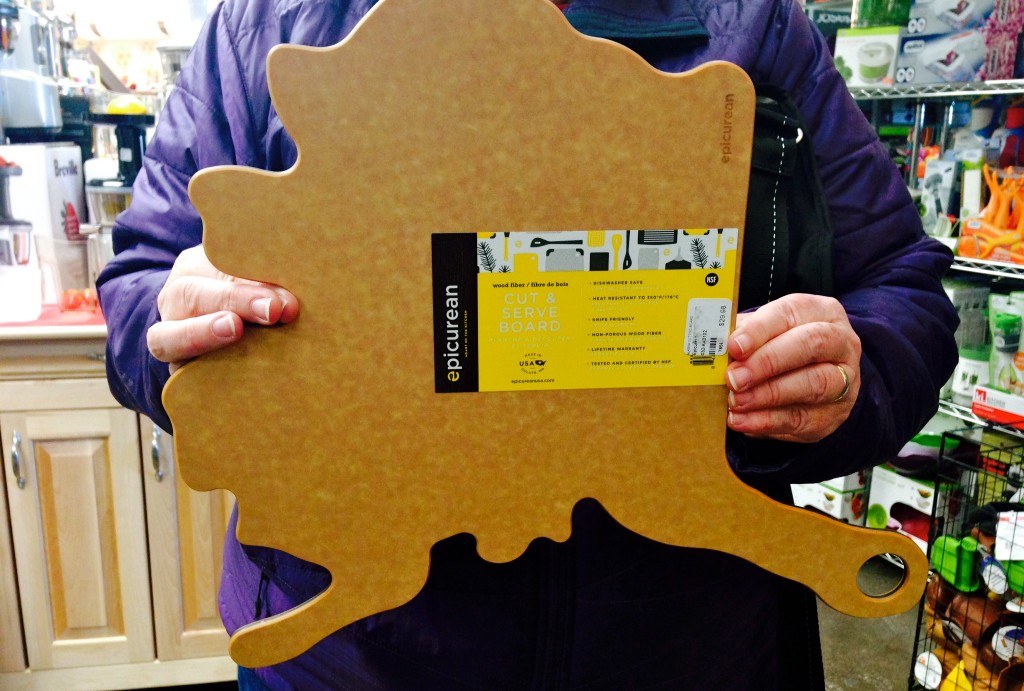 Look what I found at Metro Cooks: An epicurean cutting board in the shape of Alaska!
Epicurean cutting boards are my favorites for a number of reasons:
Made of wood, so they don't harbor bacteria
Dishwasher safe so you can get them really clean
Lightweight (I LOVE the big, gorgeous cutting blocks, but they are soooo heavy)
Pretty
Knife-friendly (no slipping or dulling)
Forest Stewardship Council certified because they're made from recycled material
They are also a bit pricey, but I think they're worth it! Randomly, "Epicurean® was founded by custom skate park manufacturer TrueRide® as a way to repurpose excess skating surface material generated during manufacturing." Cool!
When we asked the saleswoman at Metro about the boards, she said that although Epicurean was doing designs for other state, they weren't planning on doing Alaska because they didn't think the market was big enough to sustain the minimum quantity necessary for manufacturing. The team at Metro thought about an Alaska-shaped board, decided they loved the idea, and purchased the 280 required to move forward (and then spent quite a bit of time working with the designers to make sure they got the shape of the state right).
Metro is the only store in the state carrying the Alaska boards – go out and get yours! A great gift for Alaska-lovering chefs near and far.