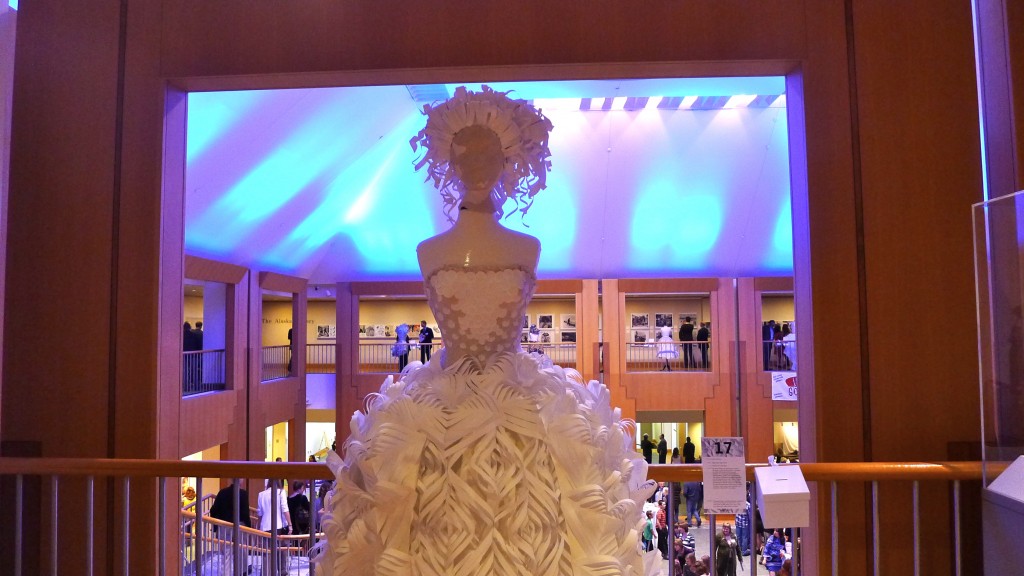 Is it just me, or is the cool factor of cultural offerings in Anchorage increasing exponentially? A few cool events bred TONS of cool events – and now there are just SO many fun things to do! On Saturday, I stopped by Pupil + Paper at the museum, the ridiculously creative fundraiser for the Children's Lunchbox (a program of Bean's Cafe) – it definitely "made the cut" as a cool new event.
I wasn't really sure what to expect, but I knew it was brainchild of the great designers at kpb Architects and the superstars over at Thompson and Co. so it was bound to be good. Plus, I heard there were going to be PopCycles (the last of the season, nonetheless!), DJ Spencer Lee was going to be spinning, and iloveanchorage on instagram kept posting intriguing photos of lunch boxes… and then just to tip me over the edge, a friend send me the Facebook invite (thank you Ryann!), and I was done for – YES to Pupil + Paper.
The most fantastic part of the event was the fashion competition. Teams of Anchorage high school students used recycled paper to create couture-like gowns that were utterly magnificent. Attendees voted on their favorites, and the top three teams received scholarships.
Victoria Barber with the Anchorage Daily News wrote Using only recycled paper, student's make fashion for Bean's about the work leading up to the show: Here's an excerpt:
For weeks, South High School junior Lily Pieper has been cutting paper flowers. Daisies, roses, gardenias, orchids and abstract blooms not found in nature — she has crafted well over a hundred. She has callouses from her scissors and burns from hot-gluing layers of petals. Every so often, her family's two retrievers run into the room and trample on the flowers, and she starts again.
The story references two of my favorite dresses (the one with the honeycomb bodice and the one with antlers) – very cool to learn a bit about the creative process for each ensemble. My photos really didn't do the designs justice, so if you want to see good photos of the gowns, keep on eye on the P + P Facebook page.
Other attractions included fancy drinks from Alaska Soda Jerk, mustache tattoos, a photo booth with accessories galore (totally embarrassed myself with ill-conceived poses), and a silent auction that included the previously mentioned lunch boxes, which were transformed by local artists into all sorts of fanciful artwork.
All in all, it was a major departure from the usual fundraiser fare, and SO much more fun!
____________________
UPDATE: Pupil + Paper raised more than $40,000 for Children's Lunchbox, and the event's host, kpb architects, provided the top three student teams from the Anchorage School District with a total of $9,000 in scholarships. The winners of the design competition were:
Kaitlyn Schwalber of South Anchorage High School
Sierra Armstrong and Haley Shaw of Chugiak High School
Juliette Green of West High School