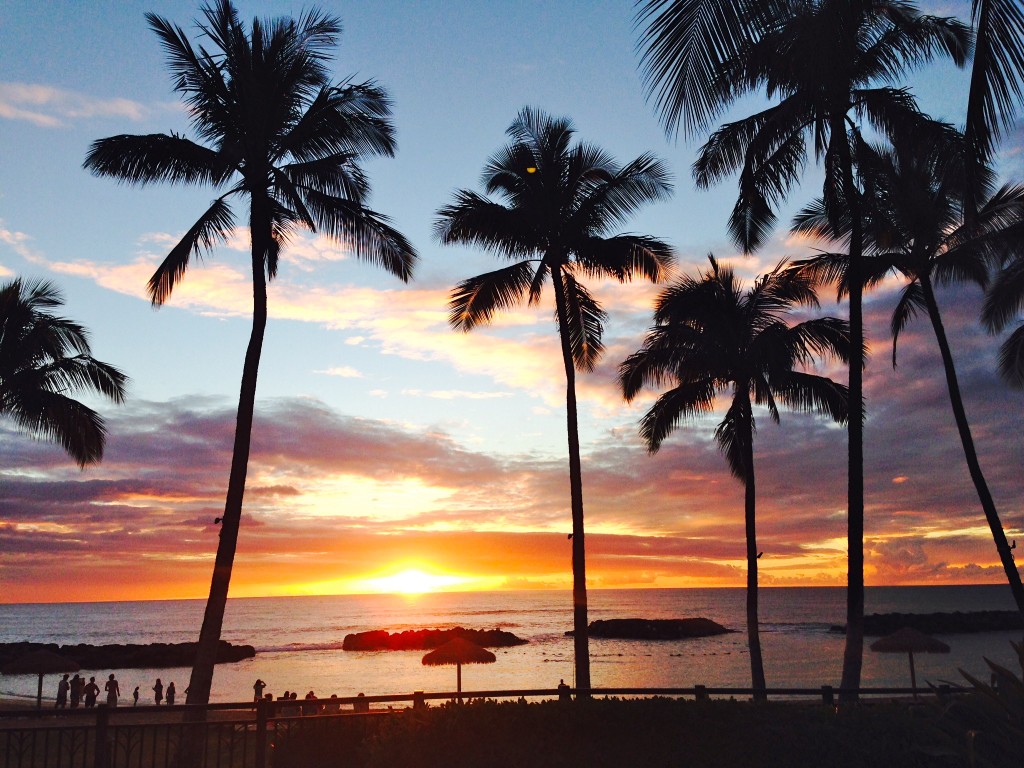 My husband and I recently returned from a long-delayed honeymoon in Hawaii. We were both in need of some R & R, and I'm happy to say that we found it!
A few things I loved:
The sunshine! Not that I'm sporting a bronzed goddess tan or anything (I was pretty religious about the sunscreen – a lesson learned from burning my pale AK skin one too many times) but I definitely reveled in the nice weather.
Pineapple EVERYTHING. Coconuts and macadamia nuts too.
The sound of the ocean. The smell of the ocean. The salty buoyancy of the ocean. Swimming in the ocean. All the pretty fish in the ocean. Pretty much all things ocean.
Live music every night (including a dude who sounded like Don Henley! Cue ecstatic husband).
Sunset watching.
Guy Hagi, weatherman extraordinaire: "Tomorrow will be cooling down from 84 degrees to 83 degrees…"
The chubby trash-inspecting neighborhood mongoose.
Sailboats galore.
The bright lights of Waikiki brightening up our window-shopping.
Mini-road tripping around the island – so fascinating to peek at all the different neighborhoods, and dream decorate my own Hawaiian get-away. Thanks to Kate Collins Interiors, I'm now stuck on Oprah's house and banana leaves.
The Grass Skirt Grill. A favorite of mine, the perfect place to stop after watching the surfers on the North Shore.
A general glow of friendliness from everyone we met.
Pink and orange flowers spilling over walls. So sumptuous.
Our hotel overlooked a very busy wedding chapel that was part of all-inclusive wedding packages being sold in Japan. I think we saw more than 45 weddings during our trip (princess dresses are definitely in style). A limo would pull up, a bride and groom would disembark, and shortly afterward the big bell would ding, the newlyweds would walk out of the chapel, friends and family would throw flower petals in the air, everyone would smile and clap, and then adjourn to the beach for some photos. An hour later, it would start all over again.
Of course, there comes in a time in all vacations when you miss your furry little Frenchie, when you want to try the new restaurant that just opened, when you want to meet your friend's new baby (!!!), when you're looking forward to the cool museum party, when a lungful of crisp almost-winter air seems like the most refreshing thing you can think of, and most of all you miss the familiar faces of your favorite people.
I'm so glad to be home!