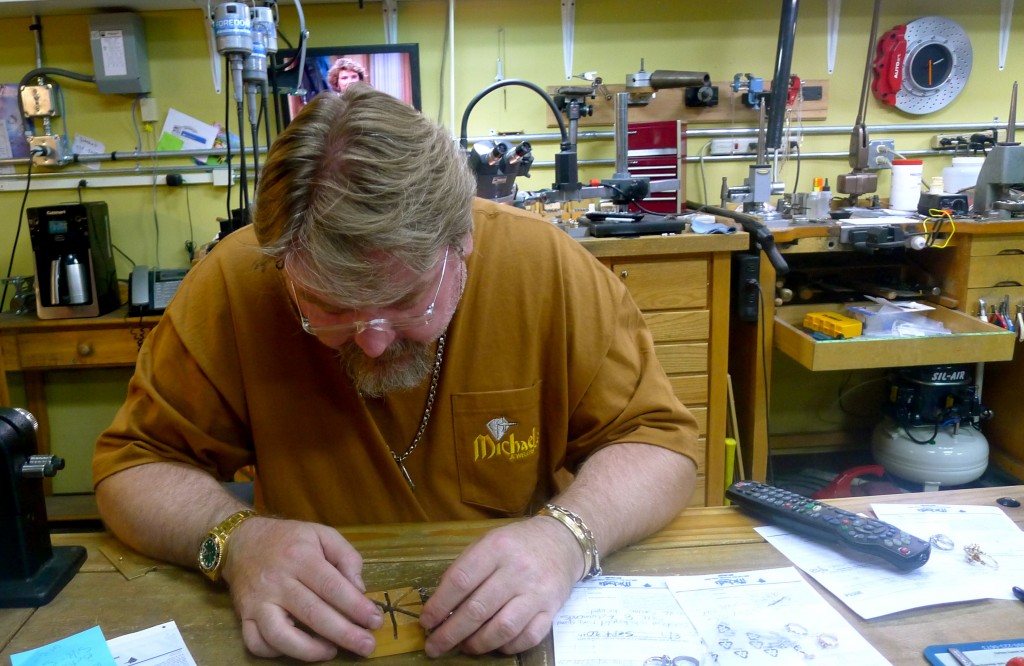 The other day I dropped off my engagement ring at Michael's Jewelers of Alaska for a bit of maintenance. It was my first time visiting – previously, my jeweler of choice was Josh at the Jewelry Cache, but he recently closed his shop, so I thought I'd give Michael's a try.
I don't visit jewelers often (my taste runs more toward handmade or funky than general jewelry store inventory) but I have a fear of losing the diamond in my engagement ring and any time it starts to wiggle in the setting off to the jewelers I go.
My grandmother left me the ring when she passed, and it has tremendous sentimental value for me. I'm most comfortable leaving it at a locally owned business, so Michael's was a natural choice for me. Plus, "Diamond Dave" (Dave and his wife Mindy own the store) made my sister-in-law's engagement ring and I love it – its beauty and simplicity suit her perfectly.
When I walked through the door, I was greeted by Shorty, a three-year old brussels griffon (affectionately called "brussel sprout"), and Mindi, who encouraged me to browse until Dave was free.
Although the jewelry at Michael's is beautiful and obviously high quality, the real treasure is the workroom, which is a gloriously messy space, filled with tools and interesting odds and ends that will probably be transformed into something gorgeous. I loved watching Dave as he inspected my ring and adjusted my watch; so fascinating to see a big, burly guy so skillfully manipulate delicate materials and tiny tools with such dexterity.
I left with a sense of security (my grandmother's ring is in good hands), a bad case of bracelet envy (Dave wears some really gorgeous gold bracelets that made me long for a stack of my own), an appreciation for brussels griffons (so crazy cute! Picture the dog in As Good as It Gets), and a wish that I could have sat in a corner for a couple of hours and watched a master jeweler at work.