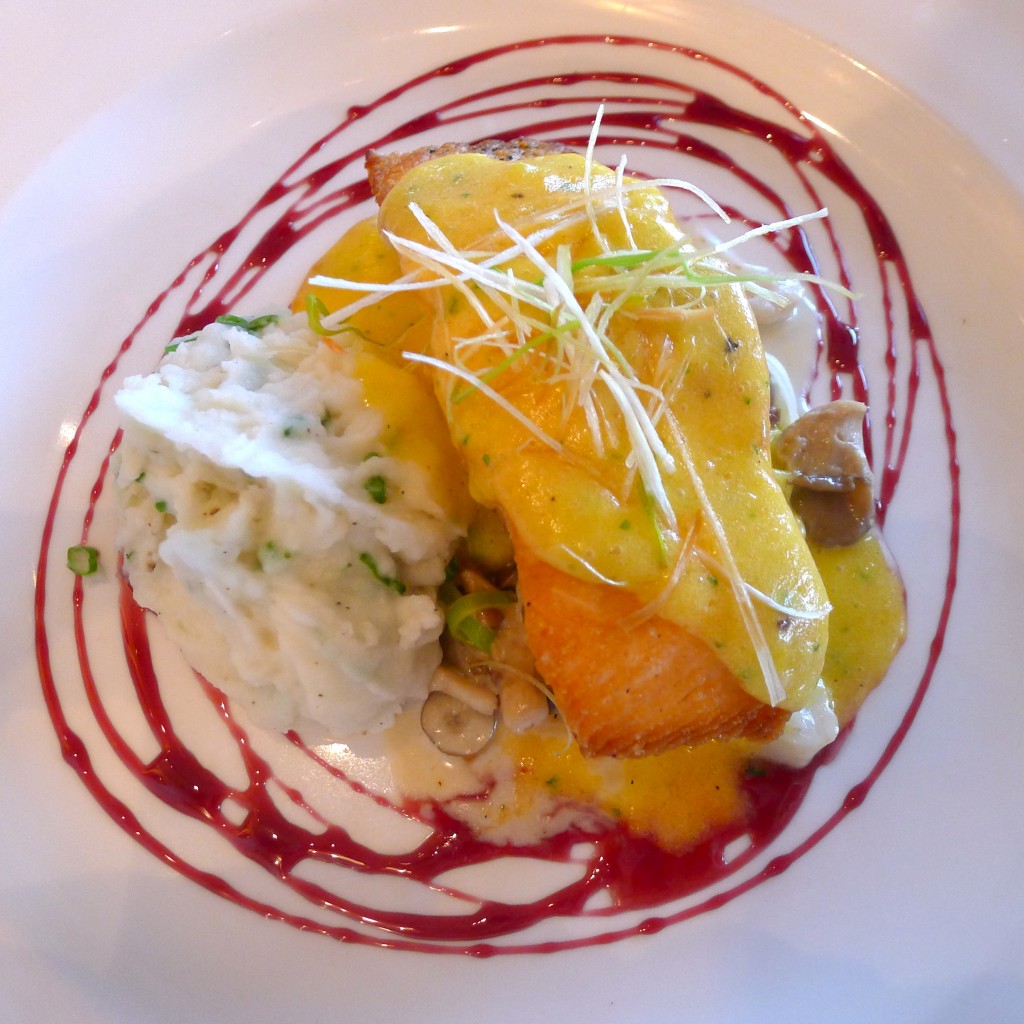 I picked this photo to complement the last story in this post, which profiles my #1 Anchorage restaurant, Kincaid Grill. If you haven't ever dined there, I highly recommend treating yourself to a delectable meal!
Here are a few of my favorite stories for you this week; it's all about food, fashion, and art in Anchorage this week.  Oh, and skiing too!

Artist residency program launches by the Rasmuson Foundation: "The Rasmuson Foundation has launched a Artist Residency Program to support eight-week residencies for Alaska artists at Lower 48 organizations, and welcome to Alaska organizations accomplished artists from Outside." How cool is this? Love that our artists will get to travel to other states, and Outside artists will get to experience Alaska.
Here and Now: Chef Kathy Brings Recipes from Alaska. This isn't specifically about Anchorage, but fun to read about a chef's travels in Alaska regardless!
After fashion-show debut, Alaska Native-inspired clothing hits the gallery by Trina Landlord in the Alaska Dispatch. I missed the fashion so, so this is a great opportunity to look at the much-lauded Water Collection.
Market Fresh: Spotlight on food preservation by Steve Edwards in the Anchorage Daily News. A round-up of Anchorage farmer's markets and a heads-up about an opportunity to learn about food presevation at the Spenard Farmer's Market on Saturday. Speaking of food preservation, I tried pickled salmon and halibut at the fair, it was GOOD. And I've been loving bread and butter pickles, bell peppers, and carrots recently. Mmmmm.
The Top 25 Ski Resorts in the World in Snow Addiction. Alyeska is #2. Woohoo!
Kincaid Grill is like a mini-vacation by Mike Dunham in the Anchorage Daily News. I love reading rave reviews about my favorite restaurant! "…it remains one of the most elegant eateries in Anchorage, probably the farthest west best restaurant on the American road system if not the whole continent. An evening at Kincaid Grill is like a mini-vacation to a place where English is a second language, food is venerated and meals are prepared and received with the earnestness of a religious rite." I might have to take Mike's recommendation and make a trip just for the souffle (never tried it before ) and a glass of wine…
Speaking of wine, I'm off to enjoy a glass of vino right now! Hope