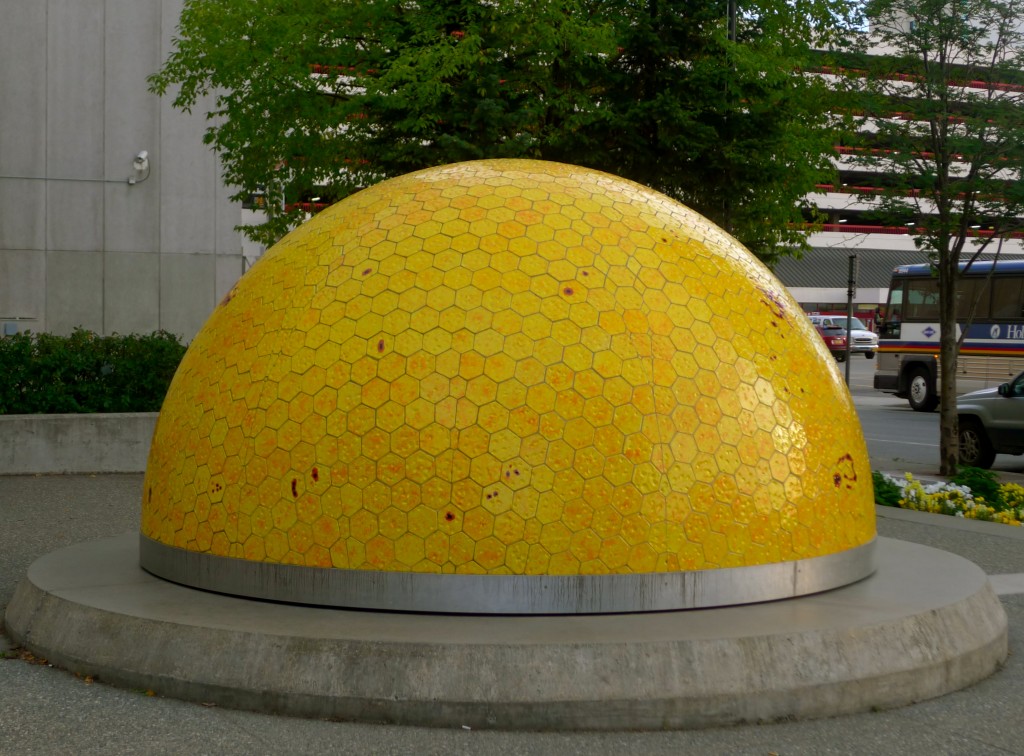 If you're standing at the corner of 5th and G, you've probably noticed the yellow-tiled half-globe nestled in a crook of the Alaska Center for Performing Arts. This is a replica of the sun (complete with accurate sun spots!) and is the start of Anchorage's Light Speed Planet Walk, which was inspired when Eli Menaker visited the Carl Sagan Memorial Planet Walk in Ithaca, New York.
It was weird for me to type that last sentence, because to me Eli will always be an adorable little boy I'd see sometimes on the ski trails, not someone who who designs lasting tributes to the solar system. And yet, every time I see one of Eli's planets around town I'm reminded that we all have gifts to offer each other and our communities (and also, that everyone grows up, even if we remember them as little!).
From Eli:
"Even though the sky is accessible to everyone, few people look up to appreciate it. I believe I can change this…"
The planet walk was Anchorage Downtown Rotary's centennial project, commemorating 100 years of community and international service. The tile-work is by Julie Matthews, and graphic artist Charles Marshall is responsible for the interpretive sign design. Eli wrote all the content. Oh, and did I mentioned he dreamed this up while he was still in high school?
From the website:
The Anchorage Light Speed Planet Walk is a scale model of our solar system. Taking the walk, you experience the relative size of the planets and their distance from the Sun. The scale was chosen so that a leisurely walking pace mimics the speed of light. On this scale, each step equals the distance light travels in one second (300,000 kilometers or 186,000 miles).
It should take you about 8 minutes to walk from the Sun station at 5th and G to the Earth station at 5th and K, just as it takes 8 minutes for a light beam to travel from the real Sun to the real Earth. Similarly, it takes you and a light beam 5 1/2 hours to reach Pluto at Kincaid Park.
You can find the location of each planet here.
I haven't ever set out to do the full walk, and would probably take the suggestion to travel at "warp speed" and visit each planet on my bike. Although I've noticed many of the planets before, I've never intentionally visited them. It sounds like a good end of summer adventure!
Have you ever done Anchorage's planet walk?