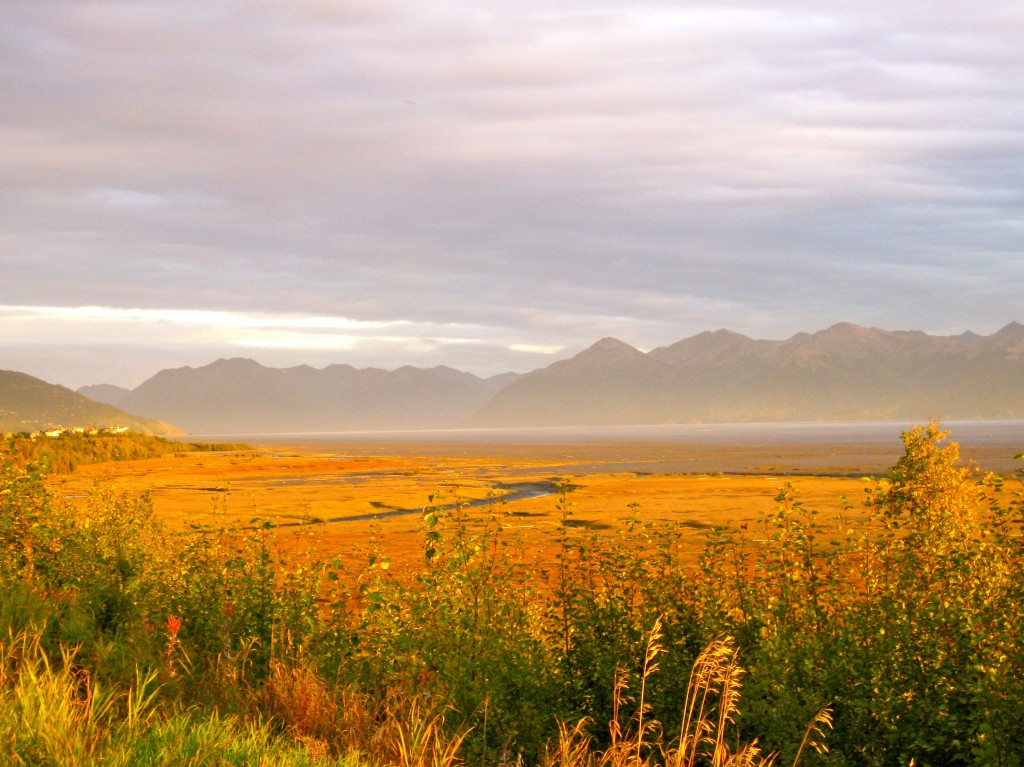 This photo is from a couple of years ago, and despite the rain that accompanies autumn, I'm sure you can see why it's my favorite season. I hope everyone had grand adventures this weekend/relished being a bum/was hyper-productive/or enjoyed time with friends (or all of these options combined!).
My 'stories around town' are late, but still great! Read on for some of my favorites during the last few weeks.
Meet Monty – The Newest Member of the Alyeska Ski Patrol in the Alyeska Resort Blog. I love the Alyeska rescue dogs, and Monty is their newest member. Check this out for a dose of rescue-dog-in-training puppy cuteness! And then read Dog Days of Summer for an update on how the rest of the Alyeska's rescue dogs are spending their summer!
Moore Report: The future is uncertain, but some things you know for sure. Ivan Moore signs off in the Anchorage Press. This is a beautiful love story that might make you tear up.
Anchorage to get more taxis by Nathaniel Herz in the Anchorage Daily News. This might not be good news for the other cabbies out there, but for people standing outside in the wind and snow, or the people waiting at the airport, or people who know they've had one (or more) too many, this is great!
Anchorage grower wins Alaska State Fair pumpkin weigh-off by Zaz Hollander in the Anchorage Daily News. WOW. It's just waiting for a fairy godmother to turn it into Cinderella's carriage.
Michelle Brown explains 'Chalk the Walk' events Tuesday on KTUU Ch. 2.This was such a colorful, cheerful way to welcome Anchorage's students back to school!
New turf levels playing field for all Anchorage high schools by Doyle Woody in the Anchorage Daily News. I'm proud to say that USKH Inc. led the charge on most (if not all!) of Anchorage's new turf fields.  Although back in my day we used to wear our turf burns like badges of honor, I'm glad new generations of soccer players will (hopefully) emerge scar-free from high school soccer.
Photos: Another kind of downhill at Alyeska Resort's bike park in the Alaska Dispatch. I'm not a mountain bike rider, but this looks really cool, and I love that it's another way for Anchoragites to enjoy Alyeska in the summertime!
Anchorage's Sandhill Cranes by Bill Sherwonit in the Anchorage Press. Sandhill crane spotting is one of my favorite parts of walking along the coastal trail. I love their graceful gawkiness.
Julia O'Malley: Everybody's singing it in the Anchorage Daily News. This is hilarious because my husband and I periodically break into song: "Everybody come to The Dish/There's never been a spot like this/It's The Dish/The Di-ish/The Dish." And then it's stuck in your head FOR-EVER. I'm glad to know we're not alone…
Sizing up America's worst-dressed city a year later: Has Anchorage spiffed up? Thoughts from my favorite shop girl, Leslie Boyd, in the Alaska Dispatch. A fun follow-up piece to last year's Travel and Leisure rankings of America's worst dressed cities (we were #1). Anchorage, I still love your style!
Photos: Try freezer jam for this season's Alaska wild berry haul and Recipe: Cherish your Alaska berry picking bounty with no-cook freezer jam, both pieces by Kim Sunee in the Alaska Dispatch. My mom makes the best raspberry freezer jam. Kim's recipe for blueberry lemon verbena sounds pretty appealing as well! Get out and get picking!
Anchorage parking: No more Fairies, open spots and fewer seething drivers by Sean Doogan at the Alaska Dispatch. Parking tickets, or maybe just parking in general make people cranky, but I like this thought from Scott Willis, Easy Park Manager: ""The day my officers come back from patrol and have not issued a single ticket – that's what we are striving for around here." And, I'm glad to hear there's plenty of downtown parking available (although I still know my share of seething drivers…).
Behaviors you'll see at a concert in Alaska by Matt Collins in the Anchorage Press. Beard gangs, beer garden chatters, opening act appreciations, and more!
Another great one from the Press, Empty Nest Society by C.N. McLaughlin. Read this for gems like this: "After a few days of high-fives and lots of uninterrupted 'personal time,' we got down to reality—cleaning out the kids' bedrooms and boldly converting one into the home office."