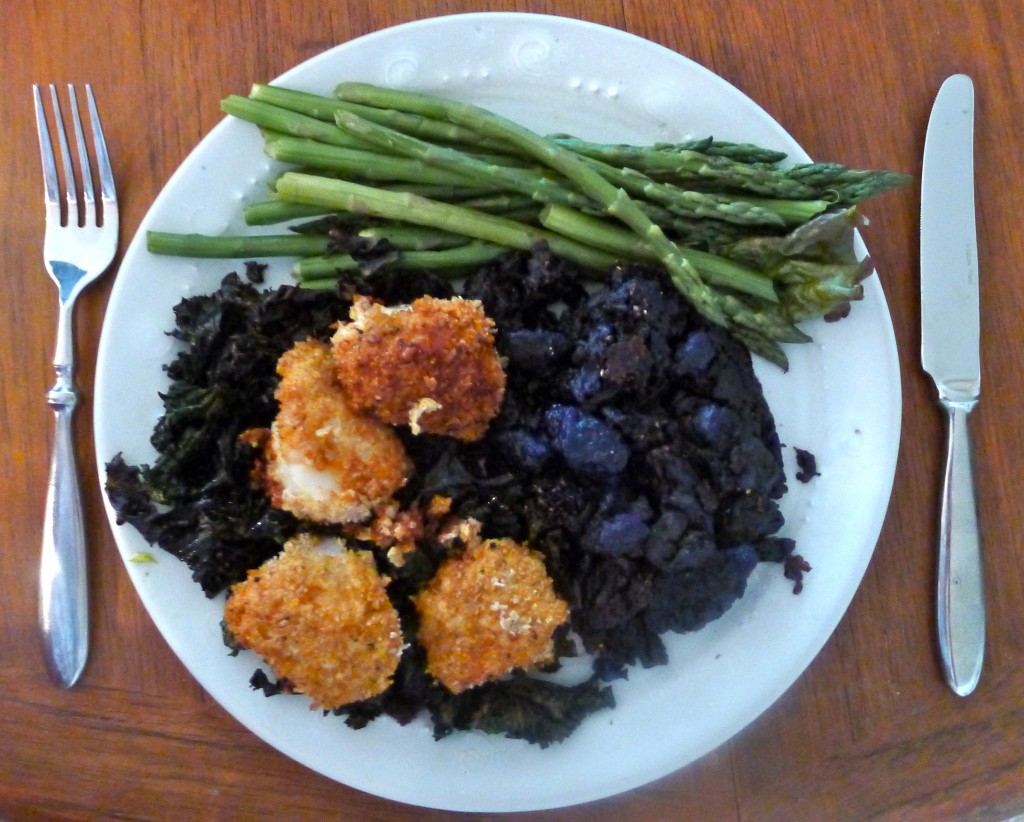 The Local Harvest Feast is tomorrow. I won't be able to make it, but the invitation inspired me to finally try making my own all-Alaska meal.
At first I thought I could just pick everything I needed up from the Spenard Farmers Market, and I probably could have if I hadn't been so distracted by my delectable rhubarb PopCycle (thanks Kait!) and had planned my menu before I got there instead of just being overwhelmed by all the beautiful fresh produce.
But, I didn't plan, so this is how my meal unfolded:
I saw some Alaska weathervane scallops and had to have them (please note: I had never cooked scallops before, but had a random idea that they would be good on the grill, because, well, everything is good on the grill). I also picked up some purple potatoes, zucchini, and some purple kale.
Then, on the way home, I thought that something made here should count (even if the ingredients come from Outside), so I picked up some rolls from Fire Island Bakery (later, this same line of thinking was applied to the gelato from Cafe Del Mundo; did you know their gelato is made in their warehouse here in Anchorage?!).
Next, I realized that the kale I bought would probably need to be cooked and not just eaten raw like the baby kale I've purchased before from Costco… but I wanted a salad so I bought Alaska Grown lettuce and sprouts from City Market. In hindsight, I should have picked up some Alaskan-brewed beer but didn't even think about it until we sat down to eat.
So there are my ingredients… I didn't grow or catch any of them myself, but I supported the people who did, which is one of the most fun parts of going local – I loved chatting with the people at the farmers market and Del Mundo!
Here's how it turned out:
I didn't grill the scallops; I pan-fried them as a result of panicking about never having cooked them before. Somehow, the panic also led to dipping them in egg whites and whole wheat panko breadcrumbs. They probably would have been better if I'd stayed simple, but overall they turned out pretty good.
The kale was still really roughage-y even after I steamed it, so I threw it in the pan with the scallops and kind of forgot about it during my scallop-induced flurry… it ended up more crispy that I intended, but also tasted good (just a little charred in places).
The smashed potatoes looked like bear scat (I bet you REALLY want to be invited over for dinner now, right?) but were yummy.
We ate the rolls for lunch. Oops.
The asparagus is decidedly not Alaskan; but it needed to be cooked before it went bad so I threw it in the steamer.
I made the salad but it was wayyyy too much food so I saved it for lunch the next day.
We ate the zucchini (grilled!) on a different night, but it was tender and sweet – maybe the best ever!
My pretty plate is Alaska-made by one of my favorite potters, Barbara Holman. So maybe that cancels out the asparagus?
Actually, despite my wanting to cook "all-Alaskan" I think the real point (for me at least) is incorporating more local foods into my choices on a regular basis (which I already try to do!), so even though I strayed a bit from my goal, overall I had a lot of fun and made a tasty meal, despite its somewhat half-hazard nature (and bear scat looking appearance).
If you're interested, the Local Harvest Feast is from 6:30 – 8:30 tomorrow at the Alaska Botanical Gardens and is potluck style – bring a dish to share, taste everyone else's local dishes! The event is to "celebrate food and build community" and is being put on by the Anchorage Food Mosaic. If you go, I'd love to hear about it.
What's your favorite all-local dish or produce to purchase?