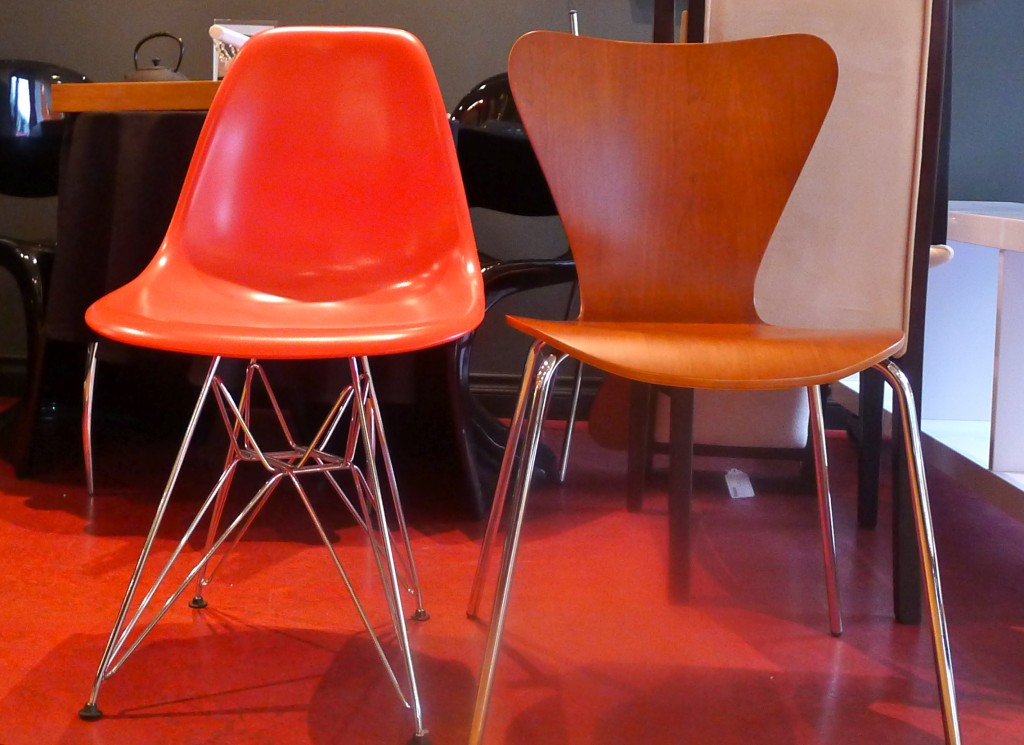 I always thought that someday I'd be writing a post about loving Indigo Designs.  And I guess I am right now, but it's a bit of a different kind of post – it's about loving Indigo as much as possible while I still can.
If you hadn't heard of Indigo before, they're a hip, modern furniture store downtown on 5th Ave. Here's the website description for you:
With two 5th Avenue locations, Indigo is an oasis of style and design in downtown Anchorage. Combining contemporary, mid-century modern and Asian influenced designs, Indigo provides design-conscious Alaskans with a place to find unique furniture and accessories at affordable prices.
Indigo is one of the few stores filling a need for well-designed, contemporary furniture in Anchorage. The only other option (that I know of) is Scan Home, unless you cruise Craigslist for a lucky find here and there.
When businesses I care about close their doors, I'm always reminded of a quote from "You've Got Mail" back in 1998 (tonight, my parents teased me about being older than I think… and typing "1998" just startled me, because it seems fairly recent but was actually 15 years ago!):
"People are always telling you that change is a good thing. But all they're really saying is that something you didn't want to happen at all… has happened. My store is closing this week. I own a store, did I ever tell you that? It's a lovely store, and in a week it will be something really depressing, like a Baby Gap. Soon, it'll just be a memory. In fact, someone, some foolish person, will probably think it's a tribute to this city, the way it keeps changing on you, the way you can never count on it, or something. I know because that's the sort of thing I'm always saying. But the truth is… I'm heartbroken."
– Kathleen Kelly played by Meg Ryan in You've Got Mail, 1998.
When my parents and I visited to scope out the final sale (it started today – get over there and check out the inventory before it's all gone!), my wish list was long and featured lots of chairs, including the styles in the photo above (you know when you're picking furniture, and you're weighing a few different options, going back and forth, just hoping you don't pick wrong? I picked wrong…I wish I'd gotten the style of the red chair for my dining room…sigh), a cocktail cart, a chaise lounge covered in furry calfskin (Grover would eat it), and some lovely rugs. I like pretty much everything in the store, and plant to go back tomorrow.
Also for sale is the building itself. Included with the retail space are two second story urban apartments that look cozy, complete with rooftop decks. Check it out: 233 E 5th Avenue.
For the record, Indigo isn't going out of business. They are "gracefully bowing out," which, if you decide to go that route is a lovely way to approach the process. Sometimes it's just time for something new.
I don't know the owners at all, but every time I visited the store (I'd wander through drooling over furniture, and once I actually purchased a coat tree – living a life of adventure, I tell ya!) they/the staff were friendly, interesting, and informative without being pushy. Just what you want when you're shopping.
I wish them the best of luck on their next adventures, and if they ever happen to read this, thank you for bringing Anchorage ten years of Indigo Design!