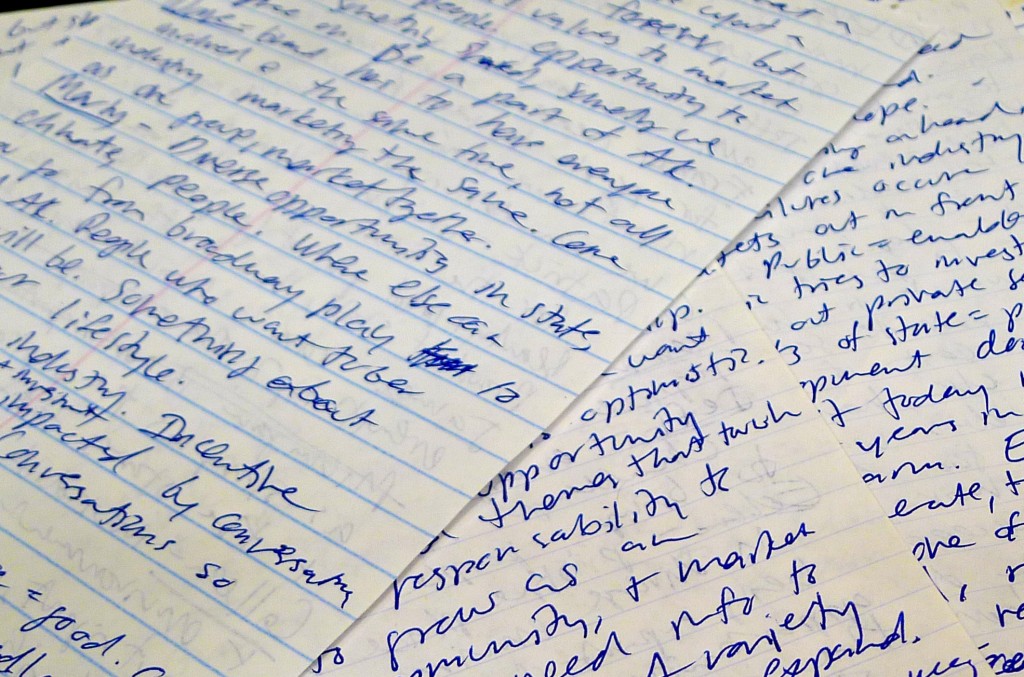 I'm incredibly thankful for digital news and typing – so easy to consume and to create. Can you imagine if everything were still handwritten? Sometimes I can't even decipher my own scrawls. The photo above is actually "good" handwriting for me… Have you ever tried to analyze your handwriting? Apparently, I have an artistic nature, can interpret emotions but hold them back, and am friendly, warm, and like to engage in conversation. Hmmmm.
More great (easy to read!) stories for you this week.
BBNC shareholder Apayo Moore paints first mural in Anchorage in the Bristol Bay Native Corporation blog. This was a fun read, since I was one of the "random people strolling along" and loved watching the mural as it evolved. It's such a colorful and interesting addition to the new Covenant House!
Why Anchorage's Maker Community is a Step in the Right Direction over at "Alaska Commons": "What happens when you put out a call for local science nerds, tinkerers, and people who know how to keep themselves busy during the long winter? As it turns out, something pretty fun."
Kikkan Randall Explains What Makes An Olympic Games Great by Steve Mesler at the "Road to Sochi 2014." An interview with Anchorage's most decorated nordic skier, Kikkan Randall, about her olympic experiences.
Gyre Expedition Probes Impact of Plastic Pollution on Remote Beaches by Brian Clark Howard at National Geographic. Some national press about an upcoming exhibit at the Anchorage Museum. I definitely plan to check it out when it opens February 7, 2014. Also, if you didn't know (because I didn't until now) gyre is the name for rotating ocean currents.
Anchorage committee digs into 2026 Olympic bid by Mark Thiessen at the Anchorage Daily News. I like this quote by Rick Nerland: "The journey is just as important as the destination. Taking part, and getting in a position to compete at the level that you compete at for an Olympic bid makes you a better city, it makes your community a better place to be." Read the rest of the article for more about the process.
Check out the first Alaska Innovator, a magazine that "celebrates the accomplishments of Alaska entrepreneurs and innovators," by the Anchorage Economic Development Corporation in partnership with the Alaska Journal of Commerce. The magazine is an "augmented reality publication," which means that if you download the Layar app, you can access additional content.
City to hire private management team to oversee port completion by Nathaniel Herz in the Anchorage Daily News. The port is vitally important to Anchorage, and in light of the many project challenges so far, I'm glad that there will be new oversight to keep this project moving forward.
Compass: Tennis courts are fine, but library serves more by Mike Robinson, past president of the Alaska Library Association in the Anchorage Daily News. "With over 1,000 visits a day over the past 27 years, the Loussac has literally been loved to death. The longer we wait to fix this building, the more expensive it becomes."
Earthquake simulator shakes Alaskan complacency by Zaz Hollander in the Anchorage Daily News. Earthquakes are scary, but this is cool (and a good way to raise awareness – anyone else prepping their emergency kit?).