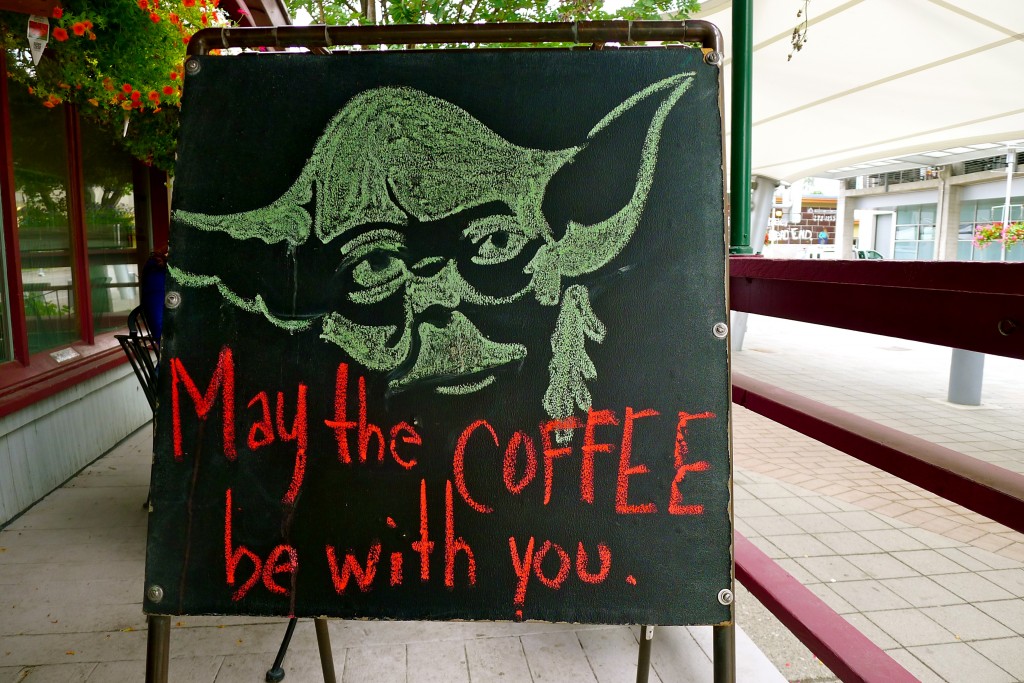 I found a lot of great stories to share with you this week. Grab a cup of coffee and enjoy! (Thanks Dark Horse for the Star Wars inspired coffee art).
The wild florist of Anchorage by Matt Caprioli in the Anchorage Press. This is a great article about my favorite new "bohemian" florist in Anchorage. Like Bloomsbury Blooms on Facebook for daily doses of flowery happiness.
Material Traditions – Sewing Salmon by the Smithsonian Institutions Arctic Studies Center is a video that features four Alaska native artists working with salmon skin and sharing knowledge with each other (and now the rest of us!) at the Anchorage museum.
Alaska Airlines partners with Oregon Wine Board, Travel Oregon in the Financial News. Basically, if you're flying out of Portland, Medford, Redmond, or Walla Walla (!!!) you can check a case of wine free of charge. Wishing I was going to be in PNW wine country to take advantage of this deal!
Foreign tourists bring cash into Anchorage by Lauren Maxwell at KTVA. Did you know that Australians visit Alaska more than any other nationality? I've been enjoying chatting with visitors around town this summer, and met a charming Australian couple just a couple of weeks ago.
APU Farmers Market on the APU blog. The new APU farmers market will be on Wednesdays through December 19. A cool addition to a cool school.
'Hit, Hit Alaska' arcade game made in Taiwan features 'Alaska penguins' by Dan Bloom in the Alaska Dispatch. This is random, because we don't have penguins and who knew a video game about AK would be wildly popular in Taiwan? A fun and interesting read, although it was be great if the players actually knew where Alaska is: "When asked if he knew where Alaska was, the Taiwanese boy said he had never heard of the place and had no idea where it might be." Nonetheless, I think we need one here, maybe at the Buccaneer?
Alaska beer hounds have a hot new source of info by Suzanna Caldwell in the Alaska Dispatch. All 22 AK breweries and 270 beer options listed in one app complete with brew details and photos? I'll be downloading this one as soon as I get a new, non-broken phone.
Fishing Report: It's tough to beat Ship Creek for coho and convenience by Tony Weaver in the Anchorage Daily News. Love Ship Creek!
Fauske leaves AHFC to focus on gas line development by Lisa Demer in the Anchorage Daily News. Congrats to Dan on 18 years at AHFC and a new adventure working to bring Alaska a gas line.
Consumer confidence high in Anchorage, though uncertainty lurks by Alex DeMarben in the Alaska Dispatch. "A new poll released by the Anchorage Economic Development Corp. contends consumer confidence in Anchorage has reached record levels."
Angel Fund sets out to give budding entrepreneurs a hand by Nathaniel Herz in the Anchorage Daily News. I love that Anchorage offers this program. Read the article for a Q&A with fund manager Joe Morrison.
Best Places for Business and Careers by Forbes. Anchorage is #18 – sweet!
Big Wild Life Runs grow by a mile this year by Beth Bragg in the Anchorage Daily News. A timed miles has been added to the Big Wild Life runs, which also include a marathon, half-marathon, and 5K. Another great race option for Anchorage's runners!
The arts mean business by Matt Capriolo in the Anchorage Press. "It's not just art galleries and independent artisans that are making money through the arts; businesses that have nothing to do with arts are absorbing the benefit of just being near the arts community."