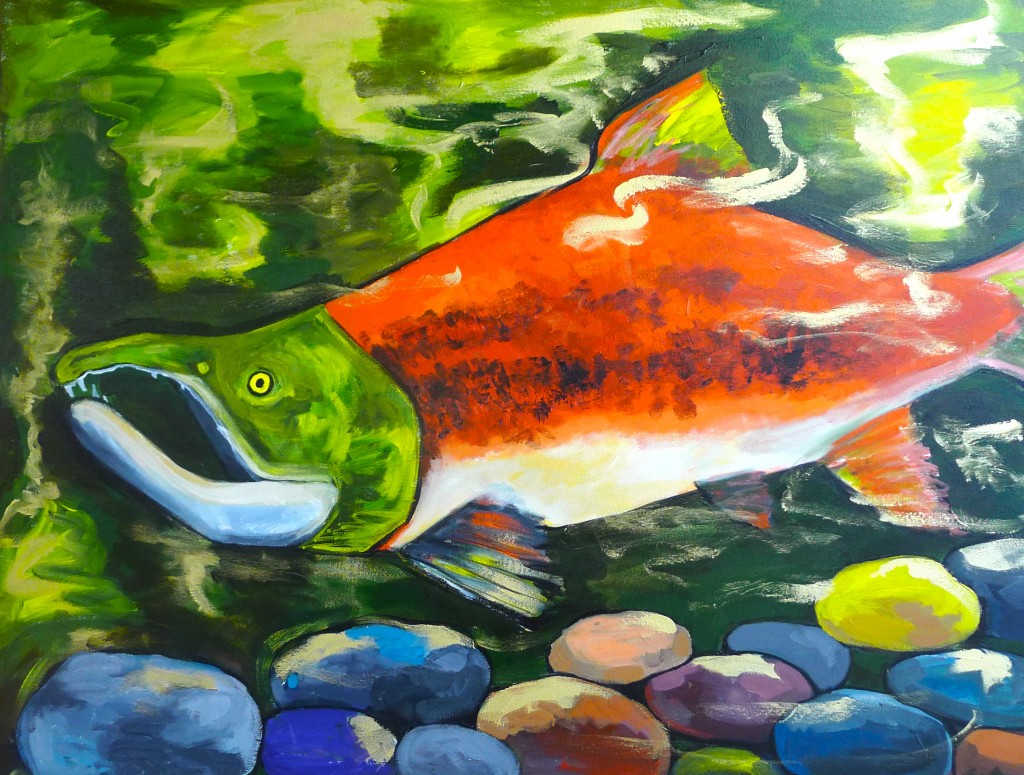 It's all about the numbers this week, with a bit of art, history, cooking, music, and skiing thrown in for good measure! Read on to find out why…
Outside magazine's The 100 Best Places to Work in 2013. Spawn, formerly the Nerland Agency, is #47. This ranking coincides with a new name for the agency; I'm still getting used to the change, but if the adage "all press is good press" is true, then Spawn is killin' it – from gossip columns, Facebook, and staff meetings to family dinners, emails, and overheard in the check-out line, "Spawn" is on everyone's lips this week. (The painting in the photo above is hanging at Great Harvest; seemed appropriate for this bit of news. If you know who the artist is, please let me know!).
10 Great Places to Live by the editors of Kiplinger's Personal Finance Magazine. Anchorage is #9, and is described as follows: "When the rest of the world seems too tame, adventurers move to Anchorage. Alaska's biggest city, in both acreage and population, offers a vibrant economy, great schools, low taxes, miles of trails and incomparable geographic beauty."
Top 5 Cities With The Most Native Americans by Sara Schwartzkopf in Indian Country Today Media Network. "Also the city with the greatest proportion of Native Americans and Alaskan Natives, Anchorage is home to 36,062 indigenous people." Anchorage ranked #5.
USKH Named One of the Nation's Best Firms to Work For by ZweigWhite.  USKH Inc., a multidiscipline design firm headquartered in Anchorage (and my former place of employment!) was ranked 6th in the nation amongst other multidiscipline firms. USKH was the highest-ranked Alaska-based firm in any of five categories (multidiscipline, architecture, civil engineering, structural engineering and environmental).
Fourth-generation tug captain learned to walk on family's boats by Michelle Theriault Boots in the Anchorage Daily News. This is fascinating peek into an interesting profession – read it to learn about Capt. Katrina Anderson and her family's history as tug boat captains in Cook Inlet.
Local performer stuffs rap, satire, and Alaskana into his online music videos by Erika Kelsey in the Anchorage Daily News. This is the first I've heard of the self-named performer "Baked Alaska" from Anchorage. Kinda random, kinda quirky, kinda fascinating.
Cooking with fireweed blossoms by Shannon Kuhn in the Anchorage Press. I didn't know that fireweed blossoms are edible! Might have to try some before summer's end.
Anchorage Teacher Quarterfinalist for Music Education Award at KTUU Ch.2. "Robin Hopper, who teaches at Homestead Elementary, is among 217 teachers in the running for the first Music Educator Award presented by The Recording Academy and Grammy Foundation." In addition to being a great teacher, Robyn has a beautiful voice, and performs with her family at events around town – her husband, Bruce (my former co-worker!) is also an accomplished musician.
Photos: Olympic hopefuls ski on snow al summer in the Alaska Dispatch. Check out Loren Holmes' photos of some of our best skiers training on Eagle Glacier outside Girdwood.
Glacier Helps U.S. Ski Team Drift Ahead Of Competition by Annie Feidt at NPR. "The U.S. women's cross-country ski team has never won an Olympic medal. But that could change in Sochi, Russia, in February. The team has a secret weapon: a pristine glacier high above the mountains of Anchorage."
This is not an Anchorage article, but it it's a cool interactive public art project so I'm sharing it anyway: New public art pieces encourages participation as well as contemplation by Amy Fletcher in the Juneau Empire. Maybe the effervescent Candice over at You Know Juneau will take her turn at the "Before I die I want to…" and share photos with us!