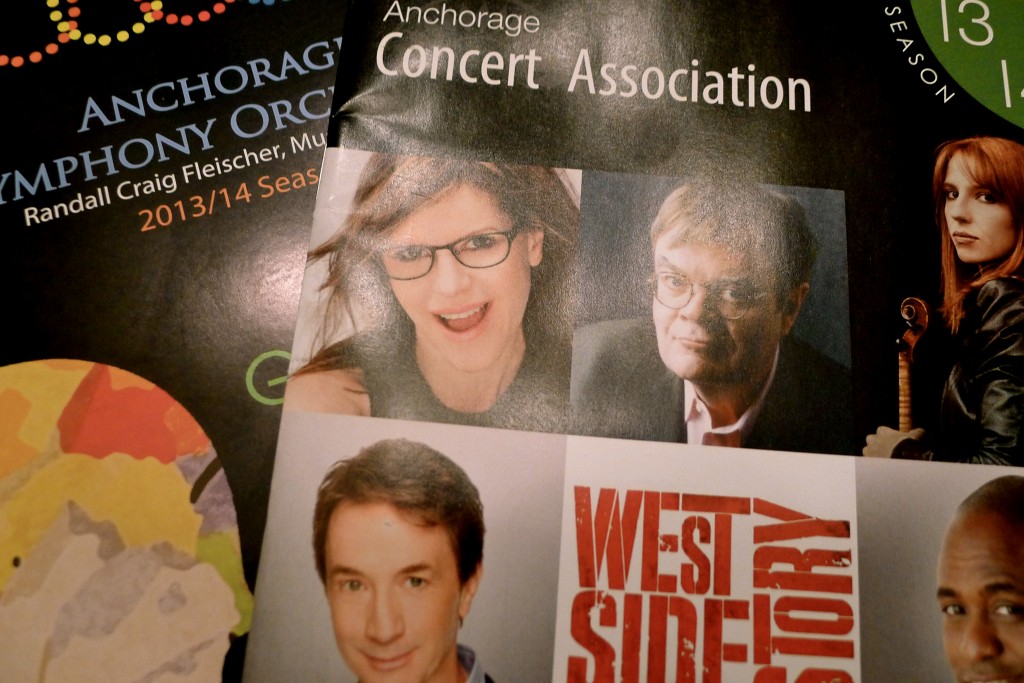 I stopped by the Anchorage Chamber of Commerce "Make it Monday" forum – Anchorage and the Arts to learn about what the 2013/2014 season will look like.
Here's the chamber description of the event:
Along with a growing population in Anchorage comes a growing arts community and the desire for new and renowned talent.
Julie Decker, chief curator and interim director at the Anchorage Museum; Jason Hodges, executive director of the Anchorage Concert Association; Nancy Harbour, president of the Alaska Center for the Performing Arts; and Darleen Fernandez, associate director of the Anchorage Symphony Orchestra, will discuss what upcoming shows, musical talents and exhibits will take to the stage, and hopefully boost the local economy, during the 2013-14 season.
I left the luncheon feeling energized, excited, and connected to our community. Not a bad way to start the week! And of course, I took a copious amount of notes so I'd remember the choicest bits to share with all of you.
Nancy Harbour – The Alaska Center for Performing Arts (commonly known as the PAC) will begin their 25th anniversary season this fall, and Nancy said that staff is planning some "big time celebrating." She also said that for one week this season, a group of "young, hip people" will take over the PAC and put their own spin on the center. Semi-mysterious and very intriguing!
Darleen Fernandez – The Anchorage Symphony Orchestra will be 68 years old this year, and has been a resident of the PAC since it opened. Performances this season will include revisiting pieces that were performed during the PAC's first season, a showing of Charlie Chaplin's Little Tramp, and (super excited about this one) music to accompany 100 images by or of Ansel Adams.
Jason Hodges – The Anchorage Concert Association will be responsible for 31 events, 76 curtains, and 86,000 paying customers before the season ends. Pretty impressive, yes? Jason said his goal is to make "Anchorage = Awesome" because the arts are here. He also shared that the FY13 impact of ACA to Anchorage's economy is $2.3 million of leveraged funds (number based on concert-goes spending an  average of $25 per person for food and parking in addition to their theater tickets), and noted that audience numbers have increased by 5,000 since 2010.
Julie Decker – Great northern cities, like Helsinki, embrace their art and design culture to define who they are, and Anchorage is doing that too: The Anchorage Museum has a new northern initiative that will focus on the north as it is today and might be in future, and is also beginning a new international fellowship for the north that celebrates our culture through art, science, history, and culture. Upcoming exhibits include one dedicated to the Dena'ina; "Gyre" which examines our oceans; and an exhibit that combines Captain Cook and his voyage with contemporary thinking. Also interesting are exhibits connecting to other desert communities (did you know there are sand dunes in Kobuk National Park?); examining the 1964 earthquake and what it means to live in a place where the possibility of natural disaster looms; and probably most exciting to a certain segment of our population, a LEGO EXHIBIT complete with a children's advisory community, architect designed space, and collaboration with local designers.
I am so looking forward to the upcoming arts season and am already trying to decide which shows/exhibits/events to attend. How's a girl to choose?
What are you looking forward to most?