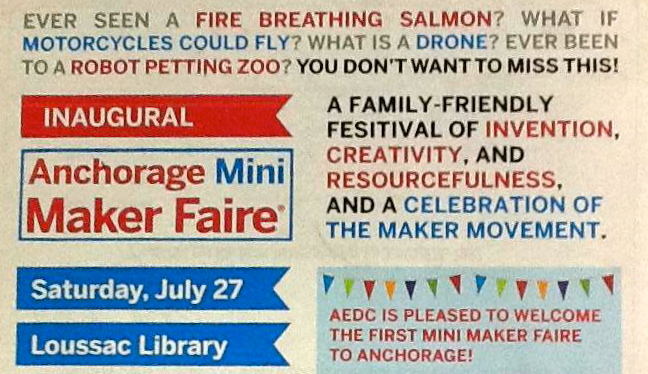 After DJ, Grover, and I celebrated Ted Stevens Day in Cuddy Park, we moseyed over to check out the inaugural Anchorage Mini Maker Faire on the Loussac Library lawn.
If you're not familiar with the term "maker" here's a definition for you, fresh from Wikipedia:
The maker culture is a contemporary culture or subculture representing a technology-based extension of DIY culture. Typical interests enjoyed by the maker culture include engineering-oriented pursuits such as electronics, robotics, 3-D printing, and the use of CNC tools, as well as more traditional activities such as metalworking, woodworking, and traditional arts and crafts. The subculture stresses new and unique applications of technologies, and encourages invention and prototyping. There is a strong focus on using and learning practical skills and applying them creatively.
Anchorage Economic Development Corporation (AEDC) is responsible for bringing the first Maker Faire to Anchorage, and I think it's safe to safe it was a success!  When we were there, a steady stream of people wandered through the booths, stopping to learn more when something piqued their interest, or watching the stage where Makers shared their innovations and vision.
AEDC describes the event as "…the Greatest Show (and Tell) on Earth—a family-friendly showcase of invention, creativity and resourcefulness, and a celebration of the Maker movement. It's a place where people show what they are making, and share what they are learning." More here.
Some favorite booths at the faire included:
Meeting Brooklyn from Anchorage Community Works and checking out some of her prints and silkscreen frames (I covet Room and Board's silkscreen frames; Brooklyn's were even cooler – now I wish I'd signed up for the Kickstarter that involved silkscreening!)
Chatting with the ladies of The Boardroom, a super cool new shared space for independents and small companies opening October 2013 – so excited to check this out when it's done!
Watching my friend Clare build a cardboard structure in the shadow of a cardboard Eiffel Tower
Checking out a prototype for an arctic submarine
Random robots rampaging around the lawn
Discovering a group of female programmers called the Anchorage Programming Workshop (I so need to learn to code)
A FIRE BREATHING SALMON (of course! How you not be into a fire-breathing salmon?) by Ray Troll
We didn't get to stay as long as I would have liked, and there were definitely some cool things I didn't really get to look at; Grover started to overheat and we headed home in case we needed to ice him down (seriously… we do this – it's like he's a pro athlete instead of a smooshy-faced bulldog who can't take the heat).
If you missed the Makers Faire, but wish you hadn't, check out the schedule of events to see who was there, speaking about what.  It's not a comprehensive list, but it will give you a taste of what you missed and REALLY make you wish you'd been able to participate!
I'm already looking forward to next year…