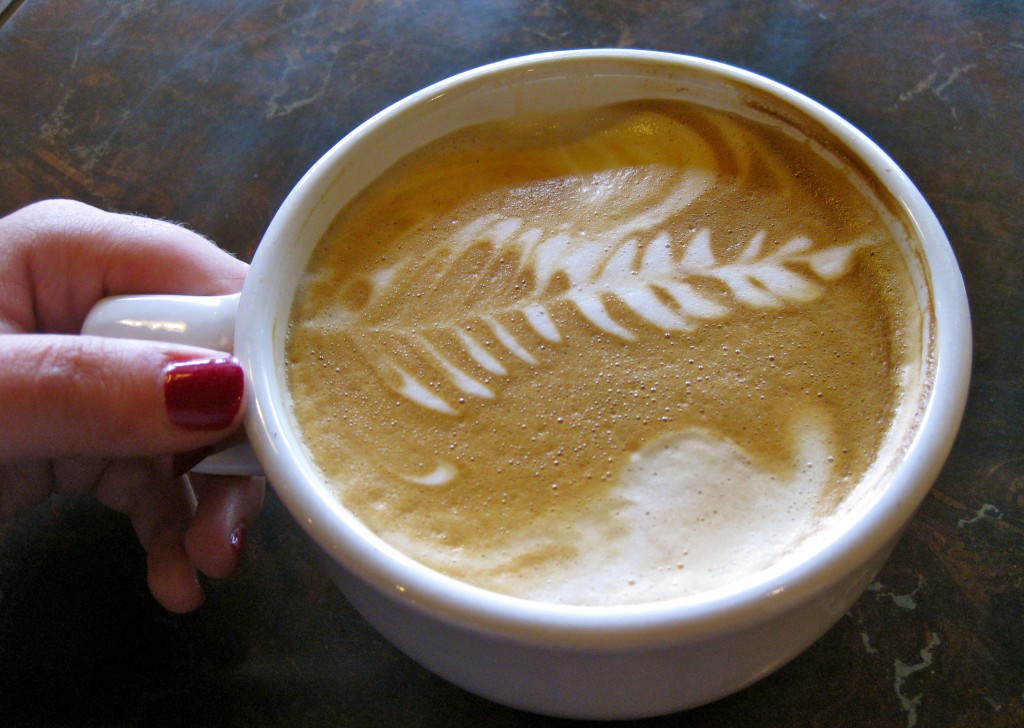 So many great stories this week! Grab a cup of coffee (latte art above by Middleway Cafe's talented baristas) and settle in for some fun reading. Then go play in the sun!
Old timbers, new kind of development for Turnagain, by Scott Christiansen in the Anchorage Press I've been following Turnagain Crossing for more than a year and it's so exciting to read this update! I love love love that Kaladi Bros (bistro project owner) is using 90-year-old salvaged wood from the old Ward's Cove salmon cannery in Kenai for part of the restaurant (the Rustic Goat – great name!) portion of the project. Also interesting: developer J.J. Brooks discusses the process of getting city approval to build a mixed use development. As a former Turnagain dweller and frequent visitor, I can't wait!
Alaska's Story: Looking back at our shared history and forward to our future by KTUU. All of these stories are great, but I especially like the Anchorage-focused stories about Girdwood and Government Hill…looking forward to more!
Ship Creek master plan calls for cruise terminal, train depot on Knik Arm fill by Nathaniel Herz in the Anchorage Daily News and Ship Creek Redesign Plan Unveiled, by KTVA. I plan to write much, much more about this project, but in case you missed it, check out both of these stories for the grand vision of what the Ship Creek area could become (with lots of $$$ of course).
Confessions of a farmer's market addict by Shannon Kuhn in the Anchorage Press. "Forget the roses; give me a basil bouquet any day." So cute. Such a fun read and a lovely meditation on why to frequent farmer's markets.
Music in the Park Brings Downtown Together by photojournalist John Thain for KTVA. I love what Anchorage Downtown Partnership is doing to keep downtown lively! Check out this story for a look at all the people who showed up for music and dancing on Wednesday.
UAA launches second start up company, via UAA press release in the Anchorage Daily News. This is cool: CTF Solutions is using low voltage carbon tape under pavement for heating. The technology has already been successfully tested during 2011-2012. If you're interested, the first company launched by UAA is Zensor.
Becoming Anchorage Bike Polo by Tara Devlin in the Anchorage Press. Quote from the story: "What drew me to bike polo was its DIY mentality, everything in the sport has to be modified and crafted from other equipment. Mallets are made from ski poles and PVC pipes, old mid- 90's mountain bikes are converted into tank-like battle horses and cones were, well, borrowed," [Josh] Woodard says. The spirit of the game is community, do-it-yourself, and friendly competition.  "The essence," Woodard says, "is fun." Read the article for more about bike polo in Anchorage.
gStick. a wireless mouse for Mac, Linux & Windows PC's by Gordon Alan Stewart. This sounds like a cool new tech accessory, created by an Anchoragite! You can get one for yourself and help launch the gStick by supporting Alan's Kickstarter campaign.
Some enchanted evening by Colleen Bailey in the Anchorage Press. Bailey reviews of The Marvelous Wondrettes, playing at the Anchorage Community Theater until the end of July. I think I want to go!
Best Beginnings debuts story tracks.  "Best Beginnings launched StoryTRACKS today, a new family friendly activity that combines early literacy and the great outdoors. StoryTRACKS is a series of laminated pages of a children's picture book, mounted on stakes and laid out at intervals on a walking path. Families travel from one page to the next as they read the book together." Click the link for photos. This looks a fun thing to do with a little person – anyone want to lend me one or two?