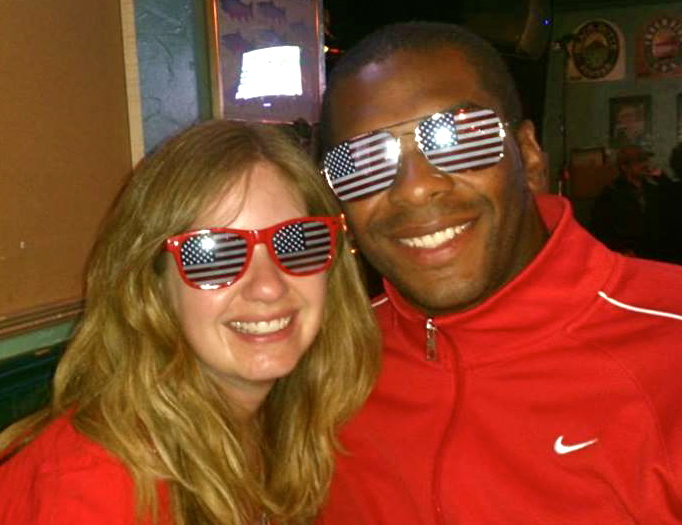 I posted too early yesterday – I should have waited and shared the rest of our fun Fourth!
Last year on July 4, DJ and I had just finished moving into our condo and took a late night walk to see if we could get a good view of the fireworks. We ended up giving up and heading home because we couldn't see anything.
Moments later – BOOM!
We happily discovered that we could watch the show from the edge of our deck! It was such a special moment, and we promised that in a years time, we'd invite friends and family over to enjoy the show with us.
This year, that's exactly what we did.
First, we were thrilled to discover that if anything, Joey Fender was EVEN BETTER than before (we were worried the first time was an anomaly – you know, the right place, right time, not to be repeated or recreated). This time, his singing was just as strong as his guitar  playing (which is saying a lot, since he's one of the best I've seen), still generous to other musicians (he brought up a guy he met on 4th Ave, who plays a "wash tub bass" which is a bass… made of a wash tub. I think the name of the bass was "Sweet Marlene" or something along those lines – fun to see it integrated into the show), feisty and funny, and just in general turned it on for the crowd.
Unfortunately, we had to leave before the show was over to catch the fireworks. We waited. And waited. There were a couple false alarms. We just about gave up, thinking we'd either missed them or couldn't see them from our deck this year, and then – hooray! The show started and it was gorgeous. And so much fun to share the moments with some of our favorite people.  It was the perfect way to end the holiday.
I hope you all had a happy Fourth of July!
Also, if you like the patriotic shades the two cuties (hi Josh and Lindsey!) are sporting in the photo, I picked them up at Mabel McKinley, a new-ish downtown boutique with all sorts of cute stuff and great (re: not super expensive) prices!