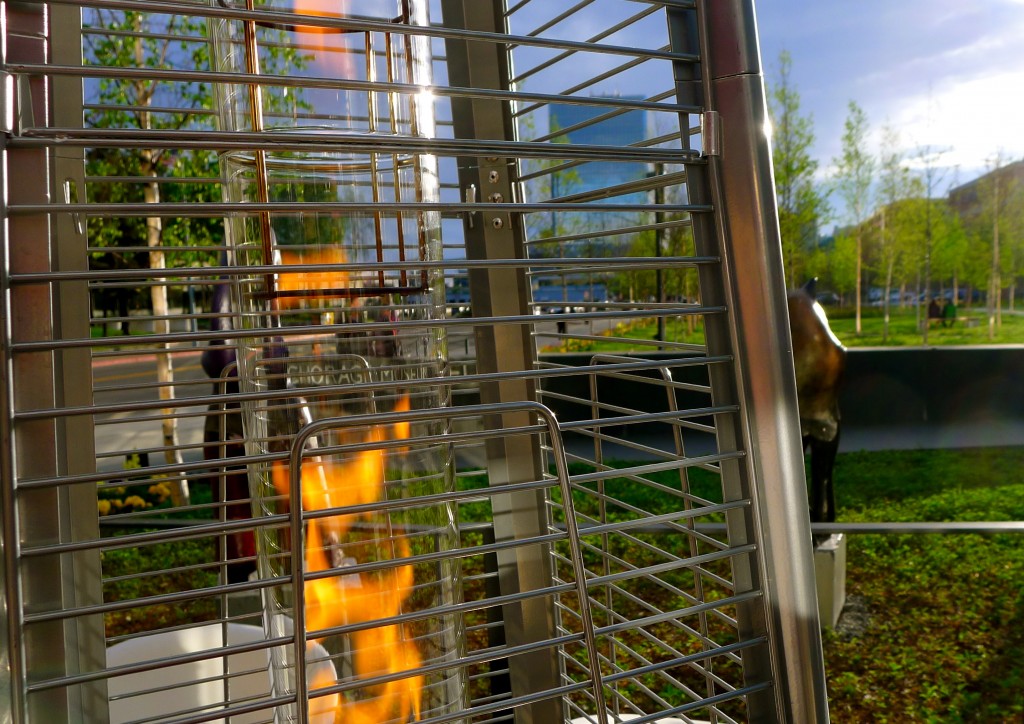 But it shouldn't be. So I'm going to share it with all of you: the Muse patio at the Anchorage Museum is AWESOME.
I've written before about the perfection of the Muse patio, and a bit about how much I like the museum commons, but wanted to revisit the topic, because with weather like this, I would feel to curmudgeon-y if I didn't at least attempt to get this space on your list of fun outdoor eateries for the summer…(especially because Anchorage outdoor dining options are pretty slim).
So, here are the reasons you should try the Muse patio:
The food is GREAT. The Muse is owned by the team behind Marx Bros, which is widely known as one of Anchorage's best restaurants. So basically, you get the same quality of ingredients and inventive recipe-making, but can eat outside in the sunshine (I recommend the melitzano or the seared scallops). And, they do weekend brunches, have lots of fun things to drink, and the prices are comparable with Glacier Brewhouse, Orso, and Snow Goose.
The patio is bordered by the façade of the museum (oh so modern and sparkly) on two sides; the commons with all the delightful birch trees, strawberries, and flowers on another; and a quiet stretch of 7th Ave on the last side. It's a balance of cityscape and nature, perfect for relaxing and enjoying downtown.
Sometimes, the Rebel Blues play….and they are really, really good.
Beautiful new outdoor heaters (photo above) were added this spring, which is fantastic if there's a bit of a chill (something we haven't had to worry about recently, but it's nice to know the option is available!).
Before or after you hang out on the patio, you can run out to the grassy part of the commons and play Frisbee or just lay in the grass and daydream…
The staff is attentive, nice, and lets us bring Grover so that he's not stuck at home. Don't worry, food safety fanatics – they never pet him until their shifts are done!
I consider the Muse patio a secret because I'm always surprised that people aren't flocking to this space in droves, whether to enjoy a drink or a meal on the patio, frolic on the commons, or canoodle on a bench…  Perhaps it's the parking situation (no street spots on 7th due to the proximity of the federal building), but you can generally find parking a block away, or use the museum parking garage.
I like that we seldom have to wait for a table, but it's too great of a place for you to miss out on! I hope to see you there – I'll be the one petting a furry little Frenchie with one hand and sipping a fresh squeezed oj with the other.
Where's your favorite place to dine outside in the summer?