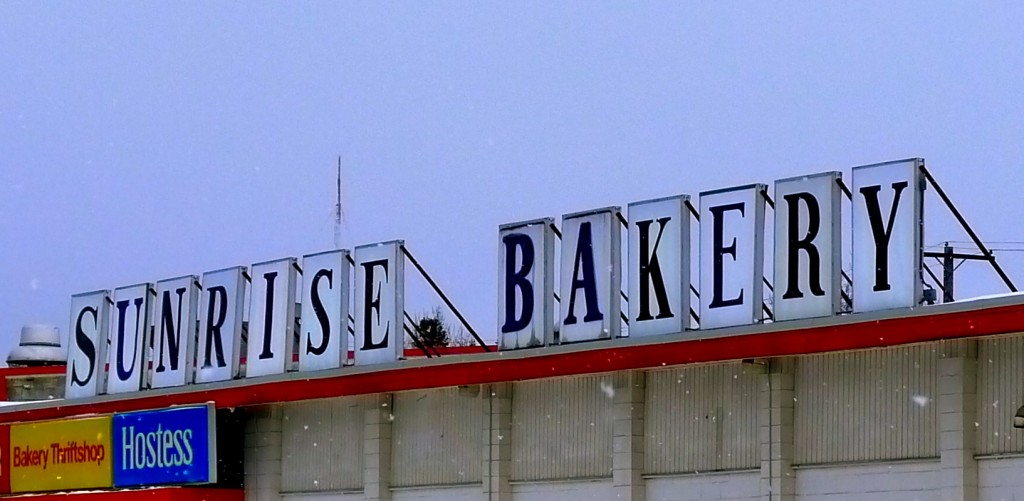 Do you ever walk/bike/drive through town and dream of what you would build if you had unlimited funds? I do…I can lose hours designing things in my head, dreaming up fun ideas for neighborhoods.
Last fall, when Hostess went out of business, I had mixed feelings.  On one hand, I didn't really care for Twinkies or Wonder Bread, but on the other I had a soft spot in my heart for the Sunrise Bakery (owned by Hostess), which was around since before statehood. I remember stopping by to pick up stale bread for ducks when I was little (before I knew it was bad to feed ducks!) and the smell of baking bread in Spenard was a comforting scent on jogs through the neighborhood in high school. And of course, it's never a good thing when people lose their jobs.
In case you're not familiar with the location of the former Sunrise Bakery, it fills almost one side of a full block of Spenard between Fireweed and Hillcrest, situated in the middle of apartments, cute single family homes, West High School, and a connection to the coastal trail near Westchester Lagoon. Just a few blocks away are Bear's Tooth, AMH, Spenard Farmer's Market, Middleway, Spenard Roadhouse, Titlewave, Inner Dance Studio, Koots, REI, and many other popular businesses.
Knowing that the property was for sale made me by turns elated and wary.
Wary, because what if someone else bought the property and turned it into a bland strip mall or boring office building? I've made my peace with that kind of development when it's already in existence, but if there's an area with loads of potential like this one, just ripe for something new and exciting, it would be crushingly disappointing to build something that didn't maximize the potential of the neighborhood.
Elated, because what if someone built something awesome?!
Of course, I have an idea of what I think awesome could be – the location is a perfect transitional corridor between residential and business spaces. Doesn't a mixed use development just seem right? Imagine both sides of Spenard with interesting business on the ground level (existing business wouldn't have be displaced for too long, and could move into the newer, more current and well designed space!) and different sized condos above, perhaps with a parking structure cleverly built into the design in a way that wouldn't overpower the surroundings (ugh, parking.  But even dreams have to be somewhat practical!).
I think people would love to live and work in my dream development (in my mind, I call it "Sunrise" in honor of the old bakery) – the area is already busy and well-loved, and bringing in even more options for enjoyment would only invigorate it more. Condos could be designed with generous balconies to bring street level energy upward (and how fun would that be for parades?!) and restaurants could have outdoor seating for sunny summertime (and ideally incorporate design to use the space in the wintertime as well). If you lived there, imagine how nice it would be to run downstairs to grab a coffee, pick up flowers, take a yoga class, buy a bottle of wine, browse a new gallery exhibit, or enjoy a bite to eat. If you owned a business there, you'd have a built in clientele and community.
The look of the development would be unique, Alaskan, incorporate art and color, and utilize winter city and cold climate design concepts. I'd love to see bike lanes, landscaping, benches, generous sidewalks, and maybe even room for Nordic skiers in the winter (wouldn't it be fun to ski up West High hill for a hot chocolate break?). I dream of a laid back drinking establishment called the "Wonder Bar" (yep, homage to Wonder Bread – even the colors would be cool to incorporate in small doses!) where people could spend hours relaxing, playing board games, reading, or working. Kind of like a blend of Titlewave and Spenard Roadhouse. There are plenty of design firms and brilliant business owners in Anchorage who could make this kind of development happen, probably 100x better than I can even imagine.
I was worried my dreams would be dashed when someone purchased Sunrise Bakery, but instead, they're just on hold.  Franz Bakery is the new owner, and is already filling the air with the smell of baking bread. They haven't made any discernible changes to the space beyond signage. And maybe someday, someone, somewhere, somehow, will transform the block into something awesome for Anchorage.
Have you ever dreamed up something for this part of town? What do you wish could be built on this block?