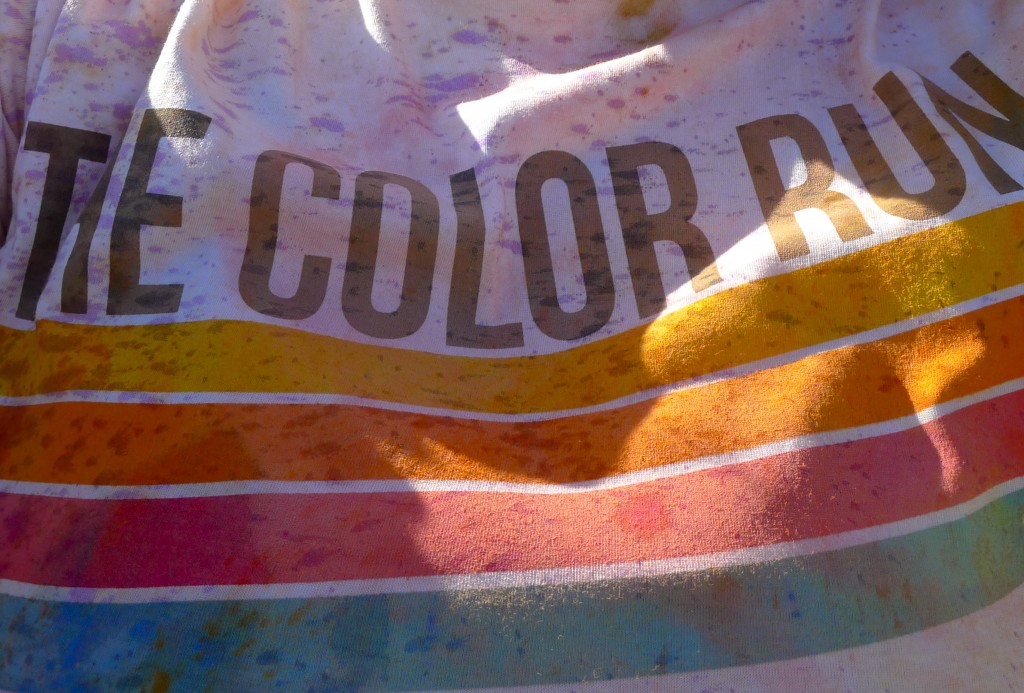 At 8:00 AM this morning, 15,000 Anchorage runners and walkers gathered at the Sullivan Arena for their chance to be covered in color. It was the largest run in Anchorage history, the second largest gathering (apparently, the Pope drew a bigger crowd), and definitely the most colorful!
If you haven't heard about the Color Run yet, here you go:
The Color Run™, also known as the Happiest 5k on the Planet, is a unique paint race that celebrates healthiness, happiness, individuality, and giving back to the community.
Less about your 10-minute-mile and more about having the time of your life, The Color Run is a five-kilometer, un-timed race in which thousands of participants are doused from head to toe in different colors at each kilometer. The fun continues at the finish line with a gigantic "Color Festival," using more colored powder to create happiness and lasting memories, not to mention millions of vivid color combinations. Trust us, this is the best post-5k party on the planet!
My color run moments:
So many people: I've never done a race where people are finishing as you wait to start, and as you finish, there are still hundreds of other people waiting to start – the sheer numbers in the run were were impressive, and the color just made it even better. I'm so relived I didn't have to do bib pick-up – thank you x 1000 Libby!
A sea of white shirts: It was impossible to find any of the people I was hoping to bump into, especially since at the beginning we were all wearing white, and at the end we were all doused in color. Bridget, Leah, Penny, Angie, Abbey, and Lindsey, hope the run was awesome! Libby, looking good as you cruised in on my way out!
Mission impossible?: The announcer claimed that the Color Run mission is to bring back the fanny pack…hmmm. Here's hoping they don't succeed!
Favorite sign: "Oompaloopma Land Ahead!"  Oh, orange, how I love thee…
Favorite color moment: When I was lost in a cloud of pink – for a moment there was no one around me and I all I could see was PINK all around me.
Dance party: We rocked out the what sounded like a mixture of "Jock Jams" from the 90s and every single Top 40 song from the last two years that gets stuck in your head (Carly Rae Jepsen, please leave me alone! "Call me maybe," is looping right now…)
Under-dressed: How could I have possible forgotten my rainbow leg warmers and hot pink wig? Seriously, what was I thinking? Also, I had major tutu envy.
Funny team name: "Run Burgundy," featuring movie quotes like "It works 90% of the time, every time" on the team shirt and girls in mustaches (best pick-up line overheard during the wait: "I mustache you a question.").
Team I wish I could have seen at the end: Girls wearing all white with white angel wings – I bet the wings were awesome at the finish! There was also a guy carrying a white pinstriped suit jacket to soak up the color.  Also probably awesome at the end!
Random: A surprising number of people dressed as unicorns.
Already clean: Showering reminded me of that colored mouthwash the dentist gives you as a kid so you can see where you missed when you brush your teeth – guess I don't scrub my toes very well!
Great way to start the day: Sunny, not too hot, a little exercise, friendly people, so much fun!  I loved the color run!
I'm sure the ADN, Dispatch, and Rick at KTUU will have awesome photo galleries – check back later for links. For now, although it doesn't do the crazy colorfulness of the event justice, it's all I have – me lounging in the grass after the run: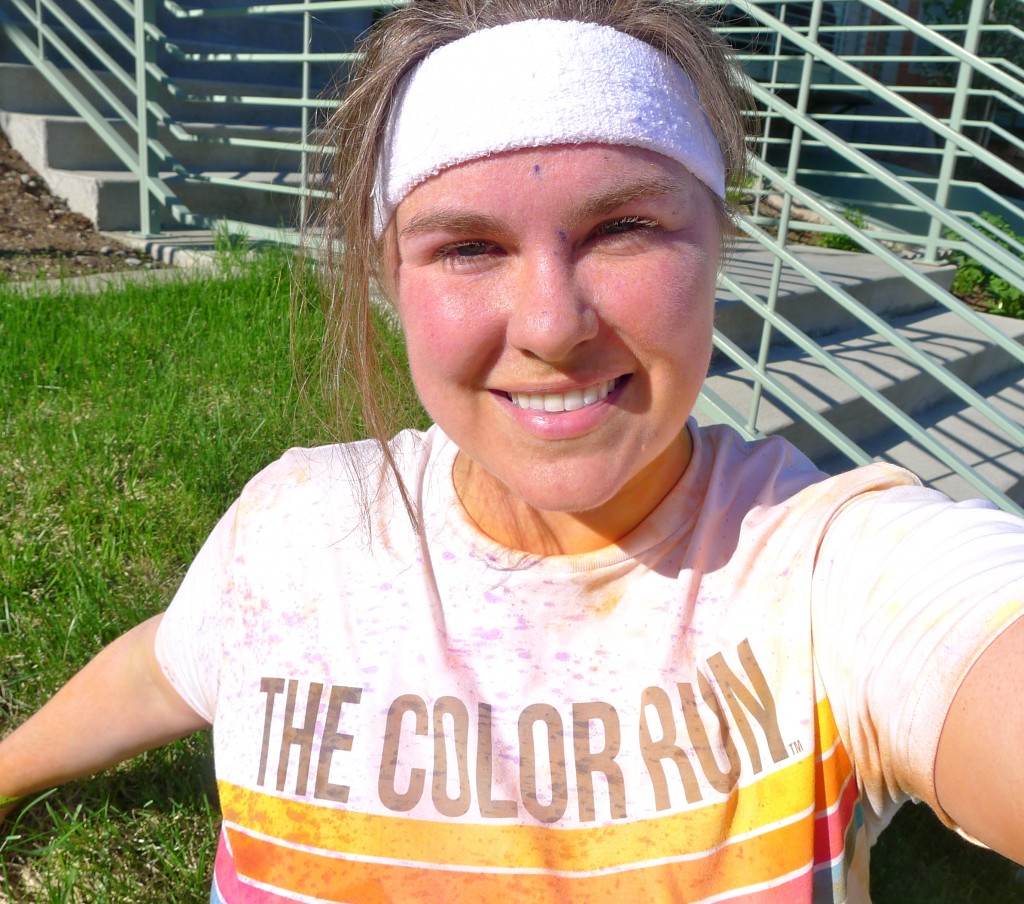 Did you color run?  Did you have fun?!