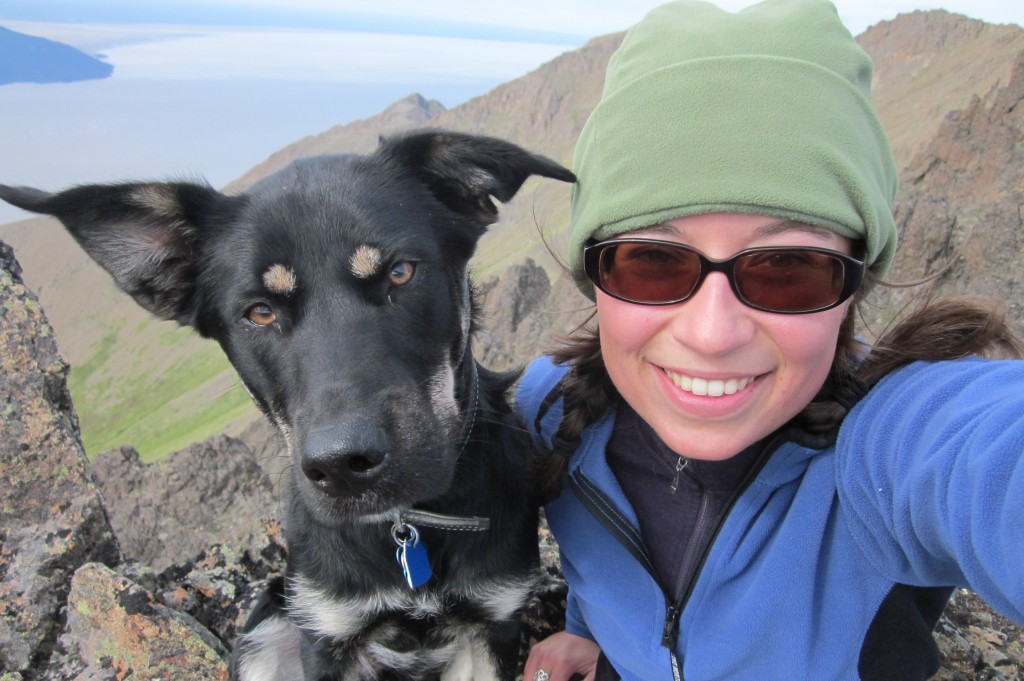 One of my favorite things about blogging is meeting new people who share similar interests.  So, imagine my excitement when I heard from Andy (that's her in the picture, along with her pup, Sadie), over at Alaska Eats, Hikes, Adventures.
I checked out her blog right away, and have been following it ever since.  The name pretty much says it all – Andy's main subject matters are food and hiking, and her posts are filled with either mouth-watering or jaw-droppingly gorgeous photos, depending on which subject she's writing about.
Turns out we share a love of Wheel Good Food (Andy's take here, mine here; we both conclude that Wheel Good Food is AWESOME) and I want to try out some of the hikes she's been writing about, especially the Palmer Hayflats, which I didn't know existed until she wrote about them.
Here's Andy's "About":
I'm always looking for new adventures to go on with my pup, new places to eat, and fun activities to try. Anchorage has a wonderful selection of restaurants, hikes, and activities, you've just got to get out there and find them!
After exchanging a couple blog-happy emails, Andy and I decided we should get together for coffee. Although her blog is effervescent and fun, she's even better in person – I loved her approach to life.  She's a lifelong Anchorage girl, and recently went through a couple big changes. Right now she's on a journey of sorts – figuring out what inspires her and brings her happiness. She's focusing on being brave (like emailing strangers – and I'm so glad she did!), saying yes to new experiences (like mountain racing!), and finding that elusive balance/blend of work and life. Not only does she work full-time and fit in all the great hikes she writes about, she's also in the process of becoming a yoga instructor.
All in all, a wonderful person, a fun blog to read, and hopefully a sharer of future adventures!