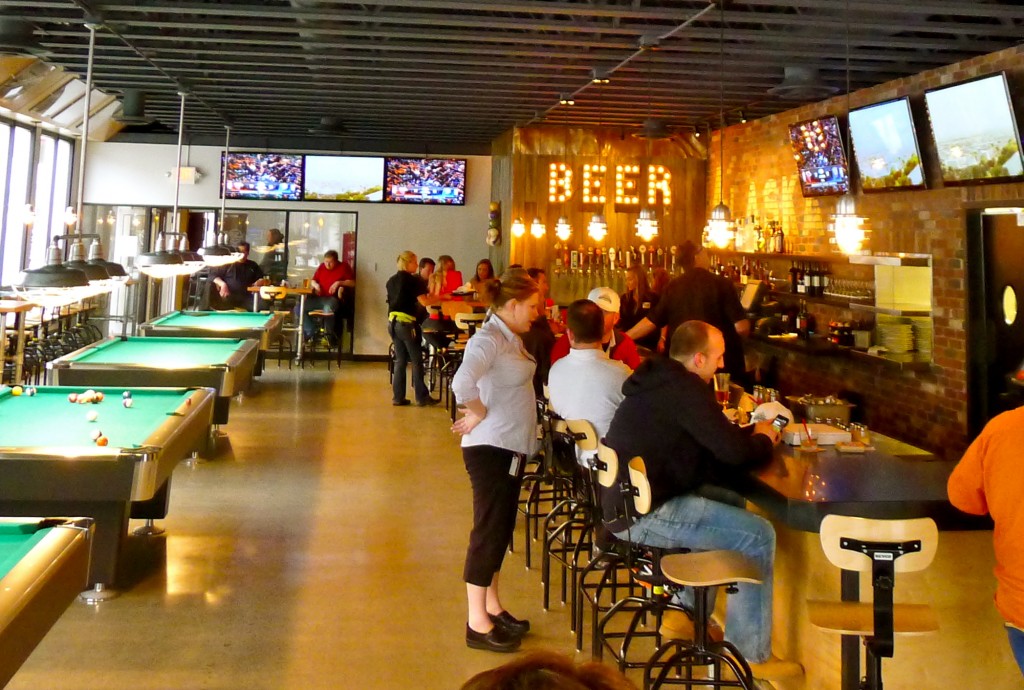 I've been eagerly awaiting some of the rumored new restaurant ventures downtown, and on Friday, one of them opened: Flattop Pizza and Pool, self described as, "Pizza, pool, beer, full bar…is there anything more you need?"
We met some friends there Saturday night to decide for ourselves.
Flattop (named after a popular local peak and hike, for you Lower 48-ers reading this) is located on the corner of 6th and F, between Sub Zero Bistro and Microlounge and Humpy's Great Alaskan Alehouse. In addition to the pizza (and a couple appetizers along with some yummy sounding salads) and pool tables, they also offer 15 beers on tap, TVs viewable from all angles for the sports lovers out there, and my favorite: large retro photos of Anchorage.
The space has abundant natural light and captures a kind of loft-like warehouse-chic vibe:  exposed pipes, polished concrete floors, brick walls, industrial-style lighting, and warm wood accents. I loved the beer sign for a touch of vintage-feeling glamour. If you're interested, check out the Facebook photo album of the construction process.
I was surprised that Flattop wasn't busier when we got there (being a cool new restaurant and all), but Saturday night seemed quiet downtown in general – maybe everyone was recovering from the Festival of Flowers? I doubt it will be easy to get a table there for long, so was happy that we didn't have to wait to be seated for our first visit. We split a couple pizzas and had fun perusing the menu, which is filled with Anchorage-themed dishes like the Merrill Field Greens and the Park Strip Pizza. Flattop also offers group deals that include a couple pizzas, pitchers of beer, and a reserved pool table, which is a nice touch.
The team behind Flattop also owns Sub Zero and Humpy's, and I've come to the conclusion that they might just be geniuses. First of all, they snagged a great location across from the Anchorage Center for Performing Arts and town square, so can capitalize on all sorts of foot traffic, whether it's from performance-goers, people attending events in town square, or the after work crowd from nearby businesses. Secondly, each venue offers a distinctly different experience: tasty small plates and all sorts of fabulous libations at Sub Zero, live music and a classic Anchorage bar experience at Humpy's, and now pizza and pool at Flattop. And thirdly, each restaurants is appealing to residents and visitors alike, which means there probably isn't a slow season, just a busy season and a busier season.
Like many newly launched restaurants, there were a couple small dining hiccups but I'm sure they'll get it all worked out soon, and I'd bet a pizza this is going to be a very successful new eat-and-drinkery. I highly recommend you check it out soon!