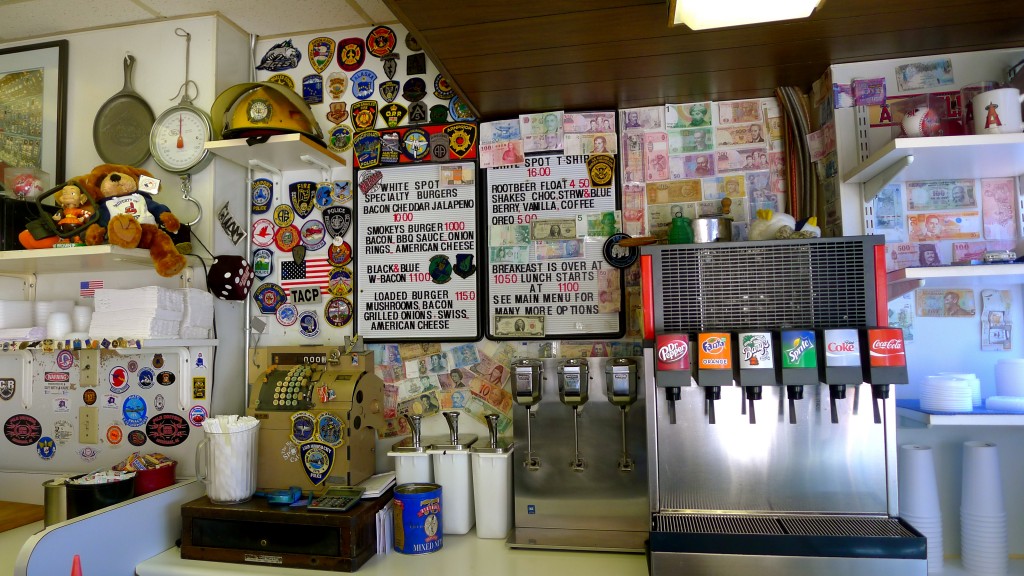 "You can eat a burger anywhere," said the owner of the White Spot when I asked for his recommendation re: burger v. halibut sandwich.
 Obviously I ordered the halibut sandwich.
It was my first time to the White Spot. Long has a visit tempted me, as accolades of the sublime greasy spoon offerings frequently come up in conversation, often accompanied by rapturous belly rubbing and eyes glazing over with remembrance of great meals past.
I'm pouring it on a little strong, but SO many people have told me that the White Spot is a must-visit. The restaurant is a small, hole-in-the-wall at 109 W 4th Ave. It's not much to look at when you drive by; in fact, it's very easy to miss. The decor is un-ironic diner-kitsch; basically a classic look for a classic place.
Susy Buchanan wrote in the Anchorage Press, "There's something comforting and big city-like about sitting at the White Spot's chipped Formica counter; there's a constant buzz of activity in the kitchen in front of you and customers whisking in and out behind you." She pretty much nailed it. It's a great write-up; check it out here: The White Spot Cafe.
Diners be warned – the White Spot is cash only, and servers use a funky old cash register to ring up orders (I was happily startled that the cash register wasn't just decoration – I loved the look, and that fact that it is functional is even better!). The counter is the place to be – it's a front row seat to the cooking action, condiments are within easy reach, and the service is there only when you need it – no more, no less.
My husband and I biked over in a preemptive strike at the calories we'd be consuming. We also went on a much longer bike ride afterward, so hopefully we at least ended up with a balance of food v. activity. Even if we didn't, it was worth it – I just wish I'd asked what the name means! I have another visit in my near future, so I'll make sure to inquire then.
Back to the halibut sandwich. It did not disappoint. The halibut was white, firm, flaky, and lightly fried. The classic burger bun, tartar sauce, cheese, lettuce, and tomato was a perfect balance – overall, so so good. And NOT something you can find anywhere. Much like the White Spot itself.
Have you been to the White Spot? What did you think?