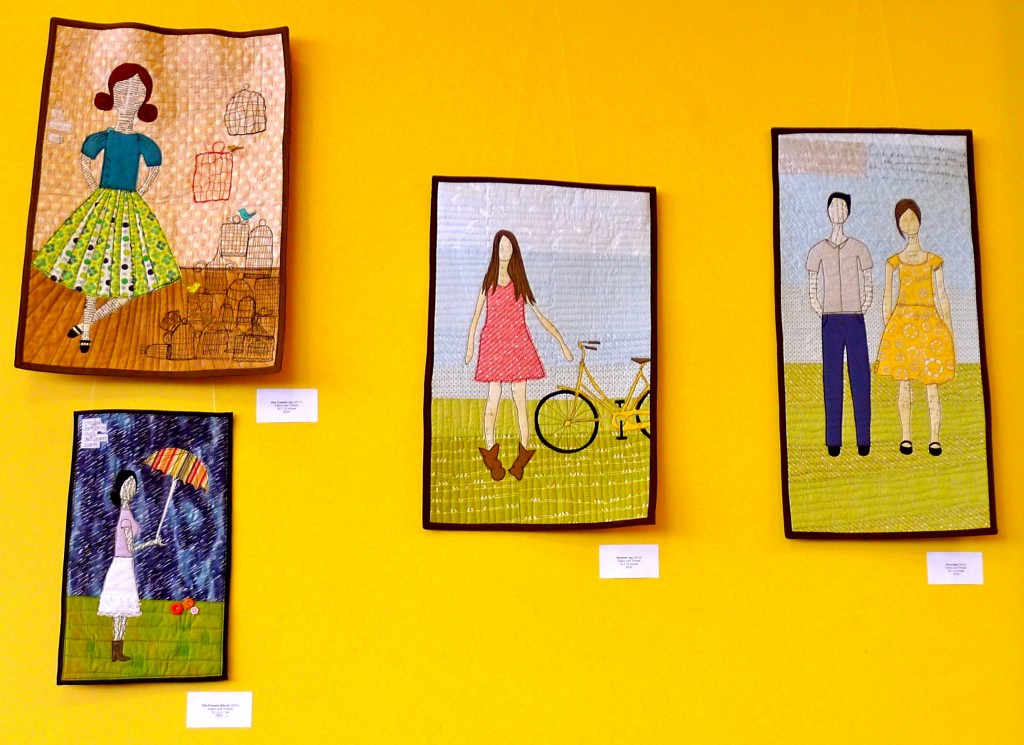 DJ and I stopped by Snow City Cafe for brunch last weekend (hooray for reservations! We only waited five minutes) and not only did we bump into all sorts of fun friends, we also met these lovelies by Believe Magic.
Believe Magic is the creation of Carrie Payne, a transplant to Anchorage from Ohio.  After a perusal of her blog, I realized she is as prolific as she is talented – she posts regularly, and it's fun to see her art quilts come together.
Each one of the portraits is pieced together and quilted. I love how the color and textures add depth to the simple silhouettes. The girl in the red dress with the boots and the bike is my favorite in the photo above.
Another wall in Snow City features art quilts of elegant women wearing layered dressers adored with trinkets and treasures (buttons, beads, ribbon, and lace) – Carrie calls them "Magpie Girls." The skirts remind me a little of my wedding dress, which was also layered and had a small blue heart-shaped bead sewn in amongst the lace. I must have a bit of magpie girl in me!
You can purchase Carrie's work at Snow City during May, or online at the Believe Magic Etsy Shop.