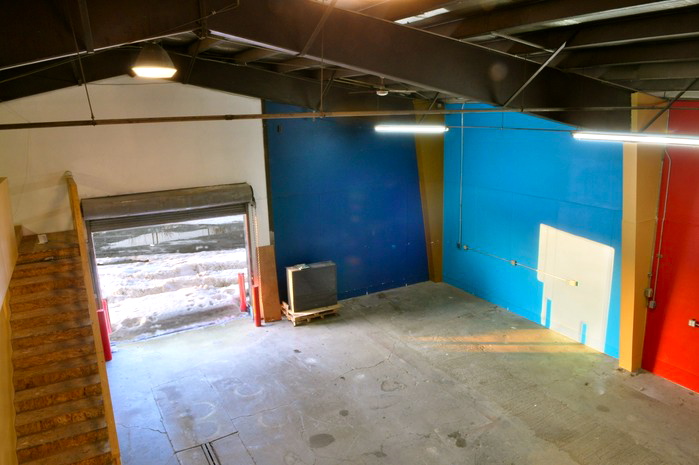 I'm so in love with Anchorage Community Works idea to create "a place for Anchorage creatives to think, work, and play." The founders, Brooklyn Baggett, Cody Augdahl, Craig Updegrove, and Paul Clark, launched a Kickstarter campaign to purchase equipment and furnishings for the warehouse facility in Ship Creek.
The space (349 E Ship Creek Ave) will be a concert venue, an art studio, a shared classroom, and a collaborative workspace.  The mission (copied from Kickstarter, as is the photo above) is:
To provide a community center for local creatives.
Connect and collaborate with locals who care about art, music, culture, learning, politics, and health.
Anchorage Community Works will be hub for:
Artists
Designers
Programmers
Small business owners
Musicians
Concert promoters
Bicycle enthusiasts
Filmmakers
Dancers
Performing artists
Educational professionals
…and whomever else is looking for a place to call home with like-minded people.
I've been thinking about ways to gather people who love Anchorage and want to help shape its future, but keep struggling with where to meet – this space sounds like just what I was looking for! Not just because it physically fits what I was hoping to find, but the vision of the creators is exactly the kind of community-minded thinking I'd like to engage.
Check out the Anchorage Community Works Facebook page – they're really good about posting photos of the space coming together.  So much fun to see the evolution and imagine what it will look like when it's finished!
I'm completely inspired by Anchorage Community Works and Brooklyn, Cody, Craig, and Paul.  Just think – they dreamed a dream, found a space to make it happen, and they are on the way to their grand opening July 13. The Kickstarter is $3,184 away from being completely funded, and I'm positive they will make it, especially with 23 days left. Once the space is open, funding will be achieved via memberships (ADN says memberships start at $100 a month), which grant access to all Anchorage Community Works resources.
I'm still completely enamored with Kickstarter and what it can do to add delight to our communities. I'm thrilled to support this project – I think it will be a powerhouse of creativity, source of inspiration, and a place to grow an even more vibrant Anchorage. I can't wait to visit!