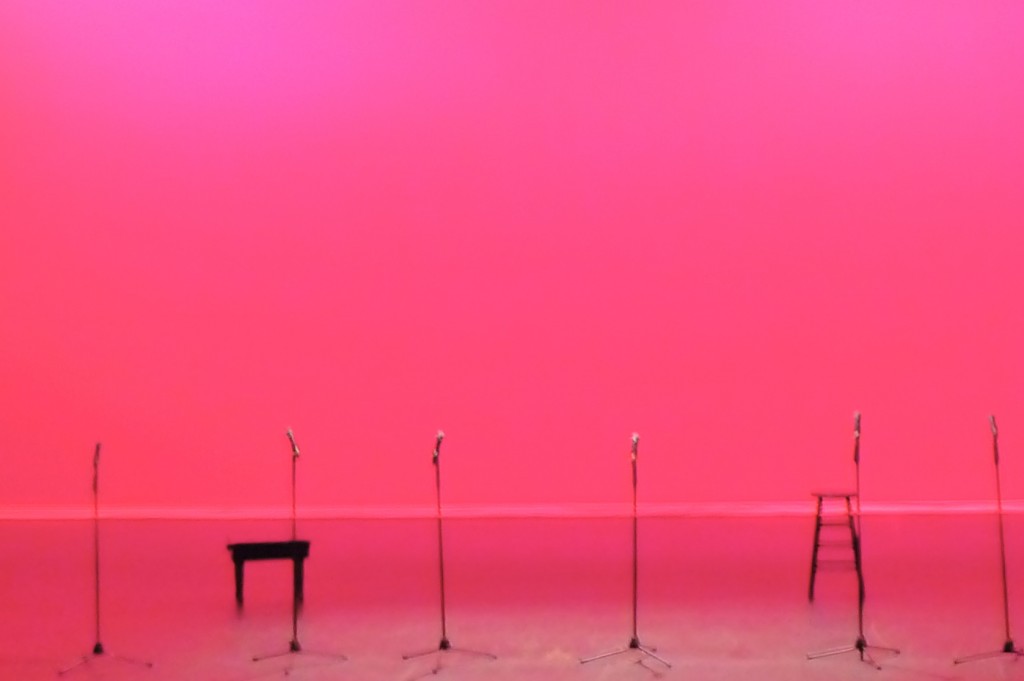 Doesn't this stage look great? I love the bright pink background, and when you look across the theater at the empty microphones awaiting the performance, it's a moment full of anticipation. Anything could happen!
I've loved the line-up at the Alaska Center for the Performing Arts recently – from big, beautiful spectacles (we STILL talk about the Lion King) to smaller, more intimate performances (one of my all time favorite plays was Blue Bear by Perseverance Theater) it seems like there are so many opportunities for entertainment.
A couple of weeks ago, I randomly bought tickets to Celebrity Autobiography – it sounded irreverent, wasn't too pricey, and we had a free Saturday night. I'm glad I acted on my impulse – the crowd laughed through most of the performance and it was fun to see a few moderately well-known actors reading the surprisingly hilarious autobiographies of their more well-known brethren.
Check out this clip of Celebrity Autobiography creator, Eugene Pack, reading from How I Play Golf by Tiger Woods.
In addition to Eugene, the performers included a couple former Saturday Night Live cast members and one of the creepy guys from Desperate Housewives (surprisingly, I thought he was the funniest of the bunch, so now I can't think of him as creepy) and seemed like they were enjoying themselves; there were a few bouts of almost unquenchable snickers. They also gave a shout out to Anchorage's great restaurants and beer – it sounded like they'd been basically eating their way through town for three days.
The show only ran for an hour or so, and we alighted into the rainy evening with smiles on our faces.