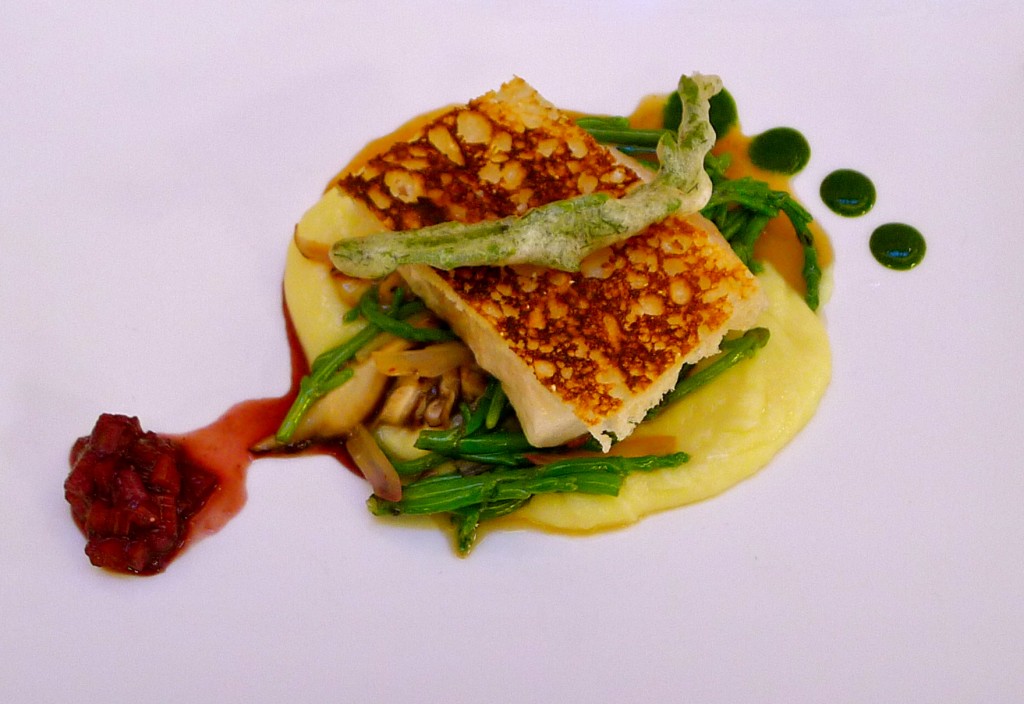 Last night was the 2nd Annual Great Alaska Seafood Cook-off and it was SO COOL. Six of Alaska's best chefs competed to represent our state at the Great American Seafood Cook-off in New Orleans, August 2013.
The photo above is of the winning dish by Kevin Lane of Chinook Waterfront in Seward (isn't it pretty?).  He prepared sourdough crusted sable with Yukon gold potato purée, sea bean sauté, smoked salmon jus, rhubarb aigre-doux and basil coulis. I don't know what half of that even means, but it looked delish!  Alaska Bites has the full menu.
Guests boarded a train at the railroad depot and rode for an hour or so in the sunshine, ending at the airport railroad depot where the chefs were ready to get started.  Each team had an hour to prepare their dish, and the start times were staggered so that the dishes would be brought to the judges at the perfect temperature for tasting. I hope they were all hungry, because there was A LOT of amazing Alaskan seafood for them to eat!
If you want to learn more about the event, check out this great article by the Alaska Dispatch: Top Alaska chefs battle for crown, right to represent state; these photos from the Anchorage Daily News: Great Alaska Seafood Cookoff 2013; or this video from Ch. 2: Chef from Seward Takes First at Seafood Cookoff.
One of the best parts of the night was bumping into my favorite waiter from Kincaid Grill – he remembers every dining preference, gives great menu advice, and was there when my husband proposed to me. It was so much fun to catch up with him outside the restaurant!
Overall, a fun, tasty way to spend time with wonderful people and watch some of our top chefs doing what they do best with some of the freshest, finest ingredients in our state. Watch out New Orleans and everyone else – Alaska's coming, and we're gonna win!