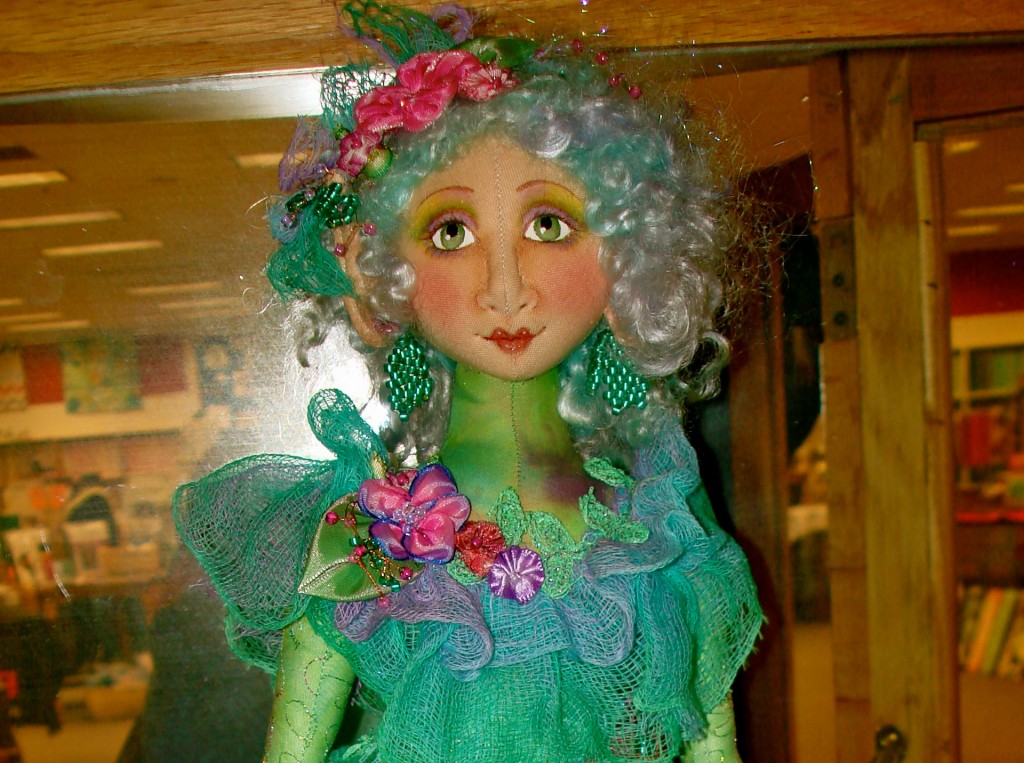 I'm thrilled to introduce my first official guest poster – my mom! She's creative and wonderful, and I'm so excited that she agreed to write something for GretchenLovesAnchorage. I hope you enjoy reading about her experience taking doll making classes at Seams Like Home Quilt Shoppe. Today, it's KayLovesAnchorage!
One of things I love about Anchorage is taking classes from Karen Smith who is an amazing local doll artist. Photos of her dolls have appeared in Creative Cloth Doll Collection by Patti Medaris Culea  and in Art Doll Quarterly.
Several times a year Karen shares her techniques and inspirations with others by teaching classes which range from making pincushions, to kuspuk wearing moose, to dolls.  Watching Karen paint and draw the dolls' faces is enthralling and it's exciting to see how she dresses and embellishes her creations.  Using purchased patterns and with Karen's guidance, we, the students, reinterpret her ideas, using our own color schemes and whatever embellishments we can find in our homes and in the various fabric/craft shops.  A lot of creativity happens in these classes and it's fun to see everyone's dolls evolve.
The photo above is one of Karen's dolls.  If you'd like to see more of her dolls (some of them are for sale) or sign up for a class, you can do so at Seams Like Home Quilt Shoppe which is located in the University Mall on the Old Seward Highway.