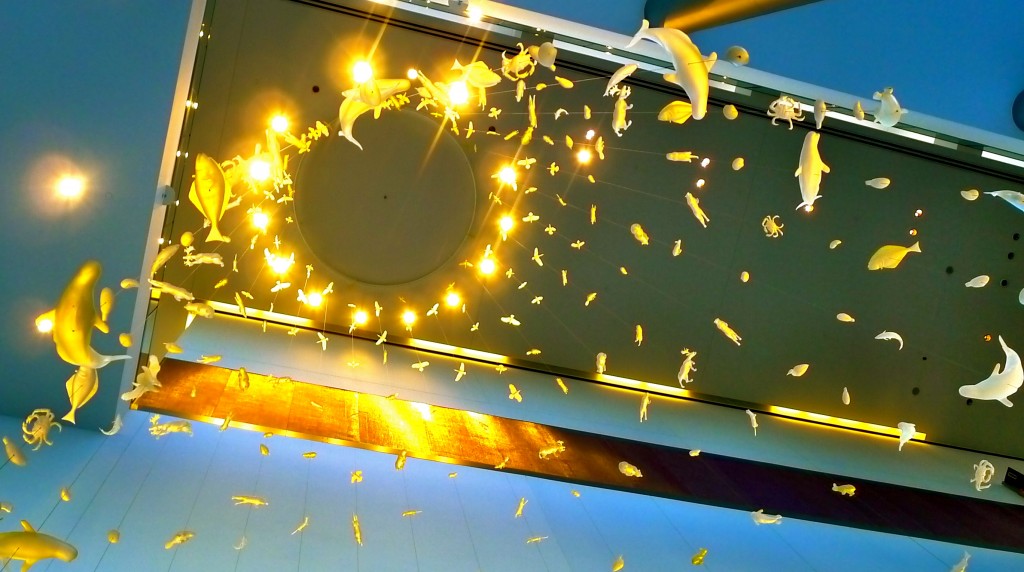 I love this piece of art, called "Constellation" – It spans multiple stories (65 feet tall) and is visible from all the main lobbies of the Dena'ina. It's spectacular. Unfortunately, none of my photos do it justice.  Here's a link to a more talented photographers work: Constellation.
One of my favorite parts about the chandelier is that as you ascend through the building, the animals in the chandelier change from sea to land to air: whales to fish to crabs to moose to bears to eagles soaring. It is just so lovely, and I gaze at it every time I enter the building.
Anchorage Convention Center's website describes it as "Inspired by the Dena'ina fish trap, the stunning centerpiece features 300 glowing resin birds, wildlife and Alaska sea creatures."
Below the animal menagerie, embedded in the floor, are autumn leaves (also very beautiful!).  Constellation makes me want to stand in the middle wearing a full-skirted dress, and twirl while looking up at all the beauty.