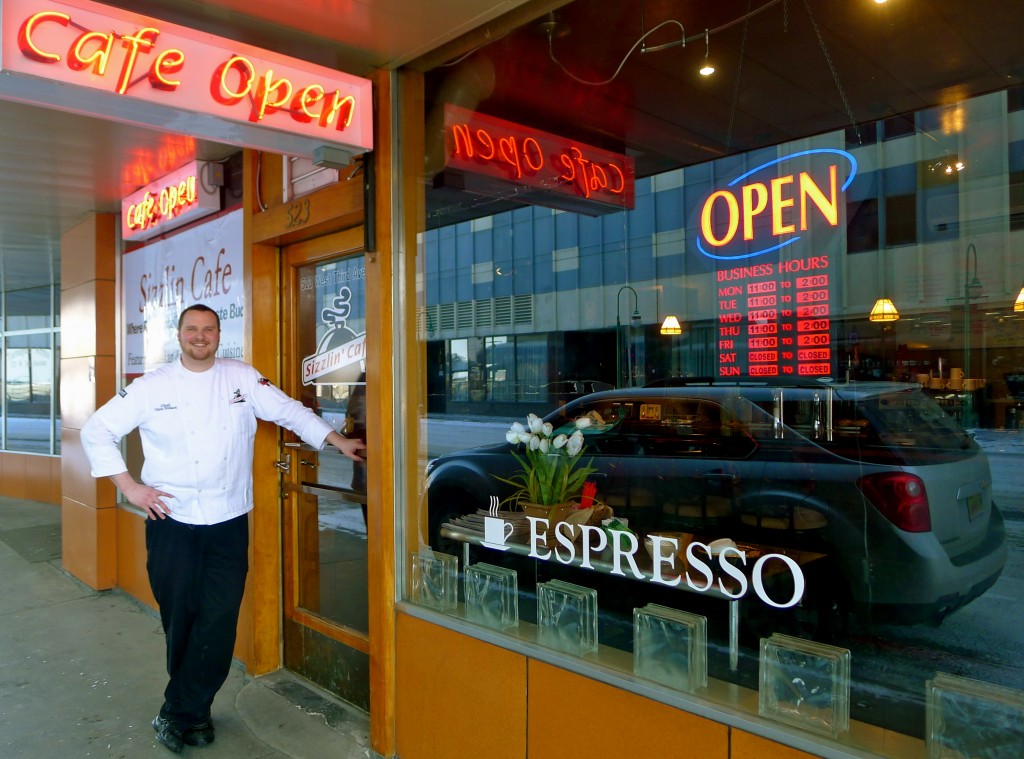 A couple days ago, my friend Ryann and I got together for lunch at the Sizzlin' Cafe – brand new to me, an old favorite for her. I can't believe that not only had I never been there, I'd never even heard of it – I've been missing out for the last seven years! The café is on 3rd Avenue, just a couple of doors down from the Woodshed, across the street from the Hilton.
The food was super good, and Owner/Chef/Waiter, Rob Obermann, and Chef Chris Hilliard were both incredibly friendly and generous with menu recommendations and fun food wisdom: "If it's messy, it probably tastes good" – words to live by!
To top off an already great meal, they brought us a dessert that was basically "three kinds of chocolate held together with a bit of flour and butter." Gooey and warm and oh-so-decadent tasting – the perfect way to finish a wonderful lunch and savor fun conversation during my last sips of coffee.
Since Ryann is a longtime fan and friend of the Sizzlin' Cafe, I wanted to share her perspective with you too:
What's better than having a great locally owned restaurant down the street from work? Being able to include its Chef Chris among my closest and oldest friends!
Since Chris' mom Karen and step-dad Chef Rob opened Sizzlin' Cafe within my first year of working downtown, I have frequently found my lunch there. I could always find a warm welcome, a tasty filling lunch, and usually an update on Chris living out of state. These days, I still always find that warm welcome and delicious lunch, but now get the additional bonus of Chef Chris himself. Last April, Chris and his beautiful family, wife Renee and daughter Jillian, moved back home to Anchorage and he has joined the café full-time. I have to say, having a close friend be a great chef is a spectacular thing, especially when we finally live in the same city again!
Chris trained at the Culinary Institute of America and has earned his introductory sommelier certificate, which means he is good with food and knows his wine. He brings both to the Sizzlin' Cafe kitchen and to their special tasting events. I've attended multiple wine tastings led by Chris, each accompanied with adventurous food pairings. They are always a good time and attended by family, friends and new faces. I encourage you to check out the café for breakfast or lunch and keep an eye out for their special events (posted on their Facebook page). Also, don't forget to check out their baked goods. Trust me, try the junk yard cookies. They are worth every calorie!
Isn't it awesome when creative and interesting people return to Alaska? Welcome home Chris, we are lucky to have you back in Anchorage!
Stay tuned for more on the Sizzlin' Cafe, I hear that big, exciting changes are in store!