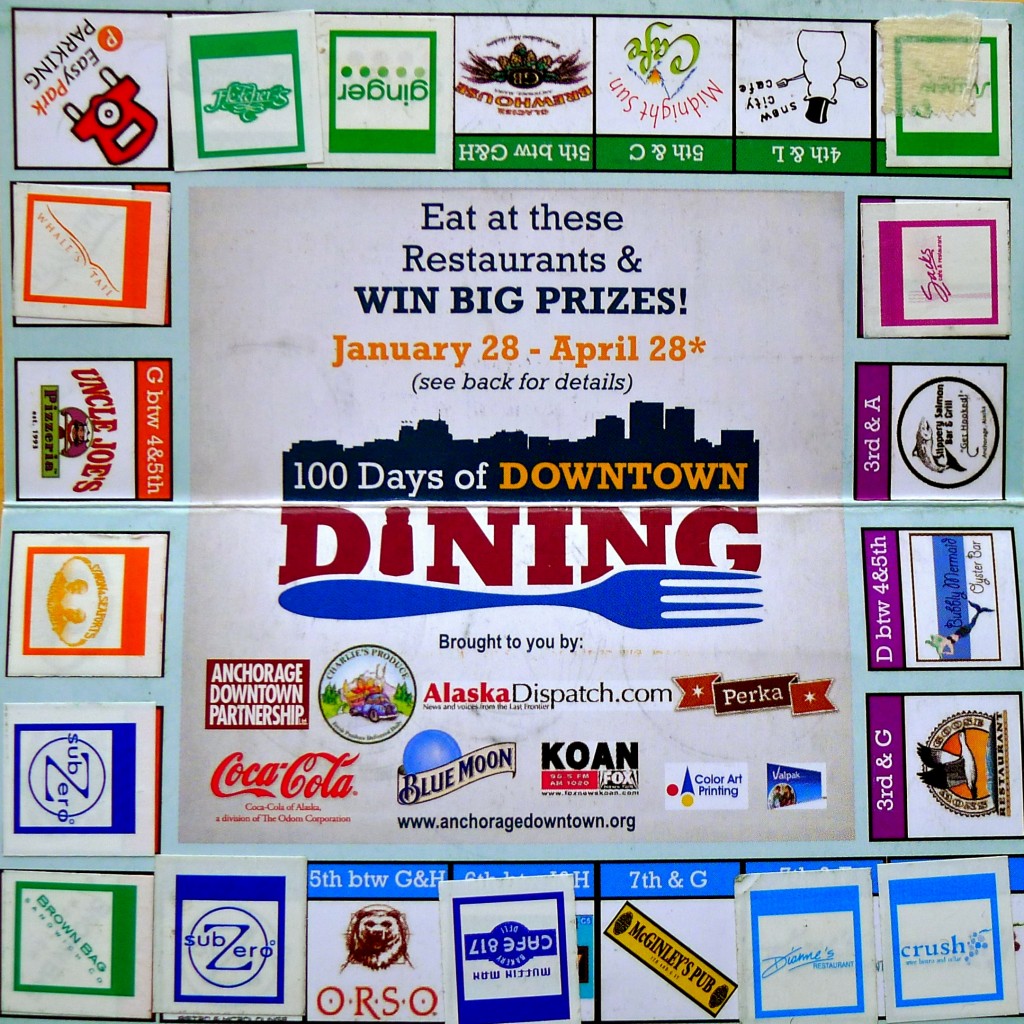 Anchorage, you have 17 days left to complete the Anchorage Downtown Partnership's (ADP) 100 Days of Downtown Dining. As you can see, I'm well on my way to filling up my card!
ADP says, "It's simple: Enjoy lunch or dinner at participating restaurants and get stickers on your game card or stamps in the "100 Days" Perka App." And then, if you're their Facebook friend, they make it REALLY easy to want to eat out because they post delectable looking photos of food from the participating restaurants throughout the week.
I'm trying to visit every single restaurant (although right now all I can think is "that is so much food!") but you can win prizes with only six stickers.  Here's the breakdown:
6 stickers = $10 dining certificate
12 stickers = $25 dining certificate
21 stickers = (2) $25 dining certificates
Participating in Downtown Dining has been fun, and gotten me to try out a couple new (to me) restaurants, or try new options at old favorites.  I love the muffins at The Muffin Man, sliders and a glass of Ladera at Sub Zero is a darn near perfect way to end a long week, and the fish tacos at Humpy's were worth the wait.
I'm a little worried that I might find myself running from restaurant to restaurant on April 28, frantically trying to fill up my card, but with a bit of planning I think it'll be easy to make it to my nine remaining restaurants before April 28 (future lunch/coffee/dinner/drinks dates – please bear with me! I'm on a mission!).  Besides, I still have Snow City, The Bubbly Mermaid, The Glacier Brewhouse, and Orso left – all excellent places to dine!
Are you doing 100 Days of Downtown Dining?  How many restaurants do you have left to visit?