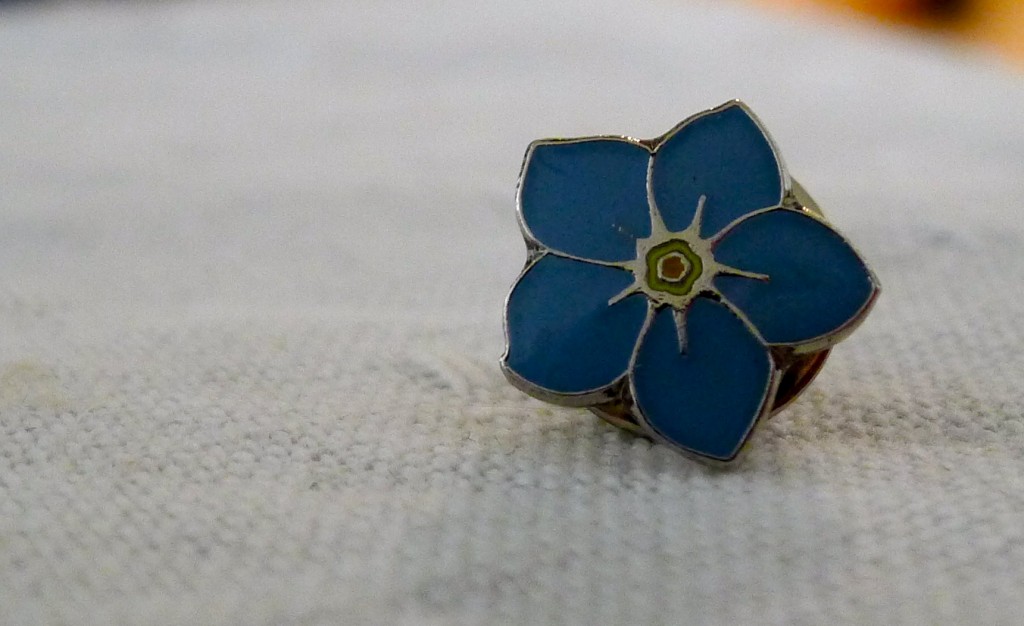 On Friday I attended the Alaska Journal of Commerce's Top Forty Under 40 awards luncheon.  Although I've always enjoyed this event, it was really special for me this year because I was one of the 40! I shared the experience with my husband, brother, parents, and in-laws, who all came to cheer me on and keep me from being TOO nervous when it was my turn on stage.
Alaska is lucky to have so many amazing people living here – not just the honorees, but all the people who were there to support them, and all the people who weren't there but contributed in some way to their achievements.  We're all connected, and even though Alaska is a huge state geographically, sometimes it feels more like a small town (other award recipients included a former babysitter, a former co-worker, and a fellow West High c/o '99 grad – super fun to share the moment with them!). To see so many people celebrating each other's accomplishments and working together to make our state successful was incredibly inspiring.
The event was really well done – I love the retro-glam atmosphere over at the Captain Cook hotel, and the ballroom was cheerful, festive, and spring-ey. Andrew Jensen, the managing editor for the Journal of Commerce, was just as nice in person as I hoped he would be. The MCs kept the crowd laughing and the event moving along at a fast clip. Conoco Phillips sponsored lovely little forget-me-not pins for the attendees so that we would all remember to give back to our community.
Judge Morgan Christen gave a great speech – I've admired her ever since I saw her win an ATHENA award, and it's been wonderful to see her career advance – from Alaska Supreme Court to the Ninth Circuit.  During her speech, she shared two bits of wisdom (bolded below with my comments after) that really resonated with me:
"Be open to opportunity." Some of the best experiences I've had professionally come from being open to deviating from what I planned to do – instead of working on a dude ranch (plan) I landed an internship that evolved into a job with Senator Lisa Murkowski (opportunity).  Instead of working for a nonprofit when I moved back to Anchorage (plan) I accepted a job at USKH Inc. (opportunity) where I happily stayed for six years, figured out where my professional strengths and passions lie, was part of a fantastic company, and worked for an amazing boss who became an amazing mentor and is now an amazing friend. I didn't get selected for a seat on the parks board (plan) but I did get one on the library board (opportunity), which gave me the chance to work on projects I not only care deeply about but that are in line with my fundamental beliefs, gave me more leadership opportunities than I could have imagined, and connected me to an amazing community of library supporters. I could go on and on, but being open to opportunity and deviating from what I planned has set me on unexpected paths that have led to wonderful experiences.
"You CAN live in Alaska and have a great career."  A couple of years ago I was at the Arctic Imperative and was frustrated as I listened to a panelist bemoaning the fact that his daughter couldn't return to Alaska due to the dearth of good jobs for intelligent, motivated young people. I wholeheartedly disagree with him.  I believe that  if someone wants to live here, and they're qualified and motivated, there are endless opportunities for career advancement. If they want to live elsewhere, that's fine – but don't say it's because there's no opportunity to have a great career in Anchorage. People my age or younger are running companies, creating new technology, and becoming community leaders.
In conjunction with awards luncheon, the Journal of Commerce puts together a Top Forty Under 40 publication with profiles of the award recipients.  I'm still reading through it, but I wanted to share these numbers with you:
22 – men
18 – women
27 – Anchorage residents (including Eagle River)
14 – people who listed dogs as family members
6 – English degrees (yes!  Book nerds unite!)
40 – age of the oldest recipient (made it in just under the cut-off date!)
25 – age of the youngest recipient (and dang is she impressive!)
7 – people who chose Batman as their favorite superhero (this seems high to me…and I'm sure it has a lot to do with Christopher Nolan – it will be interesting to see if the Top 40 class of 2014 skews towards Superman! Only two people chose him this year.)
If you're interested, here are my full length responses (Journal staff edits each of the 40 responses to fit on one page, no small task I'm sure!) to the survey questions for the profile:
What is your favorite place in Alaska and why?
My favorite place in Alaska is wherever my family is. The older I get, the more I value the time that we spend together – I love everything that Alaska offers, but it's richer and more special because of the people I get to share it with.
What is your most memorable Alaska experience?
Alaska to me is a compilation of experiences. Flying in my dad's Cessna when I was little, playing in soccer tournaments during long, hot summer days, hiking Crow Pass, skiing through Kincaid Park, wandering through downtown on First Friday, eating fresh salmon, browsing through local businesses – it all blends together to equal home.
Name the person you most respect and why.
My husband, DJ, lives with Type 1 diabetes. Before meeting him I hadn't been close to someone with a chronic illness, and had always taken good health for granted. I've learned how much something like diabetes can impact every part of someone's life, and I have so much respect for people like my husband who don't let it define them. Although some days are harder than others, DJ manages his diabetes with humor, hard work, and a great team of healthcare providers. It's a part of who is he is, but it isn't all that he is.
What is your favorite pastime or hobby away from work?
A year ago I started a blog, www.GretchenLovesAnchorage.com. It's about the people, places, and things in Anchorage that I love, as well as my dreams for the future of our city. Blogging has been an adventure since I first clicked "publish." It's somewhat terrifying to put yourself out there for the world to scrutinize, but I finally realized that there will always be someone else smarter, funnier, and more creative, and it doesn't matter. What matters is being the kind of person who stops dreaming and starts doing. And once I started "doing" I never regretted it – I've learned so much about Anchorage, met so many fascinating people, and am constantly inspired by our amazing community. I fall in love with Anchorage again and again, and there is still more to discover.
Favorite quote:
"The aim of life is to live, and to live means to be aware, joyously, drunkenly, serenely, divinely aware." – Henry Miller
What was your first job?
I worked at Alaska Mountaineering and Hiking (AMH) doing everything from watering the flowers and going on coffee runs to inventory and helping customers pick out cross country skies. It was a wonderful first job, and taught me that good customer service and treating your employees well are two of the most important things to get right in business. Walking through the door always feels like visiting an old friend; Paul Denkewalter gave Anchorage something really special when he opened AMH.
Who is your favorite superhero?
Although I had an affinity for She-Ra when I was five, I'm more inclined to be impressed by everyday superheroes – the people who work ridiculously hard to make our little corner of the world the best place it can be.
I'm very fortunate to know many of these superheroes: Senator Lisa Murkowski; the great team at the Alaska Department of Commerce, Community, and Economic Development and all of our state agency partners; business professionals like Lydia Gray and the rest of the team at USKH Inc.; and all the volunteers throughout Anchorage who give so much to our community.
People who see an opportunity to create something good, whether it's a new arts endeavor, a different kind of dining experience, or something our community is lacking, and do something about it are the real superheroes. A friend of mine, Leah Boltz, is a mother and full-time professional. She learned that Anchorage didn't have a fully inclusive park for children with disabilities, so she formed a group called Parks for All, raised the necessary funds, and spent her free time advocating for the project. The park will be finished and ready for play this summer!
Helping improve our community is so much cooler than having x-ray vision or being able to walk through walls.
What was your biggest challenge in life and how have you overcome it?
I used to think that being a bit shy was a weakness; the challenge was learning that it's actually a strength. Being shy helped me become a good listener, more empathetic, and drove me to work extra hard on things like public speaking that don't come naturally to me.
What did you learn about Alaska while working for Sen. Lisa Murkowski in Washington, D.C.?
The two years I spent in Washington, D.C. comprise a period of the most accelerated learning I've ever experienced – there was just so much that I didn't even know that I didn't know! One of my biggest takeaways was the importance of bi-partisanship. I believe elected officials should represent a wide spectrum of views, and use their differences as a way to reach thoughtful, closely examined compromises. This seems to be happening less and less as our political parties grow more rigid, but I see Alaska's senators leading the way in reaching across partisan lines and it makes me proud of our state for electing such reasonable representatives!
I also learned that the federal government plays an inordinately large role in deciding the future of Alaska, sometimes without understanding the unique challenges that we face. We have some of the best-managed natural resources in the country, from seafood and timber to oil and gas, and instead of limiting our ability to develop these resources, the federal government should use Alaska as an example of responsible resource development.
And finally, I learned that no matter where I go or how far I travel, Alaska is and always will be my home.
Please describe your efforts in the Commerce Department to promote Alaska-made goods. Is there a particular product or company you have most enjoyed seeing succeed?
Almost any business success story makes me want to skip around the office with joy – I love learning about people who have the guts, grit, and belief in themselves to turn a dream into reality. Currently in DCCED, we're working to promote the purchase of Alaska-made goods to residents and visitors. Cities like Anchorage, Juneau, and Fairbanks already have similar "buy local" programs in place, and by expanding the local focus to a statewide level we will encourage even more Alaskans to spend their money in-state and keep it circulating in our economy.
Research supports the premise that locally owned businesses tend to retain a higher percentage of earnings in their respective state. All kinds of business, from national chains to street vendors, have an important place in our economy; however, we can increase the benefits that come from purchasing Alaska-made products and services by educating and encouraging Alaskans to buy Alaskan.
There are plenty of options for people who want to support local producers. Alaskan produce, seafood, and game are flavorful and healthful. We have some of the best breweries in the country. Alaskan wood products come from a variety of timber types across the state, our arts and crafts scene is vibrant, and people are coming up with more and more ingenious locally-made products.
I love buying local; we have high quality products and it makes me happy to know that money I spend is going toward supporting other Alaskans.
As the chair of the Anchorage Library Board, how do you see your role in the current effort to remodel Loussac Library?
Libraries are changing. Many people still think of stacks and stacks of books, with a bespectacled librarian shushing anyone speaking louder than a whisper. That isn't true any more, and hasn't been for a long time.
The fundamental reason for a public library is so that anyone who wants to can access information. That reason hasn't changed, but the way that libraries share information has transformed along with technology. These days, people use libraries for free computer access, to listen to music, download books, apply for jobs, attend presentations, play video games, appreciate artwork, get homework help, learn English, participate in early literacy training, meet friends, and so much more. And of course, areas are still dedicated to books, and there a quiet places for people to use when they need them.
Although the way we use libraries has changed, the building structure of Loussac hasn't. Bricks and mortar are hard to transform, but we've reached the point where elements of the library are in need of repair. To remedy this, Anchorage Public Library is launching the Loussac Generational Renewal, a multi-phase project that will turn the facility into a dynamic and interactive hub for community engagement, featuring a computer lab, expanded teen center, community and small business education center, and a new children's area. It makes more sense to redesign portions of the space to be flexible and accommodate the way we consume information today and may tomorrow, than it does to rebuild something that simply isn't working.
I hope to see our libraries become a true "third place" for our community – a place that isn't work, and isn't home, but where you are always welcome. Many of us head to parks or coffee shops for this experience, but a free, indoor option will always be needed in Anchorage. I believe that with the Loussac Generational Renewal, the library will become even more of an anchor destination for creative, intellectual, and just plain fun community life in Anchorage.
My term as chair is almost over, but I plan to continue sharing information about this project with as many people as I can. We need the support of our city to make it happen!
You also serve on the Anchorage Downtown Partnership. What do you most enjoy about playing a part in shaping the future of the community?
Anchorage Downtown Partnership (ADP) works with downtown property owners and businesses to create events and programs that help Anchorage thrive, and add an element of delight to our community that is invaluable. As someone who plans to spend her life in Anchorage, volunteering for the ADP's marketing committee is highly rewarding – I get to be a part of creating a vibrant downtown for our city!
We are in the midst of a really exciting time for Anchorage. There are new artists, musicians, chefs, athletes, and entrepreneurs celebrating the things that are unique about our city and our state. ADP's Clean, Safe &Vital Downtown, Anchorage Economic Development Corporation's Live.Work.Play., and United Way's 90% by 2020 are all initiatives making our community stronger than ever. I am so excited about Anchorage's bright future!