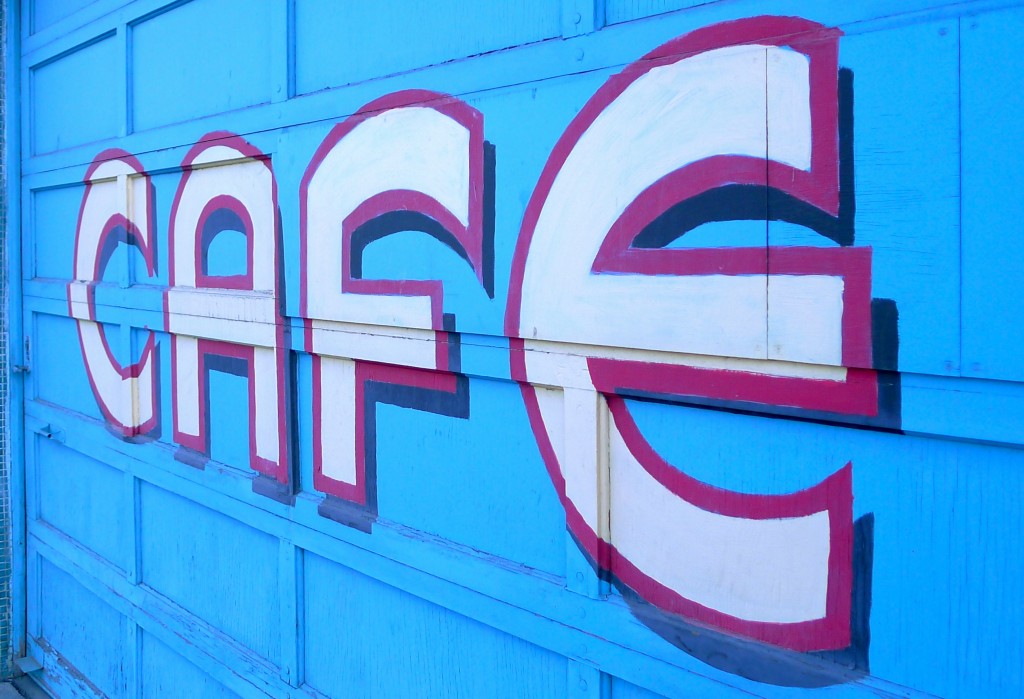 I met a friend the other day at the Muffin Man/Cafe 817. We arrived at 9:00, just as the owner was unlocking the door. We ordered coffee and chai, and waited for fresh muffins, piping hot from the oven and oh so very good. I wish this café was open on the weekends, but it's weekdays only.
Although we enjoyed our drinks, you can't beat warm muffins, and I've heard that the soups and sandwiches are tasty, the real draw for me was the building itself.  I love the café sign – it's huge, cheerful, and adds great color to the street.  Even cooler though, the building was a tile shop back in the day, and the owner left the tile intact – there are even a couple places inside where the tile has chipped away, which just adds to the overall patina. A photograph of the original building adorns a wall for historical perspective, and the exterior wall that faces the alley is covered in a beautiful tile mosaic that is a favorite for photographs. If you've never been, I highly recommend stopping by for a muffin and a bite of Anchorage history.
While I was waiting for my coffee, I couldn't help but ask the owner if anyone lived above the café – I'm fascinated by the people who live in downtown apartments tucked above shops and restaurants (or the Fourth Ave Theater!).  Most of the time, you can't even tell which spaces are for living and which are for offices, but I like to think there's a whole downtown dwelling culture that we don't know about.  I think that living in DC is what made me fall in love with this kind of space…
It turns out the owner himself lives above the café and said that the living space is one of the main reasons he bought the building – lucky him!  I wanted to pry more, but decided against being tooooo nosey. I'll just have to imagine what it looks like up there!
Two questions for you:
What is your favorite muffin?
Do you know of any unique living spaces downtown?