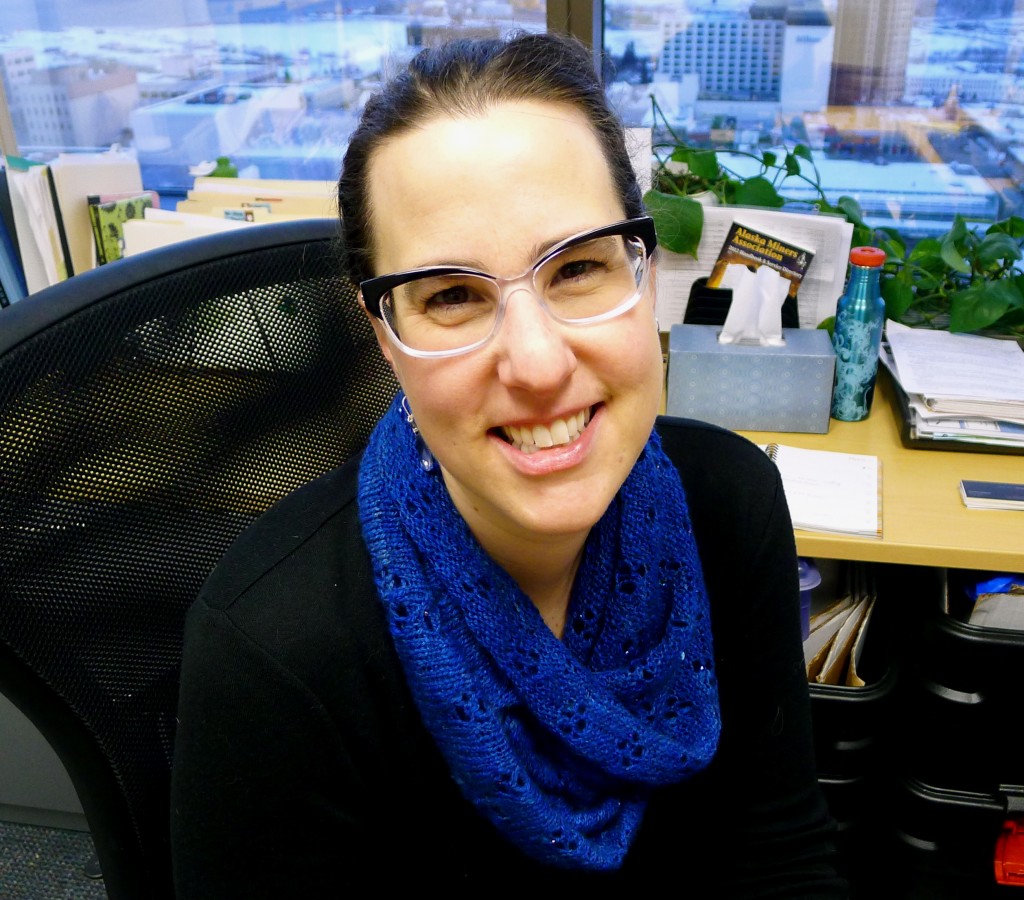 Check out my AK-chic co-worker Jenn!  She's rocking a qiviut scarf made by an artist in Palmer, purchased at Sevigny Studio here in Anchorage. Not featured in this photo are her gorgeous forget-me-not Romney-painted Danskos. Yep, pretty much a classy, comfy, AK-artist-awesome outfit. And, knowing Jenn, I'm willing to bet that it's all purchased locally.
Jenn is very conscientious about supporting local business – she's an inspiration to me when it comes to shopping local.  More than once, she's seen something she liked outside of Alaska, but instead of making a purchase, she bided her time, tracked it down in-state, and figured that even if it was a couple of dollars extra, it all evened out in shipping charges and that she'd rather her money stay in Alaska's economy. I don't always succeed at shopping local like she does (I swear, she can just will something to exist in Anchorage, and poof – there it is! So not fair.) but I try.
So, when Jenn was on a recent trip to Canada, and about to buy a very pretty, but darn expensive scarf as a souvenir, she paused…and then she realized that she would rather spend her money in Anchorage, support an Alaskan artist instead (Myler Almandinger of "Touch of Alaska"), and that she already knew exactly what she wanted. As soon as she got home, she headed to Sevigny Studio (here's a cool story about the studio and Made in Alaska products if you're interested), and the beautiful blue hand-spun, hand-dyed, hand-knit Kiviut scarf was hers!
This scarf is particularly gorgeous – I love the dyed blue color, and a variety of small beads are worked into the yarn.  The tiny turquoise bead that you can see in this photo if you look closely is my favorite. For those of you that may not know, qiviut is yarn made from the soft undercoat of a musk-ox.  According to the ever-helpful Wikipedia, it's stronger and eight times softer than wool, doesn't shrink in water, and is softer than cashmere (due to these amazing attributes, it's also pretty pricey).
I love Jenn's story of the scarf, her whole outfit, and all of her shopping local escapades!
Do you shop local?