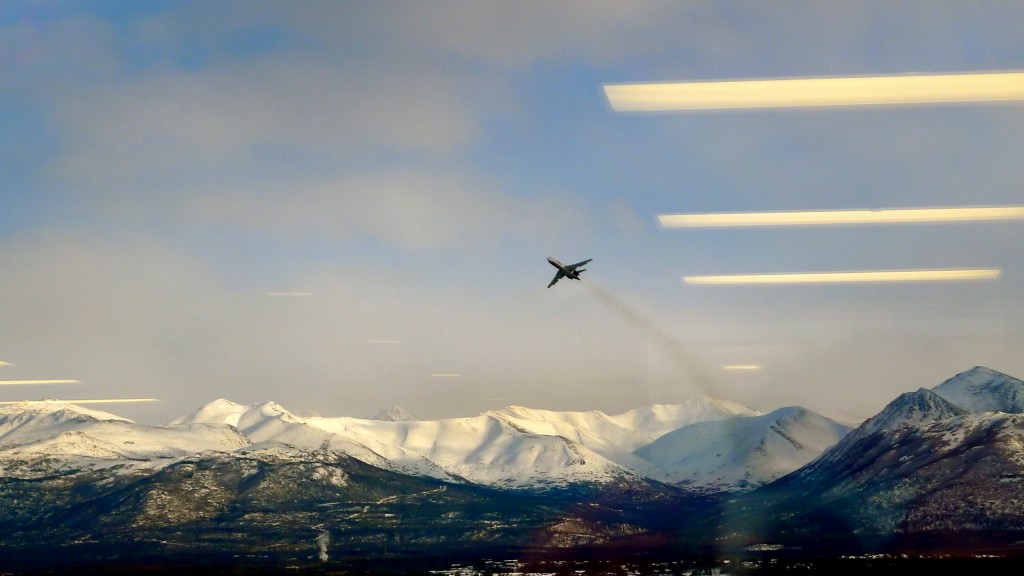 The big news last week (besides all the Fur Rondy fun) was the 727 landing at Merrill Field (usually used for smaller planes; the Anchorage Assembly granted special permission for this event).   FedEx donated the Boeing 727 to the University of Alaska Anchorage for their maintenance program.
Here's the official write-up about the donation:
This donated Boeing 727 airliner will be used in the aviation maintenance program at UAA. The jet that UAA is receiving took its first flight on Feb. 14, 1979. It will be housed at the UAA Aviation Technology Center at Merrill Field Airport. The plane will no longer fly, but will be used by students for hands-on training as they learn transport category aircraft maintenance. The 727, dubbed "Two Bears," is named after the now-grown son of Hugo Yturralde, a FedEx manager in Anchorage for more than 28 years.
My coworkers and I gathered on the East side of the Atwood to watch the landing – we didn't know that there were two flybys planned, so it was something thrilling/concerning when we watched the pilots try to land the plane (or so we thought) before finally touching down.  In the end, it looked like they only needed about half the runway.
Here's the round-up of articles, videos, and photos:
Alaska Dispatch: Unusual 727 landing at Anchorage's Merrill Field draws a crowd
KTUU: Boeing 727 Successfully Lands at Merrill Field
Anchorage Daily News: 727 landing puts spotlight on UAA aviation program
Anchorage Daily News photo gallery: 727 lands at Merrill Field
YouTube: 727 at Merrill Field videos
And plenty of Facebook photos and posts on Tuesday afternoon!
A fun little break from work, and good organizations working together for a great cause.
Thank you FedEx!